Press Releases
The Secrets of Blood and Bone, a gripping supernatural thriller by Rebecca Alexander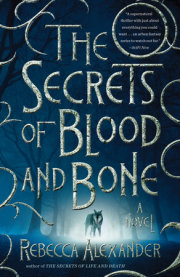 Rebecca Alexander
Imprint: Broadway Books
On sale: September 1, 2015
Price: $15.00
Pages: 384
ISBN: 9780804140706
Contact:
Rebecca Welbourn
(212) 782-9634
rwelbourn@penguinrandomhouse.com
Early praise for The Secrets of Blood and Bone 
"A supernatural thriller with just about everything you could want . . . an urban fantasy series to watch out for."—SciFi Now
Praise for The Secrets of Life and Death
"A fine addition to the urban fantasy genre . . . marks Alexander as an author to watch."—The Independent on Sunday
"A gripping page-turner successfully blending history and fiction with magic and sorcery; truly a wonderfully and uniquely inspired novel."—Historical Novels Review
"Immersive and fascinating . . . Don't miss this one."—Mur Lafferty, John W. Campbell Award–winning author of the Shambling Guides
"Brilliant and multilayered."—J. D. Horn, author of the Witching Savannah series
"With its intoxicating blend of historical detail, occult magic, and modern drama, Rebecca Alexander's debut novel is rich with intrigue and suspense."—Jodi McIsaac, author of the Thin Veil series
---
In this stunning follow-up to her acclaimed debut The Secrets of Life and Death, Rebecca Alexander has created a gripping supernatural thriller that bridges time, legends, and the power of blood. THE SECRETS OF BLOOD AND BONE (September 1, 2015; Broadway Books) reunites us with protagonist Jackdaw Hammond, who is running from her past, hiding from her future, and hoping to contain her newfound thirst for the blood she requires to survive. Alexander vividly brings to life the streets of New Orleans's French Quarter and the canals of sixteenth-century Venice as her characters navigate centuries-old magical mysteries that are inextricably linked with the present day.
Following Jackdaw's showdown with Elizabeth Báthory (the infamous "Blood Countess" who was accused of killing hundreds of girls between 1585 and 1610), buying an abandoned cottage in the middle of the Lake District seems like the perfect way to escape and recover her strength. However, she soon realizes that the house's former owner passed away under suspicious circumstances—and finds herself in the sights of a murderous family with a terrible secret and a penchant for dark magic.
Meanwhile, her old ally Felix Guichard has gone to New Orleans to conduct his own investigation into the nature of blood magic and its practitioners, and he is soon sucked into the sensual intrigues and traditions of the city's occult underworld. But Jackdaw will need Felix more than she knows, for the battle for her soul is set to begin. Her only salvation may lie with the secrets of sixteenth-century master occultist Edward Kelley and a dangerous mission he undertook in Venice to confront for himself the Inquisition, the darkest deeds of his own past, and the fearsome power of Elizabeth Báthory.
Rebecca Alexander is the author of The Secrets of Life and Death. She has worked in psychology and education, and she has an MA in creative writing. She lives with her husband on the coast of England.
Related Posts: