Press Releases
ScreamFree Parenting, 10th anniversary edition
How to Raise Amazing Adults by Learning to Pause More and React Less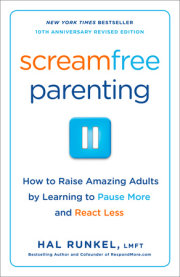 Hal Runkel
Imprint: Harmony Books
On sale: October 3, 2017
Price: $15.00
Pages: 336
ISBN: 9780767927437
Contact:
Maya Lane
212-782-9164
malane@penguinrandomhouse.com
Revised and updated 10th anniversary edition of New York Times bestseller ScreamFree Parenting gives parents the tools to keep calm and react less
New York Times bestseller and award-winning parenting program ScreamFree Parenting is turning ten! In honor of a decade of success, author and licensed marriage and family therapist, Hal Runkel, introduces SCREAMFREE PARENTING: How to Raise Amazing Adults by Learning to Pause More and React Less (Harmony Books; $15.00; on-sale 10/3/17), a revised and updated edition to the ScreamFree series phenomenon that offers a fresh take on his signature philosophy and features an all-new section that addresses parenting in the age of technological ubiquity.
Born from personal experience as a father of two, Runkel found himself struggling to keep his parental cool while juggling first-time fatherhood and graduate school. He's the first to admit that his natural inclination at the time was to get riled up over the smallest things. Frustrated and ashamed, he sought to find a sustainable middle ground between open aggression and passive aggressiveness that would foster a clamer and happier household.
Initially published in 2007, the first edition of ScreamFree Parenting rattled preexisting norms as Runkel turned the traditional parenting model on its head, arguing that what kids really need are parents who are able to keep their cool no matter what. Instead of focusing on the kids' behavior, he coached parents on how to pause and respond, rather than let their knee-jerk reaction run the show. A groundbreaking notion at the time, ScreamFree Parenting is now widely accepted and has been adopted by thousands of households around the world to much acclaim.
Now, the revised and updated edition is structured as five digestible sections. The first four are a fresh take on the program's fundamentals, providing parents with practical ways to avoid sweating the small stuff, relinquish unrealistic desire for power and control, and work through anxiety without ever having to raise their voice a single decibel. Each chapter concludes with a series of questions specifically designed to help them examine their parenting style and grow into the ScreamFree mind-set, and includes empowering anecdotes of real life experiences from real life parents. The final and brand new section addresses parenting in the age of mobile devices and social media. Runkel also compiled popular articles, Q&A sessions, and blog posts over the last ten years that tackle current issues such as:
Household responsibilities
Challenges you face with different age groups
And, what to do when you're simply at a loss
SCREAMFREE PARENTING is an evergreen, practical, and effective guide for parents with kids of all ages that introduces proven principles for overcoming the stress and anxiety of parenting, forged in the personal trenches of countless ScreamFree families. Now is your chance to join and experience the movement toward calmer and happier parenting.
###
HAL RUNKEL, LMFT, is one of the world's most trusted resources for life improvement. His practical wisdom on relationships, conflict, and leadership helps thousands of people around the world enjoy calmer, happier lives. A licensed marriage and family therapist, registered conflict mediator, and internationally acclaimed speaker, Hal is the New York Times bestselling author of ScreamFree Parenting, ScreamFree Marriage, and Choose Your Own Adulthood. He lives with his wife, Jenny, and their two launching adults, Hannah and Brandon, just outside Atlanta, Georgia.
Related Posts: