Press Releases
Scaling up excellence with Robert I. Sutton and Huggy Rao
Getting to more without settling for less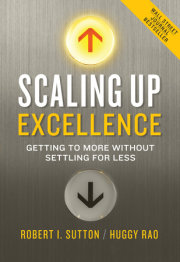 Robert I. Sutton and Huggy Rao
Imprint: Crown Business
On sale: February 4, 2014
Price: $26.00
Pages: 368
ISBN: 9780385347020
Contact:
Ayelet Gruenspecht
212-782-9016
agruenspecht@randomhouse.com
For every leader, team or organization, the "problem of more" is universal: how do you spread pockets of excellence from those who have them to those who need them?  SCALING UP EXCELLENCE: Getting to More Without Settling for Less by New York Times bestselling author Robert I. Sutton and Stanford colleague Huggy Rao explore this vexing challenge with the first major business book about scaling.
Packed with hard evidence uncovered from seven years of rigorous case study research, the book tells dozens of entertaining stories from hundreds of leaders and teams who struggled and strove to multiply constructive beliefs, behaviors, and practices within their organizations.
Sutton and Rao spent seven years conducting case studies, scouring the behavioral sciences for insights, and – above all – spending day after day talking with, observing, and helping leaders and teams who were knee-deep in scaling challenges.  The result is a book packed with hard evidence, concrete principles, proven tactics, and entertaining stories from organizations that struggled and strove to spread constructive beliefs, behaviors, and practices within their organizations.
The authors recount how Facebook and Google sustained excellence as they added thousands of employees and millions of users, and how Starbucks and Yahoo! stumbled because they focused too much on creating a big footprint and too little on spreading the right mindset.  From start-ups, pharma, airlines, retail, financial services, high-tech, education, non-profits, government, and healthcare, Scaling Up Excellence shares lessons from organizations of every size and stripe:
Why navigating the "Buddhism-Catholicism continuum" is so essential: Home Depot's expansion to China was doomed by their Catholic approach (replicating their "do it yourself" model in a "do it for me" culture) while IKEA's triumphed with a Buddhist approach (adapting to the "do it for me" culture while maintaining a consistent brand).
How Facebook's Bootcamp infects new engineers with a "move fast and break things" mindset.
How the Girl Scouts spread the Thrive program to hundreds of volunteers, which in turn, led thousands of girls to become more adept at setting goals and bouncing back from setbacks.
How "using hierarchy" to "repair bureaucracy" and "cut cognitive load" enabled two managers' to scale Salesforce.com's development organization from 40 to 600 people (now they're helping to scale Twitter).
Why keeping team size small as an organization gets larger is so crucial to performance – a lesson learned the hard way by startup Pulse News as they quintupled in size and by a New York hospital that reduced patient waiting times from 5 to 8 hours.
How Kaiser Permenante rolled out an electronic health records system to over 9 million patients and 170,000 employees by imposing a few simple "guardrails".
Through such inspiring stories, cautionary tales, and instructive studies, the authors reveal how the best leaders cascade excellence throughout organizations and teams—by spreading the right mindset by eliminating bad apple behaviors that hold them back;  by linking the emotion of "hot" causes to tangible "cool" solutions.
Whether you're an entrepreneur growing your startup or a CEO seeking to maintain and spread excellence across a large organization, SCALING UP EXCELLENCE will be the definitive guide.
Related Posts: