Press Releases
THE SAPPHIRE WIDOW by Dinah Jefferies
A Novel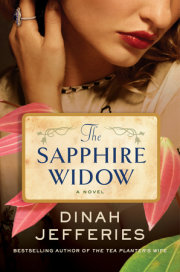 Dinah Jefferies
Imprint: Crown
On sale: August 14, 2018
Price: $26.00
Pages: 368
ISBN: 9780525576327
Contact:
Sarah Breivogel
212-572-2722
sbreivogel@penguinrandomhouse.com
#1 International bestselling author of The Tea Planter's Wife, Dinah Jefferies, returns readers to beautiful Ceylon in her
new novel
Praise for The Sapphire Widow
"Jefferies once again weaves an intriguing tale of mystery and romance set in an exotic location that will please fans of her first book."
—Library Journal
"A sweeping tale, beautifully written in a wonderful setting, heartrending yet ultimately uplifting. Gorgeous."
—Katie Fforde, bestselling author of A Vintage Wedding, Recipe for Love, and A French Affair
In her second novel, The Sapphire Widow (Crown, August 14, 2018), # 1 international bestselling author Dinah Jefferies returns to colonial-era Ceylon (modern-day Sri Lanka), and the lush, seductive setting of her first book, The Tea Planter's Wife. Jefferies saw major success in the UK with her debut, also a Richard and Judy Book Club pick, and is ready for her United States breakout with The Sapphire Widow, a sweeping, breathtaking story teeming with love, betrayal, and mystery.
The Sapphire Widow tells the story of Louisa Reeve, the daughter of a successful British gem trader, and her husband Elliot, a thrill-seeking businessman. Though the couple seem like they have it all, Louisa and Elliot have struggled for years with infertility and the devastating loss of a child in infancy. While Louisa endures miscarriage after miscarriage, Elliot becomes increasingly distant, spending much of his time at a nearby cinnamon plantation, his most recent investment, aptly named Cinnamon Hills. On the night of a party celebrating the couple's wedding anniversary, Elliot does not show, and Louisa learns that he has died suddenly in a tragic car accident.
As Louisa mourns the death of her husband, she uncovers the chaotic state of his finances, and discovers that he was not an investor in Cinnamon Hills after all. In fact, he had been having an affair with a woman named Zinnia, the cousin of Cinnamon Hills' owner, which had resulted in a son, now seven years old. Grappling with this revelation, Louisa turns to revisiting Cinnamon Hills to investigate more into the mysterious circumstances of her husband's death. As she uncovers the full extent of Elliot's trails of deception, she finds herself unexpectedly drawn to the plantation's owner, Leo, a rugged outdoorsman with his own secrets and checkered past.
Vividly narrated against a stunning landscape, The Sapphire Widow's enticing blend of sex, betrayal, and family secrets will keep you glued to the page, its engrossing tale of intensity and suspense impossible to put down.
# # # # #
ABOUT THE AUTHOR: DINAH JEFFERIES was born in Malaysia and moved to England at the age of nine. She still loves Southeast Asia and the Far East and jumps at the chance to travel there whenever she can. She once lived in a commune with a rock band and has been an exhibiting artist. After also living in Italy and Spain, she now lives with her husband and Norfolk terrier in Gloucestershire, where she writes full time.
THE SAPPHIRE WIDOW: A Novel
by Dinah Jefferies
Crown • On Sale: August 14, 2018 • Price: $26.00 hardcover • Pages: 368
ISBN 978-0-525-57632-7
Also available as an eBook
Visit crownpublishing.com or www.dinahjefferies.com
Related Posts:
You Might Also Like