Press Releases
S.E.C.R.E.T.: L. Marie Adeline's first book in a sexy and sophisticated series of erotica, with a new twist
This time, women control their fantasies and men will do anything to satisfy them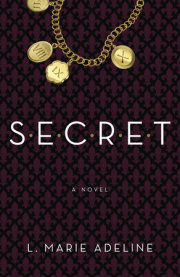 L. Marie Adeline
Imprint: Broadway Paperbacks
On sale: February 5, 2013
Price: $15.00
Pages: 288
ISBN: 9780385346436
Contact:
Dyana Messina
212-572-2098
dmessina@randomhouse.com
Everyone has their secrets, fantasies and desires that they can hardly admit to themselves. In L. Marie Adeline's scintillating new novel, S.E.C.R.E.T. (Broadway Paperbacks Original; February 5, 2013), readers discover what happens when one woman embraces those fantasies and brings them to life. 
The first in a new series, S.E.C.R.E.T. represents the next level in erotica: sexy, sophisticated, and empowering. 
No judgments. No limits. No shame. This is the motto of the underground society known as S.E.C.R.E.T. that meets in a mysterious New Orleans mansion. Its mission—to liberate members through complete sexual fulfillment. Cassie Robichaud, a thirty-five-year old waitress, is the committee's newest potential member. 
After a life filled with disappointments, Cassie's days have become one long string of monotony. Her life is devoid of passion. After the death of her husband, she fears she's missed  her one chance at love and fulfillment. So when the tantalizing promise of S.E.C.R.E.T. is revealed to her, Cassie decides to embark on this unpredictable erotic journey. Her decision takes her through nine fantasies that correspond with the words: Surrender; Courage; Trust; Generosity; Fearlessness; Confidence; Curiosity; Bravery; Exuberance; and end with "The Choice." Cassie's fantasies—orchestrated by S.E.C.R.E.T. members—are filled with gorgeous men in scenarios far beyond her imagination. Step-by-step, the reader follows Cassie as she is set free from her sexual inhibitions and finds satisfaction, bliss, and a new confidence. She is completely transformed. 
S.E.C.R.E.T. offers readers a world where fantasy becomes reality, complete with strong, memorable characters, smart writing, and an ever-present theme of female empowerment. Vivid, exciting, and refreshing, readers will want to say yes to S.E.C.R.E.T. 
S.E.C.R.E.T. will be published simultaneously this February by the US, Canada, and UK divisions of Random House. 
About the Author:
L. Marie Adeline is a pseudonym for a bestselling author and television producer. Rights to S.E.C.R.E.T. have been sold in nearly thirty countries.
Related Posts: