Press Releases
RUSH by Stephen Fried
Revolution, Madness, and Benjamin Rush, the Visionary Doctor Who Became a Founding Father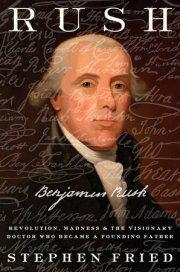 Stephen Fried
Imprint: Crown
On sale: September 4, 2018
Price: $30.00
Pages: 608
ISBN: 9780804140065
Contact:
Sarah Breivogel
212-572-2722
sbreivogel@penguinrandomhouse.com
THE REMARKABLE STORY OF BENJAMIN RUSH, MEDICAL PIONEER AND ONE OF OUR NATION'S MOST UNSUNG FOUNDING FATHERS

*Drawing on a trove of previously unpublished letters and images*
Select Praise for Stephen Fried and RUSH
"This entertaining biography argues that Benjamin Rush, a physician and a signer of the Declaration of Independence, has been undeservedly forgotten. In medicine…[and] as a political thinker, he was brilliant."
—The New Yorker
"Fried makes the case, in this comprehensive and fascinating biography, that renaissance man Benjamin Rush merits more attention….Fried portrays Rush as a complex, flawed person and not just a list of accomplishments;…a testament to the authorial thoroughness and insight will keep readers engaged until the last page."
—Publishers Weekly, starred review
"Fried's reclamation of this important, overlooked American founder is an invaluable addition to American history collections and a solid recommendation to biography fans."
—Booklist
"A welcome biography of a Founding Father…[who] became a prominent revolutionary and signer of the Declaration of Independence, then surgeon general of the Continental Army…renowned in the annals of American medicine as a pioneer of medical education and the treatment of the mentally ill….A complete portrait of a complex man…who excited attention and controversy in his day but then fell into the shadows. Fried does well to restore him to history."
—Kirkus Reviews
"The best books are full of surprises. Rush has more of them than any historical biography I have read in ages. It is vast and sumptuous and brings to life Founding Father Benjamin Rush in full Technicolor. Too long ignored, Rush's varied and mercurial brilliance puts him smack in the company of such figures as Adams and Jefferson and Washington and Hamilton with one exception: he is more interesting than any of them. He revolutionized medicine. He revolutionized health care. He revolutionized life. Fried draws it all out with his usual perfect pitch of reportage and writing. What a grand feast and feat."
—Buzz Bissinger, author of Friday Night Lights and A Prayer for the City
"An engrossing exploration of a Founding Father whose life sheds new light on the American Revolution, as well as on the ongoing challenges of civil rights and mental health care in this country.…Anyone who cares about our past and future—politically, medically, spiritually—should read this masterful biography."
—Congressman Patrick J. Kennedy, coauthor of A Common Struggle
One of the grandest stories of America's founding has, for more than two centuries, been hiding in plain sight. In RUSH: Revolution, Madness & the Visionary Doctor Who Became a Founding Father (Crown; September 4, 2018), New York Times bestselling author and journalist Stephen Fried brings to light the life of Dr. Benjamin Rush, one of our nation's most provocative, broadly influential, and shockingly overlooked Founding Fathers. Thanks to a trove of letters, images, and personal writings, many previously unpublished, Fried reveals the truth in what John Adams once wrote about his closest friend: "I know of no Character living or dead who has done more real good in America." As a thirty-year-old doctor, Rush was one of the fifty-six signers of the Declaration and one of the first Sons of Liberty in Philadelphia. His anonymous writings helped inspire the Boston Tea Party. He encouraged Thomas Paine, a bookstore acquaintance, to write Common Sense, and edited the entire pamphlet. He was also personal confidant and medical adviser to Benjamin Franklin, George Washington, Thomas Jefferson, and Adams, becoming uniquely close to the Revolution's leading men.
As a doctor, Rush became known as the "American Hippocrates" for transforming medical training and institutions, as well as for revolutionizing our understanding and treatment of mental illness and addiction. He left his pregnant wife and his congressional seat to treat patients at six major Revolutionary War battles, often behind enemy lines, later becoming a surgeon general of Washington's army and innovating new standards of care. Yet his medicine is only part of his legacy. From improbable beginnings as the son of a Philadelphia blacksmith, Rush grew into an internationally renowned writer and reformer, a fierce progressive agitator who championed public education and opposed prejudice by race, religion or gender, even as his convictions threatened his name and career, time and again. He was a prolific opponent of slavery, though it cost him dearly in friends and patrons, and even as he was credited with saving his city from a deadly yellow fever epidemic, he found himself targeted by partisan media in a fight that ended in one of the nation's first libel trials.
While Rush crops up in every Founding Father biography as an eyewitness and narrator, and is celebrated in the medical community as the most influential physician and public health writer in America's first decades, the dots between his contributions haven't been connected in large part because those best positioned to tell the whole story wanted it silenced. Adams and Jefferson each instructed their correspondence with Rush to be hidden, fearing what the release of such intimate dialogues, threaded with controversial ideas, would reveal about them. Rush's family was also cautious, so much so that the true depth of his contributions has remained buried in archives and private collections—until now. With RUSH, Fried resurrects the most significant Founding Father we've never heard of, installing Dr. Benjamin Rush in the pantheon of great American leaders.
# # # # #
About the Author:
STEPHEN FRIED is an award-winning journalist and New York Times bestselling author who teaches at the Columbia University Graduate School of Journalism and the University of Pennsylvania. He is, most recently, the author of the historical biography Appetite for America and the coauthor, with Congressman Patrick Kennedy, of A Common Struggle. His earlier books include the biography Thing of Beauty: The Tragedy of Supermodel Gia and the investigative books Bitter Pills and The New Rabbi. A two-time winner of the National Magazine Award, Fried has written frequently for Vanity Fair, GQ, Smithsonian, The Washington Post Magazine, Glamour, Rolling Stone, and Philadelphia magazine. He lives in Philadelphia with his wife, author Diane Ayres, not far from where Rush lived.
RUSH: Revolution, Madness, and the Visionary Doctor Who Became a Founding Father
by Stephen Fried
Crown • On Sale: September 4, 2018 • Price: $30.00 hardcover • Pages: 608
ISBN 978-0-8041-4006-5
Also available as an ebook and on audio
Visit crownpublishing.com
You can find the author on twitter @stephen_fried
For a list of events visit www.stephenfried.com
Related Posts:
You Might Also Like