Press Releases
RUN FAST. COOK FAST. EAT SLOW.
Quick-Fix Recipes for Hangry Athletes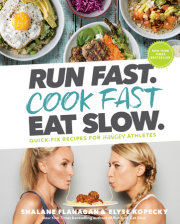 Shalane Flanagan and Elyse Kopecky
Imprint: Rodale
On sale: August 14, 2018
Price: $24.99
Pages: 256
ISBN: 9781635651911
Contact:
Kathryn Santora
212-572-2544
ksantora@penguinrandomhouse.com
From New York Times bestselling authors, Olympian Shalane Flanagan and chef Elyse Kopecky, comes RUN FAST. COOK FAST. EAT SLOW., the ultimate guide to wholesome, easy cooking for athletes of all levels.
Building on the revolution that was created with their 2016 New York Times bestseller Run Fast. Eat Slow., chef and nutrition coach Elyse Kopecky and 4-time Olympian, silver medalist, and 2017 TCS New York City Marathon champion Shalane Flanagan have created another cookbook to inspire athletes of all levels to cook their way to success, RUN FAST. COOK FAST. EAT SLOW.: Quick-Fix Recipes for Hangry Athletes (On Sale August 14, 2018, Rodale Books, ISBN: 978-1-63565-191-1).  Shalane and Elyse have helped thousands overcome health issues and made cooking and eating more enjoyable than ever before. They once again prove that food should be both indulgent and nourishing and need not be time consuming to prepare. Chock-full of fast, easy, and flavorful recipes, the pair's newest book is the ultimate guide to wholesome eating for athletes, growing families, and home chefs of all levels.
It was the positive feedback from fans of their first book, Run Fast. Eat Slow. that inspired this continuation. Shalane and Elyse encountered runners who had cooked their way through its pages, were told the book never left kitchen counters, and also heard from countless girls who had overcome harmful dieting habits and were running stronger than ever before and enjoying food for the first time, too. Parents of athletes as well as active moms and dads were excited to incorporate these heathy recipes into their family's routines.
In RUN FAST. COOK FAST. EAT SLOW., Shalane and Elyse share their experiences and knowledge to guide readers towards more nutritious, balanced eating. The book also offers an exclusive inside look into Shalane's marathon training, allowing readers to follow her favorite stretching routines, strategic eating guides, and strength exercises. Shalane explains:
When I moved off the track, from racing 5,000 m and 10,000 m distances to the marathon, my training required doubling the amount of miles I was accustomed to. This was the first time I realized that my diet and the food I was putting in my body were crucial to getting me through this additional training. Running 17 miles a day or a grueling long 24 miles left me "hangry"! I found myself reaching for pretzels, chips, processed bars, or cereal as snacks between meals or before bed. I knew this wasn't ideal, but I was hungry ALL THE TIME!
Fast forward to 4 years ago, insert Elyse and her nutritional wisdom, and I no longer have the uncontrollable and wild cravings for naughty snack foods.
One of the best gifts I've been given to enhance my running career and overall well-being has been learning to cook.
Readers will also receive budget-friendly grocery tips to help prep Shalane and Elyse's nutritious and delicious recipes.  The easy yet flavorful snacks, meals, and beverages that RUN FAST. COOK FAST. EAT SLOW. has to offer include:
Superhero Muffins—one of Shalane's favorite training snacks and Book 1 fan favorite—which now come in 3 different flavors: Apple Carrot, Pumpkin Spice, and Beet Blueberry Molasses

Thai Quinoa Salad, packed with fresh mint and nutrient-rich quinoa, a recipe Shalane returned to weekly while training for the NYC Marathon
Chocolate Peanut Butter Cups made healthy with coconut oil, unsweetened cocoa powder, and maple syrup
Steadfast Egg Scramble—Shalane and Elyse's go-to recovery meal after long runs—the ultimate combo of protein, complex carbs, and healthy fats with avocado, feta cheese, and sweet potatoes
Smoothie Bowls, creamy blends of fruits, veggies, and healthy fats loaded with your favorite toppings like honey, coconut flakes, and nuts
With countless pre-run snacks, post-workout recovery breakfasts, on-the-go lunches, and 30-minutes-or-less dinners, RUN FAST. COOK FAST. EAT SLOW. provides fuel and nutrition without sacrificing taste or time. Whether you're an athlete, feeding a hungry family, or have limited time in the kitchen, Shalane and Elyse's new cookbook has tons of wholesome and tasty meals to sustain you.
# # #
About the Authors:
SHALANE FLANAGAN is the coauthor of the New York Times bestseller Run Fast. Eat Slow. She is an Olympic silver medalist, 4-time Olympian, winner of the 2017 TCS New York City Marathon, and multiple American record holder. She finished second in the 2010 NYC Marathon and ran the fastest time ever by an American woman at the 2014 Boston Marathon. She has been running at an elite level for 14 years and typically runs 100-plus miles a week. She lives in Portland, OR.
ELYSE KOPECKY is a chef, speaker, nutrition coach, and New York Times bestselling coauthor of Run Fast. Eat Slow. The book features Elyse's "indulgent nourishment" food philosophy for long-term health and happiness. She studied nutrition at the Natural Gourmet Institute, the nation's top health-supportive culinary school. She lives in Bend, OR.
RUN FAST. COOK FAST. EAT SLOW.
Quick-Fix Recipes for Hangry Athletes
by Shalane Flanagan and Elyse Kopecky
Rodale Books—On Sale August 14, 2018
$24.99—Hardcover—ISBN: 978-1-63565-191-1
Related Posts: