Press Releases
ROGUE HEROES by Ben Macintyre
The History of the SAS, Britain's Secret Special Forces Unit That Sabotaged the Nazis and Changed the Nature of War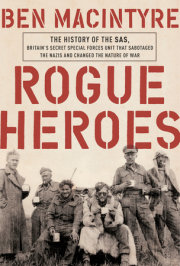 Ben Macintyre
Imprint: Crown
On sale: October 4, 2016
Price: $28.00
Pages: 400
ISBN: 9781101904169
Contact:
Dyana Messina
(212) 572-2098
dmessina@penguinrandomhouse.com
Advance Praise for ROGUE HEROES
"[A] well-written and comprehensive history . . . Macintyre uses unprecedented access to the SAS official records, along with memoirs, diaries, and interviews with the few surviving veterans, to chronicle the major operations, key personalities, successes, and failures of the regiment in WWII. He vividly captures the bravery and the sheer audaciousness of the SAS troopers and their leadership operating hundreds of miles behind enemy lines. . . . Macintyre delivers a solid history and an enjoyable read that will appeal to those interested in military history as well as readers who enjoy real-life tales of adventure." —Publishers Weekly
"A rollicking tale of 'unparalleled bravery and ingenuity, interspersed with moments of rank incompetence, raw brutality and touching human frailty.'" —Kirkus Reviews (starred review)
"A brilliant account…The author offers vivid information…The story will echo the voices of future generations of special forces hear in Marcus Luttrell's Lone Survivor and Mark Bowden's Black Hawk Down. Macintyre's masterly storytelling highlights the bravery of these valiant men." —Library Journal (starred review)
"Macintyre writes with the diligence and insight of a journalist, and the panache of a born storyteller." —John Banville, author of The Sea and The Untouchable
"By far the best book on the SAS in World War II—impeccably researched and superbly told." —Antony Beevor, author of D-Day and Stalingrad
"We all have to come from somewhere. Rogue Heroes gives a glimpse deep down the rabbit hole into how the special forces world started. This is a great look at how a motivated bunch of badasses changed the tide of war and carved the path for the rest of us to follow." —Marcus Luttrell, former U.S. Navy SEAL and author of Lone Survivor
---
With his acclaimed, internationally bestselling works, including A Spy Among Friends, Double Cross, Operation Mincemeat, and Agent Zigzag, Ben Macintyre has firmly established his reputation as a master storyteller. In edge-of-your-seat narratives punctuated with keen insights and sharp wit, he has demonstrated a remarkable ability to bring new and distinct perspectives to history. His stories of intrigue and derring-do have charmed critics at publications such as The New Yorker, the New York Times Book Review, Entertainment Weekly, the Washington Post, and the New York Times and have earned him a devoted readership on both sides of the pond—a readership that would, it seems, include individuals in Britain's Special Air Service, better known as the SAS. The notoriously secret military unit selected Macintyre to be its authorized historian, providing him with exclusive access to records and materials never before available to the public. What Macintyre would find in those archives were incredible stories of bravery, sacrifice, and colossal achievements that have gone wholly unrecognized. With ROGUE HEROES: The History of the SAS, Britain's Secret Special Forces Unit That Sabotaged the Nazis and Changed the Nature of War (Crown; October 4, 2016), Macintyre brings this history vividly to life, offering a powerfully intimate look at war as lived by a group of exceptional soldiers.
The SAS was born in the deserts of the Middle East, the brainchild of a young man named David Stirling. Considered wonderfully affable, but without much aim or purpose, few would have believed Stirling capable of creating an elite military unit—but that was just what he did. With the help of his equally idiosyncratic colleague, the rough-and-tumble Jock Lewes, Stirling would assemble a team of brilliant and sometimes brutal men, whose talents defied both tradition and expectations. Despite deep reservations from many of their superiors, Stirling and Lewes would train these men to parachute behind enemy lines on sabotage missions (often considered suicide missions) designed to incapacitate the German war machine and, later, to take the fight to the Nazis on the Continent.
Through interviews and painstaking research, Macintyre takes readers deep inside the SAS, where we witness its remarkable evolution from a ragtag, experimental team of misfits into a highly skilled and elite unit. Macintyre goes beyond the stories and bravado, however, delving deep into the psychology of war to render a nuanced portrait of men for whom battle would become not a job but a calling. Their efforts would change not only the course of the war, but the very nature of combat itself as the SAS stealth strike force is the DNA from which virtually every contemporary unit, including the U.S. Delta Force and Navy SEALs, has been formed.
ROGUE HEROES offers an insider's look at the last truly unsung secret organization of World War II. Macintyre not only builds upon the extraordinary legacy of the SAS, but also unearths a missing piece in the puzzle that is critical to our understanding of World War II and the Allied victory in an expertly crafted and propulsive work.
About the Author: Ben Macintyre is a writer-at-large for The Times of London and the bestselling author of A Spy Among Friends, Double Cross, Operation Mincemeat, and Agent Zigzag, among other books. Macintyre has also written and presented BBC documentaries of his work.
Related Posts:
You Might Also Like