Press Releases
Robin Kirman's tour de force coming-of-age debut, Bradstreet Gate
A compulsively readable novel about promise, disappointment, and the truths we hide from one another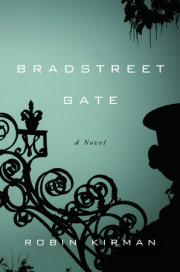 Robin Kirman
Imprint: Crown Publishers
On sale: July 7, 2015
Price: $26.00
Pages: 320
ISBN: 9780804139311
Contact:
Annsley Rosner; Lauren Kuhn
212-782-9740; 212-782-8637
arosner@penguinrandomhouse.com; lkuhn@penguinrandomhouse.com
Select Praise for Bradstreet Gate 
"Un-put-downable." —Good Housekeeping 
"A sophisticated character portrait . . . A gripping read that shows the dark side of ambition." —Booklist  
"Though correlations to Donna Tartt's classic The Secret History seem inevitable, Kirman's complex, serpentine yarn has teeth of its own, and it will find a welcome home in many beach bags this summer." —Publishers Weekly
"A scandal with a shiny tabloid surface—murder on an elite college campus—haunts the friends and enemies of the victim and her accused, as they struggle to adjust to adulthood outside the university gates. Robin Kirman captures the moral hazards of assessing guilt and determining punishment in her intelligent, compulsively readable debut." —Jonathan Dee, Pulitzer Prize finalist and author of The Privileges
"I dare you to put Bradstreet Gate down once you've started it. Smart, sly, and compulsively readable, Robin Kirman's brilliant debut not only heralds the start of an auspicious career, it shows that Kirman—whose writing calls to mind Donna Tartt—has already arrived." —Molly Antopol, National Book Award longlisted author of The UnAmericans
In the crisp Boston spring air the future looms bright and full of possibility for ambitious and idealistic soon-to-be Harvard University graduates. For the privileged and elite Ivy Leaguers, all doors seem unlocked, entrances to assuredly charmed adulthoods. But when tragedy strikes on campus and a senior is found brutally murdered, the poised and alluring young professor Rufus Storrow is unexpectedly named the crime's prime suspect, his most enamored students forced to embark on adulthood with their realities profoundly shaken.
In her striking debut BRADSTREET GATE (Crown; July 7, 2015), Robin Kirman explores the reverberations of this tragedy over the next decade in the lives of three friends: Georgia Calvin, a reckless beauty with a nomadic past; Charlie Flournoy, an earnest college Republican at odds with his blue-collar roots; and Alice Kovac, the spirited, troubled child of Serbian immigrants. Each is connected both to the victim and to Storrow, a man obsessed with the perfection of his image, "too well-dressed and too well-spoken," who peppers his speech with West Point lingo and makes allusions to a military past that remains mysteriously elusive. Yet none of the students are able to surmise Storrow's guilt nor his innocence, and he is neither convicted nor able to escape presumptions of culpability. As Georgia, Charlie, and Alice grapple with the demise of their illusions of post-Harvard grandeur and confront their own demons and failures, they are left haunted by Storrow's ruin, his once promising career left in shambles by a crime no one feels sure enough he did not commit.
Sure to appeal to fans of Claire Messud, Jeffrey Eugenides, Meg Wolitzer, and Philip Roth, BRADSTREET GATE is an extraordinary work of psychological fictionmarked by smart, sharp, heartfelt prose; gripping, vividly drawn characters; and a perceptive, almost Fitzgeraldean portrait of the pursuit of our misguided dreams. 
ABOUT THE AUTHOR: ROBIN KIRMANearned a BA in philosophy from Yale College and an MFA in fiction from Columbia University, where she served as a writing instructor for several years in the English department. Robin lives in New York City and Israel.
Related Posts:
You Might Also Like