Press Releases
THE ROANOKE GIRLS by Amy Engel
A Novel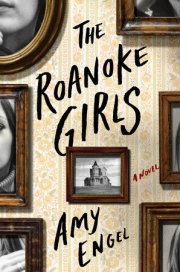 Amy Engel
Imprint: Crown
On sale: March 7, 2017
Price: $25.00
Pages: 288
ISBN: 9781101906668
Contact:
Sarah Breivogel
212-572-2722
sbreivogel@penguinrandomhouse.com
Roanoke girls never last long around here.
In the end, we either run or we die.
Praise for THE ROANOKE GIRLS
"With more twists than a bag of pretzels, this compelling family saga may make you question what you think you know about your own relatives."
—Cosmo

"A very good tale with an excellent plot and unforgettable characters."
—Suspense
"A page-turning thriller that will allow you to escape into another world…filled with family secrets and a legacy of death and disappearance for the infamous "Roanoke Girls" — a privileged Kansas matriarchy with more than its fair share of tragic drama."
—Bustle
"A crime must-read to devour…The Roanoke Girls has nothing to do with Virginia but everything to do with missing girls, as the females in the Roanoke family, who live in a tiny town in rural Kansas not worth naming, are rich, beautiful, and generally short-lived…The farmhouse, which is 'equal parts horrifying and mesmerizing,' is a perfect setting for a gothic mystery full of small-town secrets, lies, and guilt."
—Literary Hub

"Engel drops a wicked twist in the first 35 pages—in the middle of a paragraph on the middle of the page—and lets it sit like a coiled snake…from that point on, The Roanoke Girls becomes a thrilling mystery and a satisfyingly gothic portrait of Middle America…a dark fable of trauma and acceptance about damaged people accepting their crooked parts and using them to move forward."
—Bookpage
"In her first venture into adult fiction, Engel hits a homerun with this "gothic suspense novel" that tells the story of the Roanoke family, a prominent and very private Kansas family. …a rollercoaster ride through a dark family history and the one devastating family secret that threatens to swallow Lane whole, but hopefully not before she manages to find Allegra."
—Pulse
"Gripping . . . [a] gothic page-turner . . . with revelations readers won't soon forget."
—Publishers Weekly
"An emotionally captivating story."
—Booklist
"In her first foray into adult fiction, [Engel] creates a memorable cast of characters and a twisting, tangled plot that attracts readers from the first page . . . [an] atmospheric and unsettling tale of the secrets and bonds of family, set against the backdrop of small-town Kansas."
—Library Journal
"A provocative thriller."
—Telegraph UK

"I was immediately drawn into The Roanoke Girls, a haunting and riveting look at one family's tangled legacy. You won't stop reading until you've unraveled the darkest of Roanoke's shocking secrets."
—Laura McHugh, award-winning author of The Weight of Blood
"A poised and haunting novel, whose enchanting prose belies its dark and intense subject matter. An evocative modern take on Southern Gothic, with a compelling twist which will remain with you long after the book's last sentence."
—L. S. Hilton, New York Times bestselling author of Maestra
"An emotionally compelling page turner, The Roanoke Girls takes you inside the dark world of a twisted family and one woman's fight to break free from the chains of her own history. This is family intrigue at its very best!"
—Wendy Walker, author of All is Not Forgotten
---
In her dark and haunting novel, THE ROANOKE GIRLS (Crown, March 7, 2017), Amy Engel introduces readers to the wealthy and elusive Roanoke family, and all of their terrible secrets. Following her mother's suicide, fifteen-year-old Lane Roanoke comes to live with her maternal grandparents and cousin, Allegra, at the Roanoke family estate in rural Osage Flats, Kansas, a labyrinthine farmhouse which Lane describes as, "equal parts horrifying and mesmerizing." She knows little of her mother's family, other than the fact that her mother ran away years before and cut off all contact with her parents. Allegra, abandoned by her own mother at birth and raised by her grandparents, introduces Lane to small-town life and the benefits of being one of the rich and beautiful Roanoke girls. But there is darkness at the heart of the Roanoke family and when Lane discovers its insidious pull she has no choice but to run, as far and as fast as she can.
Eleven years later, Lane is scraping by in Los Angeles when her grandfather calls with the news that Allegra has gone missing. "Come home," he beckons. Unable to resist the pull, Lane returns, determined to find her cousin and assuage her own guilt at having left Allegra behind all those years ago. Her homecoming might mean a second chance with Cooper, the boyfriend whom she loved and destroyed that fateful summer. But it also means facing the terrible secret that made her flee, one she may not be strong enough to run from again.
As a child, Engel spent summers visiting her grandparents in the small Kansas town where her mother was raised. She was always intrigued by the tension between the town's cozy feeling of nostalgia and the undercurrents of claustrophobia and unease she often sensed there. In creating Osage Flats, Engel wanted to explore how these disparate feelings could coexist, how in a place where you know everything and everyone (or think you do), comfort and suffocation can go hand in hand. In writing her first adult novel, (Engel is also the author of the YA series The Book of Ivy), Engel also thought a lot about the notion that people are rarely black and white, something she often saw firsthand as a former defense attorney. As she began to write, she found that the moral complexity she had encountered daily in her legal career naturally wove its way into the pages of the novel.
As it oscillates between the summer of Lane's first arrival and the summer of her return, THE ROANOKE GIRLS shocks and tantalizes, twisting its way through revelation after mesmerizing revelation leaving readers with the same conflicted feelings as the characters in the book. Fans of books like Luckiest Girl Alive, The Girl on the Train, Bittersweet, and Sharp Objects, will be drawn to this compelling work of psychological suspense that centers around a caustic, deeply damaged young woman whose narration can't be relied upon, but whom you want to believe in nonetheless.
Boundary-pushing and provocative, THE ROANOKE GIRLS explores the inner workings of a genuinely disturbing family that keeps you turning pages even when you want to look away.
* * * * *

About the Author:
AMY ENGEL is the author of the young adult series The Book of Ivy. A former criminal defense attorney, she lives in Missouri with her family. This is her first novel for adults.
Related Posts:
You Might Also Like