Press Releases
A Revised and Updated Edition of Dr. Amen's Acclaimed Bestseller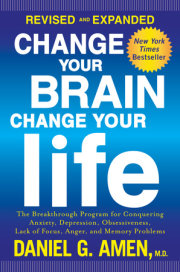 Daniel G. Amen, M.D.
Imprint: Harmony
On sale: 11/03/2015
Price: $17.00
Pages: 480
ISBN: 9781101904640
Contact:
Lauren Cook
212-782-9486
lcook@penguinrandomhouse.com
"After 115,000 brain scans Dr. Daniel Amen is the ultimate expert on how to change your brain so that you can change your life for the better. The discovery of his wisdom and insights will make your life and brain health infinitely better."
—Mark Victor Hansen, New York Times bestselling author and cocreator of the Chicken Soup for the Soul series 
"I consider Daniel Amen to be the most innovative psychiatrist in America. His message is simple, yet profound: you can't have a healthy life without a healthy brain. His dietary and lifestyle strategies to maintain brain health are based on the world's most comprehensive library of brain-imaging technology that allows one to observe the impact of his recommendations. If you want a more fulfilled life, this book is a must read."
—Dr. Barry Sears, New York Times bestselling author of The Zone
"This book is a gold mine of practical and easy-to-follow instructions on how you can you can feel sharper, happier, and more in control. Dr. Amen has condensed his thirty-five years of experience in treating patients with attention deficit disorder, depression, anxiety, OCD, and addiction into a practical program you can follow on your own."
—Majid Fotuhi, MD, PhD; NeuroGrow Brain Fitness Center, medical director;
Johns Hopkins Medicine and Howard County General Hospital, affiliate staff
Renowned Neuroscientist, Psychiatrist, and Brain-Imaging Expert Dr. Daniel Amen Brings Us the Completely Revised and Updated Edition of His Acclaimed Bestseller
CHANGE YOUR BRAIN, CHANGE YOUR LIFE
(REVISED AND EXPANDED)
Daniel G. Amen, M.D., renowned neuroscientist, psychiatrist, brain-imaging expert, and New York Times bestselling author, has learned one simple and inspiring truth in his decades of clinical practice: it is possible to change your brain and, in doing so, change your life. You're not stuck with the brain you have and Dr. Amen can prove it.
In the completely revised and updated edition of his perennial bestseller, CHANGE YOUR BRAIN, CHANGE YOUR LIFE (REVISED AND EXPANDED): The Breakthrough Program for Conquering Anxiety, Depression, Obsessiveness, Lack of Focus, Anger, and Memory Problems (A Harmony Paperback; November 3, 2015; $17.00; 480 Pages; ISBN 978-1-101-90464-0), Dr. Amen provides scientific evidence that these conditions and other such issues could be related to how specific structures in your brain work and presents effective "brain prescriptions" that can heal your brain and change your life.
The book is divided into three key sections, "How Imaging Changes Everything," "Know and Heal the Brain Systems That Run Your Life," and "The Brain Warrior's Way," Dr. Amen combines cutting-edge research and unparalleled clinical experience treating children, teenagers, and adults from 111 countries with the largest database of brain imaging studies to help people who struggle.
Amen offers a brief primer about the brain and the ways in which brain imaging changes everything. A pioneer in the clinical application of brain imaging in psychiatry, Amen set out early-on in his career to change the fact that psychiatrists are the only medical specialists who virtually never look at the organs that they treat. Now, with a network of clinics spanning the country and nearly 110,000 brain scans on record, Dr. Amen is uniquely positioned to help people who have troubled brains rehabilitate themselves and he's poured the lessons of his life's work into this latest edition of his classic book.
Readers learn "12 Principles to Change Your Brain and Your Life," the "Amen Clinics Method for Healing and Optimizing Your Brain" in seven easy steps, and how to assess and improve the "Four Circles of Your Life" (Biological, Psychological, Social, and Spiritual). Numerous thought-provoking and enlightening case studies are given, along with the brain SPECT (single photon emission computed tomography) images that illustrate his points throughout.
Dr. Amen explores the three key ways to evaluate brain function—brain imaging, the Amen Clinics Brain System Questionnaire, and neuropsychological assessments—and he teaches about the value of knowing your own personal numbers (BMI, waist-to-height ratio, average number of hours you sleep, blood pressure, CBC (Complete Blood Count) and other blood tests).
Part Two of CHANGE YOUR BRAIN, CHANGE YOUR LIFE (REVISED AND EXPANDED) offers valuable guidance to understanding and healing the brain systems that run your life and specific chapters are dedicated to exploring love and depression, anxiety and fear, nervousness, inattention and impulsivity, and how to achieve total focus. Additional chapters in this section help readers get worrying and obsessiveness under control and also provide useful tips for getting "unstuck" and boosting memory, learning, and temper control. Countless takeaways are included, such as:To quell anxiety and panic:
Use simple breathing techniques to immediately calm inner turmoil
To fight depression:
Learn how to kill ANTs (automatic negative thoughts)
To curb anger:
Follow the Amen anti-anger diet and learn the nutrients that calm rage
To conquer impulsiveness and learn to focus:
Develop total focus with the One-Page Miracle
To stop obsessive worrying:
Follow the "get unstuck" writing exercise and learn other problem-solving exercises
In addition, Amen skillfully identifies the seven types of ADD, seven types of anxiety and depression, six types of addicts, and the five types of overeaters. Readers gain understanding of how the brain impacts relationships and intimacy and how brain imaging allows us to study these arenas like never before. Moreover, he displays the potential long-term impact that drug use, toxins, head trauma, infections, and violence can have on the brain, often in surprising and unexpected ways.
"The Brain Warrior's Way," the last section of the book and perhaps the most exciting, outlines that we are at war for the health of our brains and instructs how to put the "Amen Clinic Program to Explode Your Potential" to use to reverse illness, reduce your risk for Alzheimer's disease, and so much more. "The Brain Warriors Diet" is also included—you have to eat right to think right—and there is a handy resource guide at the end of the book to help readers determine when to seek professional help.
Dr. Daniel Amen's CHANGE YOUR BRAIN, CHANGE YOUR LIFE (REVISED AND EXPANDED) presents new insights into how the brain works and supplies the latest research to help boost your brain and the brains of those you love, which in turn will improve everything in your life and theirs.
Coinciding with the November 3rd release date of the book, Dr. Amen will launch his new national PBS special, On the Psychiatrist's Couch, which will begin airing nationally on November 27th, 2015.
About the Author
Daniel G. Amen, M.D., is a clinical neuroscientist, psychiatrist, and brain-imaging expert who heads the world-renowned Amen Clinics. The Washington Post called Dr. Amen the most popular psychiatrist in America, and Sharecare named him the Web's #1 most influential expert and advocate on mental health. He is a distinguished fellow of the American Psychiatric Association and a ten-time New York Times bestselling author, including Change Your Brain, Change Your Life; Magnificent Mind at Any Age; and Change Your Brain, Change Your Body. He is also an internationally recognized keynote speaker and the star of several very popular public television specials. Visit him online at www.amenclinics.com.
Related Posts:
You Might Also Like