Press Releases
Renowned Golf Instructor Hank Haney Writes Revealing Account of His Six-Year Coaching Relationship with Tiger Woods in Memoir Set for March 27, 2012 Publication by Crown Archetype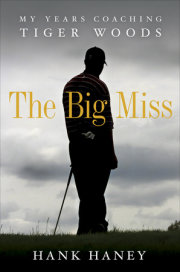 On sale: March 27, 2012
Price: 26.00
Pages: 272
ISBN: 9780307985989
Contact:
Tammy Blake
212-572-2542
tblake@randomhouse.com
Hank Haney, one of the world's premier golf instructors, will chronicle his productive, intense six-year coaching relationship with Tiger Woods, formerly golf's  # 1 ranked player, covering a period in which the champion was at his triumphant peak and in the throes of a devastating personal and professional crisis. Candid and insightful, the memoir will be released by Crown Archetype, an imprint of the Crown Publishing Group at Random House, Inc.  Titled The Big Miss: My Years Coaching Tiger Woods, Haney's book will be published on March 27, 2012 and will be issued simultaneously in print and digital formats in the U.S. and Canada.
From March 2004 to the spring of 2010, Hank Haney was Tiger Woods's coach, and Tiger was Haney's only client.  In that period, Tiger won more than a third of the tournaments he entered and six of his fourteen major championships, including his dramatic 2008 U.S. Open victory at Torrey Pines, where he limped around the course with two stress fractures in his left leg. In The Big Miss, Haney will provide unique insight into the complex personality of Tiger Woods, showing how the once child prodigy came to have a deeply-conflicted relationship with the game that made him one of the most famous and accomplished athletes of all time.  Haney will also reveal how he went about working to help improve the world's best player, and he'll explain his decision to resign from the "best job in golf coaching" in the spring of 2010.
The deal was announced today by Tina Constable, Senior Vice President and Publisher of Crown Archetype. Rick Horgan, Vice President and Executive Editor, preemptively acquired world, electronic, audio, and first serial rights to The Big Miss, negotiating the deal with Haney's agents at Octagon, including Jeremy Aisenberg.
"I was fortunate to be given the opportunity of a lifetime to teach the world's greatest golfer," said Haney. "Yet Tiger remains a mystery to so many. I hope that by writing this book, people will have a better understanding of who he is, what he's accomplished, and how he was able to be at the top of his game for so long."
Said Tina Constable, "Even after scandal and injury, Tiger Woods continues to dominate the sports pages and remains one of the world's highest paid celebrities. Millions of people are fascinated by him, and Hank Haney is one of the few people who can give us a true inside look at one of the most significant sports icons of our era."
Hank Haney has built a successful career in golf as a world-renowned golf instructor, television personality and entrepreneur. He has tutored more than 200 touring professionals and runs teaching facilities in the U.S. and China.  In addition to hosting the top-rated Golf Channel show "The Haney Project," Haney also contributes to numerous publications and has appeared on the cover of Golf Digest seven times.
The parent company of Random House, Inc. is Bertelsmann AG.
Related Posts:
You Might Also Like