Press Releases
Reasons My Kid Is Crying by Greg Pembroke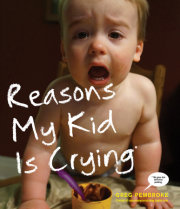 Greg Pembroke
Imprint: Three Rivers Press
On sale: April 1, 2014
Price: $15.00
Pages: 208
ISBN: 9780804139830
Contact:
Rebecca Marsh
212-572-2544
rmarsh@randomhouse.com
Based on the hit Tumblr, REASONS MY KID IS CRYING is the perfect way to laugh through the tears—because not every toddler tantrum is a tragedy.
There's nothing quite like a toddler meltdown. Kids can be set off by the smallest thing—a broken toy, meeting Santa, being told to stop licking their shoes—and their fits are often unintentionally hilarious. That's the idea behind Greg Pembroke's hit website, Reasons My Son Is Crying, recently named one of the Most Viral Tumblrs of 2013. Now there are even more laughs in the new book, REASONS MY KID IS CRYING (Three Rivers Press; Trade Paperback Original; $15.00; On Sale April 1, 2014).
Like the irresistible blog, REASONS MY KID IS CRYING pairs full-color photos of adorable kids having not-so-adorable fits, along with deadpan descriptions of why these tots are freaking out. Every miniature melodrama and child-size crisis is proof that parenting is always an adventure in absurdity, and sometimes all you can do is laugh.
When Greg Pembroke began sharing photos online of his sons' tantrums, he was just trying to find a little humor in this insanity we call parenthood. His tongue-in-cheek captions captured the reasons behind the outbursts—such egregious parenting mistakes as "I broke his cheese in half" and "We suggested he play with a train." The site quickly became a sensation, with parents all over the world chiming in. Featuring favorites from the blog as well as plenty of new material, REASONS MY KID IS CRYING is a wildly funny look inside the minds of toddlers.
Among the many completely logical reasons for fits in REASONS MY KID IS CRYING:
His instant oatmeal was not, in fact, instant.
I asked him what he wanted for dinner.
Her sister gave her a kiss.
She was splashed.
Part documentary, part therapy, and 100% entertaining, REASONS MY KID IS CRYING is a laugh-out-loud chronicle of the seemingly minor events that can trigger hysterics. It's a witty homage to the chaos of parenthood—to everything our kids put us through, and why we love them anyway.
About the Author
GREG PEMBROKE is the father of two sons (and the husband of one wife) from Rochester, NY. He works part time as radio advertising copywriter three days per week and stays home with his young sons two days per week.
Find out more at www.reasonsmysoniscrying.com
Follow Greg on Twitter @ReasonsMySonCry
Related Posts: