Press Releases
THE RADICALS by Ryan McIlvain
A Novel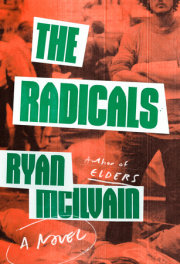 Ryan McIlvain
Imprint: Hogarth
On sale: February 13, 2018
Price: $26.00
Pages: 288
ISBN: 9780553417883
Contact:
Alex Larned
212-572-2247
alarned@penguinrandomhouse.com
Praise for THE RADICALS
"McIlvain's eloquent and penetrating new novel, The Radicals . . . proceeds to draw the reader across a landscape of idealism, despair, greed, love and loss . . . He's not holding a mirror up to society; he's holding it up to you and me. How do you, as a basically honest person, respond to intentionally corrupt power? How can you fight on one side of your life and love on the other? How do you live now? . . . The Radicals is a heartfelt exploration of questions that may be impossible to answer." —Los Angeles Review of Books
"A rollicking literary thriller . . . Rapturous." —Vanity Fair
"It may be fictional, but the world in The Radicals deftly mirrors ours, with political upheaval, corporate excess and suspicious, frustrated citizens." —Tampa Bay Times
"In McIlvain's splendid second novel (following Elders), the blissful rootlessness of narrator Eli, a 28-year-old graduate student, makes the novel a kind of adventure story of friendship and betrayal, in the same vein as On the Road. . . . McIlvain's prose is effortless and sharply perceptive; this is a consistently engrossing and thoroughly enjoyable novel." —Publishers Weekly (starred)
"Hauntingly depicts the devastation that results from according ideology precedence over human life. . . . McIlvain's rich prose captures the polychromatic splendor of nature." —Minneapolis Star Tribune
"McIlvain is a consummate crafter of words. Each word of his prose carries real weight…" —Medium
"The author of Elders (2013) serves up another story of true belief and its discontents, this time set in the time of failing banks, rising inequality, and the Occupy movement…Memorable…A welcome return that will leave readers looking forward to future work from McIlvain." —Kirkus
"McIlvain's exploration of the world of protesters will resound with readers interested in the personal side of dissent. McIlvain offers far more than political commentary, though, as he explores friendship, loyalty, and betrayal in a tale driven by tension and suspense." —Booklist (starred)
"Among his many talents, Ryan McIlvain has a special gift for getting at the seductions and dangers of naïvete, and The Radicals delivers. Suffused with bittersweet wistfulness for a better world, this novel offers an urgent warning about the hazards that lie beneath even the best of intentions." —Maggie Shipstead
"What a splendid novel, brilliantly combining a compelling personal story with important ripped-from-the-zeitgeist social and political issues. The Radicals has instantly claimed a place for Ryan McIlvain on my short list of writers I will forever watch very closely." —Robert Olen Butler
Seldom does a novel line up with a political moment as perfectly as Ryan McIlvain's new book, THE RADICALS (Hogarth; February 13, 2018). Imagine a pressure cooker. Inside it are the optimism and zeal that went into the Occupy Wall Street movement, the bitterness that followed when nothing much changed, the growing boldness of malfeasant U.S. companies in recent years, and—at the center of it all—two idealistic young men. The novel opens with the pair playing tennis. They're not very good. Our narrator, Eli, recounts the sweat pouring off his body and the strangely squarish jaw of his opponent, Sam Westergard, who is clearly a fish out of water in their graduate course in Marxist theory. Then comes this matter-of-fact reflection: "I couldn't have known I was standing across the net from a murderer, and neither could he."
The fuse is lit, allowing McIlvain to step back and explore, in fiercely intelligent, effortless prose, the nuances of friendship and love in the lives of these characters. Both graduate students in New York City, Eli and Sam quickly bond over their idealism, their love of poetry, and their commitment to social justice—this last taking the form of an organized protest against Soline, a giant energy company that has speculated away the jobs and savings of thousands. As an Occupy-like group begins to coalesce around him, Eli realizes that some of his fellow intellectuals are more deeply—and dangerously—devoted to the cause than others.
McIlvain grew up in the Mormon Church in Massachusetts and resigned his membership from that organization in his mid-twenties, well aware of the risks of excessive zeal. His first novel, Elders, grappled with faith in startling ways, drawing praise from The New York Times, Slate, The Daily Beast, and other publications, as well as sparking a fascinating and wide-ranging conversation with Terry Gross on NPR's Fresh Air. T. C. Boyle called the novel "a powerful and deeply moving debut from a gifted young writer," and The Boston Globe wrote that Elders "glows with the love and anger of a former believer," calling it "clear-eyed . . . finely paced, keenly observed, and ruefully honest." Now, in THE RADICALS, McIlvain reaches a new level of achievement, with a propulsive plot to match a searching investigation into political zeal. What happens when Social Justice becomes your new god?
THE RADICALS will resonate with politically minded readers of fiction and nonfiction alike. The themes of wealth inequality, class tension, activism, and anti-establishment passion will be familiar to anyone who has followed the American news cycles over the past several years. In terms of style, the novel belongs on the shelf next to contemporary literary fiction with a keen intellect and a big heart, like The Art of Fielding, Billy Lynn's Long Halftime Walk, and Let the Great World Spin. A sharp, wonderfully human illustration of friendship, empathy, and suspicion in the midst of political upheaval, McIlvain's new novel showcases his rare talents as a storyteller and stylist and confirms him as one of our most gifted young writers. And the fuse, of course—remember that burning fuse. This story is explosive.
About the Author
Ryan McIlvain was born in Utah and raised in Massachusetts. His first novel, Elders, was longlisted for the Center for Fiction's First Novel Prize, and his work has appeared in The Paris Review, Post Road Magazine, The Rumpus, and the Los Angeles Review of Books, among many other publications. A former Stegner Fellow in Fiction at Stanford University, McIlvain now lives with his family in Tampa, Florida.
Related Posts: