Press Releases
Quilters can stitch beautiful, handmade projects virtually anywhere with Quilting on the Go, an all-in-one resource for portable patchwork
Quilting on the Go: English Paper Piecing Projects You Can Take Anywhere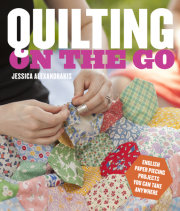 Jessica Alexandrakis
Imprint: Potter Craft
On sale: June 11, 2013
Price: $21.99
Pages: $21.99
ISBN: 9780770434120
Contact:
Kim Small
212-572-6067
ksmall@randomhouse.com
Want to quilt but don't have a sewing machine? No problem! Beginners and experienced quilters alike can stitch beautiful, handmade projects virtually anywhere with QUILTING ON THE GO: English Paper Piecing Projects You Can Take Anywhere (Potter Craft, $21.99, On Sale June 11, 2013), an all-in-one resource for portable patchwork using hand-sewing techniques and paper templates to make 20 gorgeous, colorful projects. With a few simple tools and techniques, quilting can easily fit into crafters' busy lives.
One of the easiest, most versatile (and budget-friendly) quilting techniques, English paper piecing has captured the imagination of contemporary sewers. This age-old technique has beguiled quilting bloggers, and local quilt stores are stocking notions specifically for English paper piecing to keep up with this trend. Jessica Alexandrakis shows how this simple technique can be used to create a wide range of lovely quilts, accessories, and gifts that sewers will be inspired to make—and turn into family heirlooms of their own.
Imagine being able to quilt anywhere you'd like! QUILTING ON THE GO transforms traditional quilting into a portable, uncomplicated, and sociable way to unwind. Readers will learn how to build a travel tool kit with everything needed to start stitching at home, in cafés, on vacation—or wherever else they want to! The 20 projects range from small (a sewing kit, a shoulder bag, a laptop bag, a photo frame, a throw pillow, and more) to large, including the inspiration and the building blocks for 10 full-size quilt patterns using hexagons, diamonds, and other shapes.
Showcasing a kaleidoscope of bold prints and fabric combinations, QUILTING ON THE GO is a visual delight of color and inspiration. With step-by-step tutorials, expert tips, and endless possibilities, now is the perfect time to break free from your sewing machine!
#    #    #
About the Author:
JESSICA ALEXANDRAKIS learned to quilt while living in Hokkaido, Japan, in 2002. She loves scrap quilts, one-patch quilts, and quilting in public. She started blogging about her quilting efforts in 2006 and currently blogs at LifeUnderQuilts.blogspot.com. An active member of the NYC Metro Modern Quilt Guild, Jessica lives outside of New York City with her husband and two sons.
Related Posts: