Press Releases
QUIET The Power of Introverts in a World That Can't Stop Talking By Susan Cain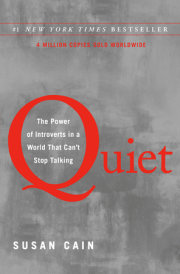 Susan Cain
Imprint: Crown
On sale: January 29, 2013
Price: $18.99
Pages: 368
ISBN: 9780307352149
Contact:
Rachel Rokicki
212-782-8455
rrokicki@randomhouse.com
**THE NEW YORK TIMES BESTSELLER**
Writer Susan Cain delivers a profound, paradigm-shifting book about the surprising advantages of being an introvert in an extroverted world. Based on five years of research in psychology and neurobiology, and on dozens of interviews, QUIET illuminates what it means to be an introvert or extrovert and eloquently calls for a new social order.
* A FEBRUARY 2012 INDIE NEXT PICK *
* A JANUARY 2012 AMAZON BEST BOOKS OF THE MONTH PICK *
* A JANUARY 2012 BARNES & NOBLE BEST BOOKS OF THE MONTH PICK *
"An intriguing and potentially life-altering examination of the human psyche that is sure to benefit both introverts and extroverts alike." —Kirkus (starred review)
"Cain gives excellent portraits of a number of introverts and shatters misconceptions. Cain consistently holds the reader's interest by presenting individual profiles, looking at places dominated by extroverts (Harvard Business School) and introverts (a West Coast retreat center), and reporting on the latest studies. Her diligence, research, and passion for this important topic have richly paid off." —Publishers Weekly
"This is an intelligent and often surprising look at what makes us who we are." —Booklist
"Susan Cain's quest to understand introversion, a beautifully wrought journey from the lab bench to the motivational speaker's hall, offers convincing evidence for valuing substance over style, steak over sizzle, and prizing qualities that are, in America, often derided." —Sheri Fink, Pulitzer Prize–winning author
"Brilliant, illuminating, empowering! Quiet gives not only a voice but a path to homecoming for so many who've walked through the better part of their lives thinking the way they engage with the world is something in need of fixing." —Jonathan Fields, author of Uncertainty
"Gentle is powerful… Solitude is socially productive… These important counter-intuitive ideas are among the many reasons to take Quiet to a quiet corner and absorb its brilliant, thought-provoking message." —Rosabeth Moss Kanter, Harvard Business School professor
Did you know that nearly half of Americans are introverts? If you're not an introvert yourself, you are surely raising, managing, married, or related to one. Cerebral, quiet, perceptive to nuance, and emotionally complex, introverts are often discounted or undervalued. Yet many of the greatest achievers of the twentieth century have been introverts: Eleanor Roosevelt, George Orwell, Rosa Parks, Marcel Proust, Warren Buffett, Larry Page, and Mahatma Gandhi, to name just a few. Without introverts, the world would have missed out on the Apple computer, the theory of relativity, van Gogh's sunflowers, and The Cat in the Hat.
A self-proclaimed introvert, author Susan Cain, a former Wall Street attorney, challenges what she calls the Extrovert Ideal in QUIET: The Power of Introverts in a World That Can't Stop Talking (Crown; January 24, 2012). Our culture, she argues, overvalues the alpha personality—gregarious and highly verbal—while ignoring the subtler strengths of the introvert, such as reflectiveness, persistence, and sensitivity. Based on five years of research, Cain explores the physiological aspects and psychological advantages of being an introvert.
In Part One of QUIET, Cain charts the rise of the Extrovert Ideal, illustrating how it permeates our culture—taking the reader on a journey from Dale Carnegie's birthplace to Harvard Business School to a Tony Robbins seminar to an evangelical megachurch. She questions the dominant values of American business culture, where forced collaboration can stand in the way of innovation, and where the leadership potential of introverts is often overlooked. In Part Two, Cain explores the neurobiology and psychology of temperament. She looks at hereditary traits, examining the nature-vs-nurture debate and the role of free will in personality. In Part Three, she examines whether all cultures have an Extrovert Ideal, specifically looking at the differences between Western culture, where the individual is paramount, and Eastern culture, where the success of the group is often valued above that of the self. She speaks with Asian-American students who feel alienated from the brash, backslapping atmosphere of American schools. In Part Four, Cain offers practical advice about everything from networking if you hate small talk, to being a "pretend extrovert" when it's advantageous, to better negotiating introvert-extrovert relationships, to helping an introverted child navigate school and friendships.
Most inspiringly, Cain introduces the reader to successful introverts—from a high-octane public speaker who recharges in solitude after his talks, to a record-breaking salesman who taps into his "soft power." Passionately argued and superbly researched, QUIET shows how dramatically we undervalue introverts, and how much we lose in doing so.
ABOUT THE AUTHOR:
SUSAN CAIN is the author of the instant New York Times bestseller QUIET: The Power of Introverts in A World That Can't Stop Talking, which has been translated into more than 20 languages. Her writing on introversion and shyness has appeared in the The New York Times; The Dallas Morning News; O, The Oprah Magazine; Time.com; and on PsychologyToday.com.  Cain has also spoken at Microsoft, Google, the U.S. Treasury, and at TED 2012. Since her TED talk was posted online, it has been viewed over two million times.  She has appeared on national broadcast television and radio including CBS "This Morning," NPR's "All Things Considered," NPR's "Diane Rehm," and her work has been featured on the cover of Time magazine, in The Atlantic, Wired, Fast Company, Real Simple, Fortune, Forbes, USA Today, The Washington Post, CNN, Slate.com, and many other publications.  She is an honors graduate of Princeton and Harvard Law School. She lives in the Hudson River Valley with her husband and two sons. Visit: www.thepowerofintroverts.com
Related Posts:
You Might Also Like