Press Releases
Queer Eye by Antoni Porowski, Tan France, Jonathan Van Ness, Bobby Berk and Karamo Brown
Love Yourself. Love Your Life.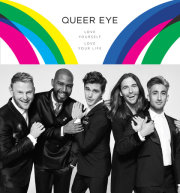 Antoni Porowski, Tan France, Jonathan Van Ness, Bobby Berk and Karamo Brown
Imprint: Clarkson Potter
On sale: November 13, 2018
Price: $29.99
Pages: 256
ISBN: 9781984823939
Contact:
Jana Branson
jbranson@penguinrandomhouse.com
Feeling your best is about far more than deciding what color to paint your accent wall or how to apply nightly moisturizer. It's also about creating a life that's well-rounded, that's filled with humor and understanding—and most important, that suits you. At a cultural moment when we are all craving people to admire, Queer Eye offers hope and acceptance. QUEER EYE: Love Yourself, Love Your Life (Clarkson Potter; $29.99; on sale 11/13/18) is the only official book based on Netflix's Emmy Award-winning series, authored by the Fab Five themselves—Antoni Porowski, Karamo Brown, Jonathan Van Ness, Bobby Berk, and Tan France—with award-winning journalist Monica Corcoran Hare. It is at once a love letter to fans, a behind-the-scenes exclusive, a practical guide to living and celebrating your best life, and a symbol of hope.
In this book, readers will get to know the Fab Five as they offer advice on taking life from messy to beautiful, and let you in on their unique backgrounds through intimate personal stories and looks behind the scenes. Then, together, the Fab Five will guide readers through five practical chapters that go beyond their designated areas of expertise (food & wine, fashion, grooming, home decor, and culture), touching on topics like wellness, entertaining, and defining personal brand, complete with bite-sized "Hip Tips" and "Five-Minute Make-Betters" for everyday quandaries. The book also features 300+ gorgeous photos of the guys—90 percent of which are exclusive to this book and show a never-before-seen side of the Fab Five—and 150 clever illustrations. Above all, QUEER EYE aims to help readers create a happy and healthy life, rooted in self-love and authenticity.
QUEER EYE is also available as an audiobook narrated by the Fab Five, on sale simultaneously with the print edition. The recording features unfiltered ad-libs and fun music and replicates the hilarious banter you'd expect from the guys.
ABOUT THE AUTHORS
Antoni Porowski is Queer Eye's food expert. Having been the personal chef for Ted Allen, the food expert of the original Fab Five, he knows his way around a kitchen. Tan France is the resident fashion expert who hails from Great Britain. He is also the founder of the women's fashion line Kingdom & State. Jonathan Van Ness is the show's personal grooming expert known for his Funny or Die series Gay of Thrones and as the host of the biweekly podcast Getting Curious. Texas-born Bobby Berk is the interior designer with his own self-titled design company specializing in hip, minimalist urban luxury designs. Karamo Brown, the culture expert, is a former social worker who has previously been seen on Real World, Dr. Drew on Call, HuffPost Live, and Access Hollywood Live. He also founded 6in10, an organization that provides mental health support and education to the LGBTQ+ community. Together, they make up the Fab Five. 
# # #
ABOUT THE BOOK
Queer Eye: Love Yourself, Love Your Life
By Antoni Porowski, Tan France, Jonathan Van Ness, Bobby Berk, and Karamo Brown
On sale 11/13/18 | $29.99 | Hardcover
IBSN: 9781984823939
Related Posts: