Press Releases
Q&A a Day for Creatives: A 4-Year Journal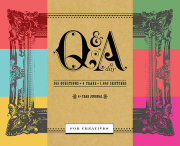 Potter Style
Imprint: Potter Style
On sale: 8/11/15
Price: $16.95
Pages: 368
ISBN: 9780804186407
Contact:
Danielle Daitch
212-572-2556
ddaitch@penguinrandomhouse.com
Q&A a DAY FOR CREATIVES
For fans of the bestselling Q&A a Day series, Q&A a Day for Creatives (Potter Style, $16.95, on sale August 11, 2015) offers a new way to capture and compare thoughts. With this one-sentence daily visual journal, anyone can collect ideas and doodles and watch how their creative thinking evolves over time.
Sketching provides a wellspring of ideas, and sometimes the simplest drawings are most revealing and inspirational. Following the phenomenal success of the Q&A a Day series, Q&A a Day for Creatives provides a visual prompt for every day of the year, ranging from the irreverent ("What's your favorite condiment? Show it in action.") to nostalgic ("What is one detail from your childhood home that you vividly recall?") to introspective ("Think of a lie you've told someone. Draw the truth."). Over a four-year period, you'll see how your doodles change as you create a lasting keepsake of your life in art.
This chunky, portable journal makes an excellent gift for both aspiring and established artists. The wide range of prompts are appropriate for any skill level and appeal to all types of creatives.
Author Bio: POTTER STYLE, an imprint of the Crown Publishing Group, is a lifestyle imprint specializing in design, fashion, humor, health, stationery, and other paper products.
#    #    #
Related Posts: