Press Releases
Q&A a Day For Kids: A Three-Year Journal by Betsy Franco
Keep track of your child's routines, tastes, and interests with just a few lines a day!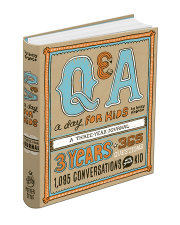 Betsy Franco
Imprint: Potter Craft
On sale: 9/25/12
Price: $16.95
Pages: 368
ISBN: 9780307952967
Contact:
Kimberly Small
212.572.6067
ksmall@randomhouse.com
 Q & A a DAY FOR KIDS (Potter Style, $16.95, On Sale September 25, 2012) is a special journal of questions to ask your child every day for three years. This brief daily ritual not only lets you see the evolution of his or her answers, it also becomes a time capsule of your child's life. The journal represents a wonderful way for children to get to know themselves, and for you as a parent to witness and help record the process.
With Q & A a DAY FOR KIDS you can keep track of your child's ever-changing routines, tastes, and interests with just a few lines a day. Each page of the diary is devoted to one day a year and subdivided into three sections (one for each year). At the top of the page, you'll find a guided question or prompt devised to stimulate conversation and get kids to open up. Older children may want to write the answers to the questions themselves. Sample questions include:
Which book character would you like to be?
What doesn't seem fair?
What do you want right now but are afraid to ask for?
I like it when my family _____________ together.
Because the journal is divided into sections for each year, there is only room enough to write one or two lines of your child's response, ensuring a no-fuss way to capture the essence of the conversation. As you fill out the journal with your kids, past entries can be read as new ones are written.
Q & A a DAY FOR KIDS is the perfect family keepsake. The diary can be started on any day of the year, and as the years go by you'll notice how your child's answers evolve, sometimes silly, sometimes precocious, but always interesting.
#    #    #
About the Author: 
BETSY FRANCO is the author of multiple children's books including: A Curious Collection of Cats, A Dazzling Display of Dogs, Double Play!, and Zero Is the Leaves on the Tree. She lives in Palo Alto, California.
Related Posts: