Press Releases
Pure Skin by Victoria Tsai
Discover the Japanese Ritual of Glowing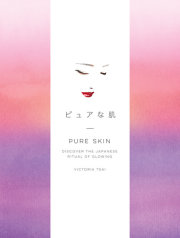 Victoria Tsai
Imprint: Clarkson Potter
On sale: May 8 2018
Price: $18.00
Pages: 128
ISBN: 9781524763336
Pure Skin modernizes ancient Japanese geisha rituals to show you how to achieve flawless skin. Armed with comprehensive information, smart tips, and natural ingredients, you'll enjoy the process almost as much as the end results.
Give your skin a fresh start. Vicky Tsai, founder, CEO and "Chief Treasure Hunter" of Tatcha, shares her extensive knowledge on how to achieve the skin you've always dreamed of. Having spent years researching in Japan, she became fascinated with the geisha's approach to beauty—under all that makeup is utterly flawless skin. Now in Pure Skin, Vicky demystifies that approach and teaches you not only how to understand your skin, but also how to apply these time-honored practices to your own fast-paced daily routine. No matter how you customize it, all you need is two minutes and four steps: Purify, Polish, Prep, and Nourish. But Pure Skin isn't just about basic skin care, it's also about a lifestyle; it begins with how you eat and even how you sleep.
Inspired in part by the questions she's gotten throughout the years from clients, the book is divided into five myth-busting sections that break down and reinterpret the traditional J-Beauty for the modern woman – "Geisha Beauty," "The Geisha Ritual," "Create Your Ritual," "Enhance Your Ritual" and "Beyond the Ritual."
About Vicky Tsai & Tatcha:
After a decade of working for large corporations and suffering from acute dermatitis, Vicky Tsai began traveling East in search of a more evolved, holistic approach to beauty. On a trip to Kyoto, she discovered a world of pure beauty, craftsmanship and heritage. An encounter with a modern-day geisha changed her life.
Victoria learned classical Japanese beauty secrets passed down by generations that took a different approach to skincare — that less is more. This skin care philosophy and time-tested ingredients was captured in an ancient text widely considered to be the oldest beauty book written in Japan, and perhaps the first such work of  its kind. Within its three delicate, thread-bound volumes are seven chapters devoted to beauty and elegance in both appearance and spirit. This special guide informs and inspires the Tatcha collection.
Victoria splits her time between Japan and San Francisco, rooting Tatcha in a marriage of Kyoto craftsmanship and wellness philosophies with California natural ease.  Believing that beauty begins in the heart and the mind, Tatcha's philanthropic model funds a day of school in partnership with Room to Read's Girls' Education program with each full-size skincare purchase, helping to nurture the beautiful minds of incredible girls in Asia and Africa.
Related Posts: