Press Releases
Competitive Cuteness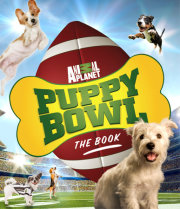 Discovery Communications
Imprint: Three Rivers Press
On sale: 10/20/2015
Price: $15.00
Pages: 240
ISBN: 9780553419597
Contact:
Ellen Folan
212.782.8944
efolan@penguinrandomhouse.com
In partnership with Animal Planet, Three Rivers Press is delighted to present the perfect companion to the ultimate pop culture phenomenon and the ideal gift for anyone who loves
a cute puppy…
Animal Planet's Puppy Bowl is the biggest event of the year for puppy athletes (and puppy lovers) everywhere. These pups might be cute, but they take their play seriously, tumbling over each others' wagging tails, sniffing with wet noses, and barking in happy scrums, all in pursuit of good fun and friendly competition.
Celebrating more than a decade of frolicking fun, PUPPY BOWL: The Book (Three Rivers Press, October 20, 2015) collects the most adorable and hilarious moments from the greatest show in puppy sports history. From the starring puppy players to the Kitty Halftime Show to the game's coveted MVP (Most Valuable Puppy), this is one book no puppy fan will want to miss.
PUPPY BOWL captures all of the excitement you love most about the game—the playful tackles, the cutest stumbles, and the cheerful, yipping touchdowns—into one action-packed collection of the cutest puppies you've ever seen.
# # #
Related Posts: