Press Releases
The Sketchbook Challenge by Sue Bleiweiss
Techniques, Prompts, and Inspiration for Achieving Your Creative Goals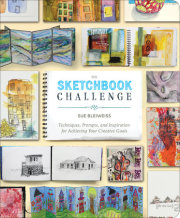 Sue Bleiweiss
Imprint: Potter Craft
On sale: June 26, 2012
Price: $21.99
Pages: 144
ISBN: 9780307796554
Contact:
Kim Small
212.572.6067
ksmall@randomhouse.com
Have you ever bought a new sketchbook, opened to the first page, and thought, "Now what do I do?"
In January 2011, Sue Bleiweiss made a New Year's resolution to keep a sketchbook more consistently and wanted to help other artists who also struggled with their sketchbooks. She started a blog (www.sketchbookchallenge.com) and reached out to 15 talented artists she admired to see if they could help with the idea. They were so passionate about the concept that they put the project together in a single weekend. In the first month alone, www.sketchbookchallenge.com had 40,000 page views, and it continues to grow to this day.
Now, in THE SKETCHBOOK CHALLENGE: Techniques, Prompts, and Inspiration for Achieving Your Creative Goals (Potter Craft, on sale June 26, 2012, $21.99), Sue has gathered together a supportive community of talented artists, sharing the innermost pages of their sketchbooks and offering tips and techniques for overcoming creative blocks. There are 12 themes that will motivate readers to start a sketchbook—and more important, keep at it—plus tutorials spotlighting mixed-media techniques such as thread sketching, painting papers for collage, digital printing, and much more. The 21 contributing artists, including Jane Davies, Lyric Kinard, and Jamie Fingal, offer strategies to get off the sketchbook page and start creating inspired projects—whether you're into painting, collage, fiber art, or beyond.
Related Posts: