Press Releases
Radio Shangri-la by Lisa Napoli
What I Discovered on My Accidental Journey to the Happiest Kingdom on Earth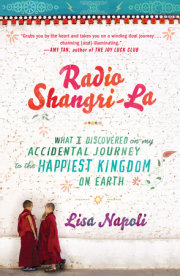 Lisa Napoli
Imprint: Crown
On sale: April 3, 2012
Price: $15
Pages: 320
ISBN: 9780307453037
Contact:
Catherine Cullen
212-782-9634
cacullen@randomhouse.com
How far would you go to find yourself?
RADIO SHANGRI-LA:
What I Discovered on My Accidental Journey to the Happiest Kingdom on Earth
by Lisa Napoli
Now available in paperback with an all-new afterword
No matter how carefully you plan your life, fate may have other plans. When a chance encounter with a stranger led to a volunteer opportunity half a world away, Lisa had no idea the journey would change her life. RADIO SHANGRI-LA: What I Discovered on My Accidental Journey to the Happiest Kingdom on Earth (Broadway Paperbacks: April 3, 2012) is the amazing true story of Lisa's experiences in and around Bhutan to help with the launch of the country's first youth-oriented radio station.
Radio Shangri-La has touched readers around the world with its inviting portrait of this remote Himalayan nation few get the chance to explore and its honest account of a woman grappling with how to make her way in our busy, challenging world. Lisa's keen journalistic eye reveals:
–Her conflicted feelings about bringing the disruption of modern media into a country that measures its success in terms of "Gross National Happiness" rather than in GDP
–The extensive changes that have occurred in Bhutan in the last few years, and if the country is better or worse for those changes
–The profound midlife crisis that motivated Lisa's journey, and how the experience led to insights that have radically changed her outlook
–Some of her greatest experiences in Bhutan, and her ongoing commitment to help the Bhutanese
–Bhutan's unique charms, including the colorful dress worn by the locals; the profusion of phalluses as decoration (to ward off envy!); and the Bhutanese love of gut-singeing spicy food
–The resistance the Bhutanese had to their country becoming a democracy, and how the transition is going thus far
*In a new afterword for the paperback, Lisa examines the growing community of Bhutanese refugees in the United States and the little-known national dispute that drove them here*
Dubbed the happiest kingdom in the world, Bhutan is a tiny country most people have never even heard of, let alone are able to point out on a map. Nestled between China and India, the Himalayan kingdom didn't even have an airport until 1984, and television and Internet were only allowed in the country in 1999. Untouched by Western influence, this beautiful mountain nation was considered a real-life Shangri-La. After a century of monarchy, the beloved king abdicated his throne and began the transition to democracy. Enter Lisa Napoli, the power of modern media, and the introduction of the free press.
As a special diplomatic volunteer for Bhutan, Lisa had a chance to experience the country like few others. Tourism in the kingdom is heavily regulated and with a hefty per-day tourist tax, visits are usually short and reserved for the wealthy. As a long-term guest, Lisa witnessed the daily challenges faced by the Bhutanese people, cut off from the world for so long only to be suddenly inundated by the sights and sounds of the West via modern media.
Bhutan influenced Lisa right back; the sincerity and deeply held spirituality of the people were the breath of fresh air she had been seeking as an antidote to the 24-7 media environment to which she had dedicated her career. Balancing and integrating the two cultures transformed Lisa's perspective and reinvigorated her life and sense of purpose.
RADIO SHANGRI-LA is a sparkling and inspiring read that will jump-start your sense of adventure and possibility—perfect for anyone who has ever wondered, Is there more to life than this?
# # # #
ABOUT THE AUTHOR
LISA NAPOLI contributes to public radio station KCRW in Los Angeles.  Her last staff job was on the public radio showMarketplace. An early chronicler of the dawn of the World Wide Web at the New York Times CyberTimes, she has also been the Internet correspondent at MSNBC. She began her career at CNN, worked in local news in North Carolina, and has directed several documentaries about Southern culture.  Her proudest accomplishments are learning to swim at age thirty-seven, hosting open houses every Friday night at her apartment, and gathering friends to cook at a homeless shelter (as well as her other volunteer work).   www.LisaNapoli.com.
Related Posts: