Press Releases
Potter Style's latest postcard set is a thoughtful and elegant gift for any Jane Austen Lover
From the Desk of Jane Austen: 100 Postcards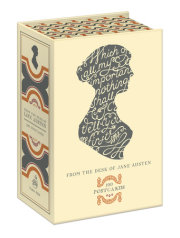 Potter Style
Imprint: Potter Style
On sale: February 5, 2013
Price: $20.00
Pages: 100
ISBN: 9780770436698
Contact:
Kim Small
212-572-6067
ksmall@randomhouse.com
Jane Austen's bustling life rarely left her without news to share, but even in those spare moments with no books to pen, her incandescent wit shines throughout her personal letters. Culled from her extensive collection of correspondence, FROM THE DESK OF JANE AUSTEN (Potter Style, $20; on sale February 5, 2013) contains 100 postcards featuring 25 of her most beloved witticisms (each reproduced 4 times). Housed in an elegantly designed keepsake box, this set of postcards makes a thoughtful and irresistible gift for any Austen lover.  The cards can be mailed, framed, or used as sweet gift tags.
FROM THE DESK OF JANE AUSTEN features quotes that evoke a beloved era in which greetings, salutations, and sentiments could only be sent one way: via post. What better collection of quotes for a stationary set than Jane Austen's original messages she lovingly mailed to her family and friends?
Related Posts: