Press Releases
Positive Discipline Parenting Tools by Jane Nelsen, Ed.D, Mary Nelsen Tamborski, M.A., and Brad Ainge
The 49 Most Effective Methods to Stop Power Struggles, Build Communication, and Raise Empowered, Capable Kids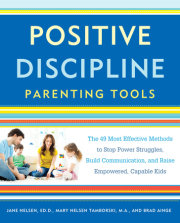 Jane Nelsen, ED.D, Mary Nelsen Tamborski, M.A., Brad Ainge
Imprint: Harmony Books
On sale: November 15, 2016
Price: $17.00
Pages: 384
ISBN: 9781101905340
Contact:
Maya Lane
212-782-9164
MALane@penguinrandomhouse.com
"Nelsen's tone is that of a patient teacher, gentle but never coddling, and Tamborski and Ainge's more conversational styles bring an "in the trenches" feel without falling into the self-deprecation so common in peer-focused parenting books . . . a welcome guide in tough moments."
—­­Publishers Weekly
---
As a parent, finding a constructive balance when it comes to discipline is no small feat. Wouldn't it be ideal to raise well-behaved children without punishment?
Enter Positive Discipline, an encouragement model based on both kindness and firmness that gives parents an alternative to disciplinary extremes. The goal of Positive Discipline isn't to achieve perfection, but to provide parents with the techniques to help children develop positive life and social skills, such as respect for self and others, problem-solving ability, and self-regulation. The tenets of Positive Disciple foster mutual respect so that any child can learn creative cooperation and self-discipline without losing his or her dignity.
In POSITIVE DISCIPLINE PARENTING TOOLS (Harmony Books; $17.00; on sale November 15, 2016), the first new addition to the acclaimed series in years, parents are provided with day-to-day exercises and tools to improve their parenting skills, along with success stories from parents worldwide who have benefited from the Positive Discipline philosophy. With this comprehensive list of tools, parents will have the knowledge they need to bridge communication gaps, build on their child's strengths, defuse power struggles, and teach their children how to think for themselves. Some of the tools and methods include:
The "hidden belief" behind a child's misbehavior, and how to respond accordingly
The best way to focus on solutions instead of dwelling on the negative
How to encourage your child without pampering or praising
How to teach your child to make mistakes and follow through on agreements
How to foster creative thinking
From the terrible twos to the rebellious teenage years, POSITIVE DISCIPLINE PARENTING TOOLS is an insightful and enthusiastic guide providing parents the encouragement and techniques necessary to work with and empower their children through all stages of adolescence.

Related Posts:
You Might Also Like