Press Releases
The Porcelain Thief: Searching the Middle Kingdom for Buried China, by Huan Hsu
A Barnes & Noble 2015 Discover Great New Writers Pick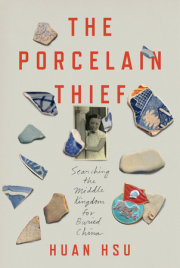 Huan Hsu
Imprint: Crown
On sale: March 24, 2015
Price: $27.00
Pages: 400
ISBN: 9780307986306
Contact:
Rachel Rokicki
212-782-8455
rrokicki@penguinrandomhouse.com
Praise for The Porcelain Thief
"[Hsu's] persistence in the face of numerous obstacles is beyond admirable… He offers plenty of intriguing information about Chinese history and culture, from wild Shanghai traffic to family dynamics. Some first-rate detective work."
—Kirkus Reviews
"Huan Hsu takes us on an intriguing journey into his family's and China's tumultuous past.  The Porcelain Thief provides a great, intimate view into how modern China really works."
—Frank Langfitt, NPR Correspondent, Shanghai
"Huan Hsu's return to his ancestral Chinese village in search of buried treasure keeps readers turning the pages, eager to see what he finds. The dig turns up more than ancient family valuables, as Hsu meets distant relatives and learns of the turmoil that they endured and that he, as an American-born Chinese, avoided.  Part memoir, part journey, and part archaeological expedition, The Porcelain Thief is as suspenseful as any Indiana Jones adventure."
—Michael Meyer, author of The Last Days of Old Beijing and In Manchuria
"Huan Hsu blends a fascinating search for his own family's roots with an illuminating portrait of modern China. The Porcelain Thief is a wonderful read."
—Rob Gifford, author of China Road
---
In the tradition of the best works of history that uncover a forgotten family story, such as Edmund de Waal's The Hare with Amber Eyes or Leslie Chang's Factory Girls, journalist and award-winning author Huan Hsu recounts his own journey in The Porcelain Thief: Searching the Middle Kingdom for Buried China (Crown; March 24, 2015).  Hsu takes us through the old and new worlds of China over the past one hundred years to find his family's hidden treasure, reconnect with his ancestry, and come to terms with his identity.
As the book opens, Hsu transports the reader to the spring of 1938 during the Second Sino-Japanese War, the result of a decades-long Japanese imperialist policy to dominate China politically and militarily as well as to secure its economic resources, chiefly food and labor. The Japanese army, having just taken Beijing, Shanghai, and Nanjing, arrive in Hsu's great-great-grandfather Liu Feng Shu's Yangtze River hometown of Xingang, China. With the army's arrival, Liu is forced to bury his valuables, including a vast and prized collection of antique porcelain, and to embark on a trek that would splinter the family over thousands of miles and countless upheavals.
Hsu has always loved to dig, and as a child growing up in Salt Lake City, he excavated his backyard looking for buried arrowheads. As he got older, this preoccupation manifested itself in searching for lost things. In 2007, on assignment for Seattle Weekly, where he was a staff writer, Hsu went to the Seattle Art Museum. There, he was drawn to the museum's porcelain collection and called his father to help him translate a poem inscribed on a dish. His father translated the text and reminded Hsu that his mother's family had owned some antique porcelain. This piqued Huan's interest, and he learned from his mother that the best source of information about the collection was his ninety-six-year-old grandmother Liu Pei Jin, the last living link to his family's life in dynastic China. With little more than the strands of this legend to go on, Hsu moved to China and reunited with his grandmother. Their time together ignited his desire to learn more about not only his ancestral heirlooms but also porcelain itself. Mastering conversational Chinese, Hsu set out to separate the layers of fact and fiction that have grown up around both his family and China, and finally complete his ancestors' long march back home.
Melding memoir, travelogue, ethnography, and social and political history, The Porcelain Thief takes readers along with Hsu as he travels throughout mainland China and Taiwan (from the megalopolis of Shanghai to the crumbling former porcelain capital of Jingdezhen) to learn more about his family's fabled porcelain collection. The whole trip is quite an adventure: he's attacked by a motorist in Shanghai, just one of many traffic incidents with Chinese drivers; he visits an entire village dedicated to creating counterfeit antiques; digs for Song dynasty porcelain shards; handles imperial porcelains in a Sotheby's showroom; comes to understand Christianity in China, including a search for a family property in Kuling, a former missionary retreat; and navigates Chinese bureaucracy in an effort to get permission to dig for his family's porcelain. Throughout, he learns much more about the great-great-grandparents and estranged aunts and uncles he never knew—including one who helped develop China's first nuclear bomb. Their stories reveal the country's hidden past and offer clues to the fate of the family's heirlooms.
A sweeping family saga at its heart, The Porcelain Thief brings to life one of the world's oldest cultures in an intimate and personal way, helping readers understand the bloody, tragic, and largely forgotten events that defined Chinese history in the 19th and 20th centuries.
ABOUT THE AUTHOR: HUAN HSU, born in the Bay Area and raised in Salt Lake City, is a former staff writer for the Washington City Paper and the Seattle Weekly. He is the recipient of two Society of Professional Journalists awards and has received recognition from the Casey Foundation for Meritorious Journalism. His essays and fiction have also appeared in Slate, The Literary Review, and Center: A Journal of the Literary Arts. He currently lives in Amsterdam and teaches creative writing at Amsterdam University College.
Related Posts:
You Might Also Like