Press Releases
Inspiration and Techniques from the Pop Surrealism Art Phenomenon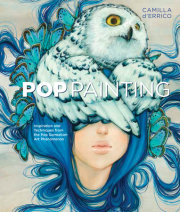 Camilla d'Errico
Imprint: Watson-Guptill
On sale: 01/05/2016
Price: $21.99
Pages: 248
ISBN: 9781607748076
Contact:
Natalie Mulford
(510) 285 2959
natalie.mulford@tenspeed.com
"Camilla d'Errico's vibrant personality and beautiful spirit over flows into her wonderfully unique and emotionally powerful art. In Pop Painting, a bright and insightful look into Camilla's artistic mind, she generously shares her heart and creativity with the world, and inspires and encourages with every colorful page."
—BRANDI MILNE, Surrealist painter
"Pop Painting is a lovely guide to Camilla's process."
—AMY SOL, visual artist
Responding to her fans' requests for a book that was both instructional and inspirational, pop surrealist painter Camilla d'Errico decided to open up her studio and offer readers an inside view on the tools, techniques, and inspirations she draws from to create stunningly beautiful, otherworldly works of art.
Focusing as much on developing originality and pushing boundaries as on skills like blending and sketching, Pop Painting includes tips on setting up your studio and choosing materials, as well as advice on painting from your gut, what to do when you're not inspired, and how to move on when something's just not working.
Finally, fans and aspiring painters get an up-close look at the step-by-step processes she employs to transform oil and acrylic paints into 15 unforgettable finished paintings of her ethereal and beautiful characters.
About the Author: Camilla d'Errico is a painter and manga artist whose client list includes Dark Horse Comics, Image Comics, Tokyopop, Hasbro, Disney, Sanrio, and Neil Gaiman. Her own characters and properties, Tanpopo and the Helmetgirls, are international sensations and her emotive paintings have propelled her to the top of the ranks of the Pop Surrealism movement. In 2011, she was nominated for both a Joe Shuster Award and a Will Eisner Award–the two most prestigious awards in comics. She is the co-author of the best-selling title Pop Manga and has published two art books—Femina and Fauna and Helmetgirls—with Dark Horse Comics.
You Might Also Like