Press Releases
A PLACE FOR US by Fatima Farheen Mirza
The first novel from Sarah Jessica Parker's new imprint, SJP for Hogarth, is a deeply moving and resonant story of love, identity, and belonging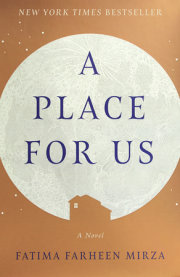 Fatima Farheen Mirza
Imprint: SJP for Hogarth
On sale: June 12, 2018
Price: $27.00
Pages: 400
ISBN: 9781524763558
Contact:
Rachel Rokicki
212-782-8455
rrokicki@penguinrandomhouse.com
*INSTANT NEW YORK TIMES BESTSELLER*
*USA TODAY BESTSELLER*
Indie Next List Pick for June 2018
Barnes & Noble's Discover Great New Writers Pick for Summer 2018
Amazon Best of the Month – June 2018
Vanity Fair: "Ultimate Summer Fiction"
Good Morning, America: "Best Books To Bring To the Beach This Summer"
Glamour.com: "The 17 Best Books to Read This Summer"
Refinery29: "Brilliant Books To Bring To The Beach This Summer"
USA Today: "10 Hot Books For Summer Reading"
EW.com: "This Summer's Debut Authors You Need To Know Right Now"
Buzzfeed: "30 Summer Books To Get Excited About"
PopSugar: "16 Most Exciting New Books To Read In June"
DailyBeast: "Best Summer Beach Reads"
Nylon: "46 Great Books To Read This Summer"
LitHub: "Ultimate Summer Books Preview"
Shondaland: "5 Brilliant New Books to Read in June"
"Ambitious. A family epic that is textured and keenly felt. Mirza draws Amar's lifelong struggle with the concept of unconditional devotion so poignantly that readers will find it exceedingly relatable. But so too is the mysterious whisper in his ear urging him always to return, no matter how far he strays, back home." —The New York Times Book Review
"Mirza, 27, is about to become a star…The debut author brings us the thinking person's summer read, a rich and layered tale about family and assimilation." —Entertainment Weekly
"This affecting debut follows an Indian-American Muslim family as they assimilate into U.S. culture…Mirza's expansive novel tackles everything from 9-11 to addiction, each moment offering a sliver of explanation as to how a family can become so fractured. Mirza writes about her characters with an incredible amount of tenderness, keeping readers invested." —Village Voice
 "A brilliant debut…This is a story about hope, and about the ways in which, if we open ourselves up to forgive the flaws in those we love, we can better move forward toward a brighter future." —NYLON
 "Beautiful." —Daily Beast
"[A] stunning, generous novel." —Refinery 29
"You'll fall for Fatima Farheen Mirza's gorgeous story of an Indian family and their estranged brother, all reunited at a wedding. Mirza's writing is like poetry as she examines just how far the bonds of family can bend." — Glamour.com
"A Place for Us is a triumph and an inspiration. I wish everyone would read this novel. A chronicle of the shattered expectations and irreconcilable desires within an American-Muslim family, A Place for Us hums with a deep faith in an unknown future, reminding its readers that when we are lost, love gives us a map home." —KAREN RUSSELL, author of Swamplandia!
"A Place for Us is a radiantly envisioned, beautifully achieved epic about nearly everything that matters: love, family, faith, freedom, betrayal, contrition, absolution. Fatima Farheen Mirza is a magnificent new voice." —ANTHONY MARRA, author of A Constellation of Vital Phenomena
"This powerful, intricate debut is essential reading." —NOVIOLET BULAWAYO, author of We Need New Names
"This extraordinary, piercingly wise novel examines as profoundly as any book I know the threads of injury and grace that stitch together a family. Fatima Farheen Mirza has the passionate intelligence and moral vision that announce not merely an excellent writer, but a great one. I felt such gratitude reading this fiercely compassionate debut, and such joy at discovering a voice I will follow for the rest of my life." —GARTH GREENWELL, author of What Belongs to You
"Fatima Farheen Mirza's A Place for Us is a radiant debut. It accretes its power, beauty, and insight through its tender witnessing of private and family life. With her deeply compassionate view, Mirza dignifies terrain often desecrated by contemporary culture: maternity, faith, the bonds of community, the yearning for goodness, and our duty to others.  She shows us the destructiveness of our doubt in those we love, and the mercy of forgiveness.  Most wondrously, with this deeply felt and moving novel, Mirza creates a place in which rebellion and reverence seem to embrace." —CHARMAINE CRAIG, author of Miss Burma
"Fatima Farheen Mirza's A Place for Us is a work of extraordinary and enthralling beauty. It is so deeply imagined, so intimately attentive to and solicitous of the lives it follows, so artful in describing the inseparable human experiences of pride and resentment, humility and loyalty—and, most of all, love—that it feels not as if we are reading a novel about this Muslim American family struggling with tradition and culture, but as if we become actual members of the family. It is that immersive, that brilliant, that true." —PAUL HARDING, author of Tinkers
"Beautiful, intimate, tender. So vividly told the characters live and breathe." —RACHEL JOYCE, author of The Music Shop
"Extraordinary in its depth and diligence… Mirza adeptly revisits painful dilemmas from each narrator's perspective, revealing jolting secrets. Each complex, surprising character struggles with faith, responsibility, racism, fear, longing, and jealousy, while Mirza conveys with graceful specificity the rhythms of Muslim life, from prayer to wearing hijab, gender etiquette, food, holidays, and values, all of which illuminate universal quandaries about family, self, culture, beliefs, and generational change." —Booklist
"A California-based Indian Muslim family celebrates the wedding of daughter Hadia, marrying for love. Present is her estranged brother Amar, who hasn't easily managed the rough road between youth and adulthood, Old World tradition and America, and the novel effectively unfolds family tensions and Amar's swirling personal anguish." —Library Journal
"The debut of 26-year-old Mirza is the first book from Sarah Jessica Parker's imprint at Hogarth; it explores the spiritual lives of its characters with sympathy and passion. The title of the book echoes a song from West Side Story, itself a retelling of Romeo and Juliet. Here the warring forces are not two families but one, split by the tension between reverence and rebellion. The author's passion for her subject shines like the moon in the night sky, a recurrent image in this ardent and powerful novel." —Kirkus Reviews
"Mirza displays a particular talent for rendering her characters' innermost emotional lives, signaling a writer to watch." —Publishers Weekly
---
Fatima Farheen Mirza's masterful debut novel A PLACE FOR US (SJP for Hogarth; 6/12/2018), the inaugural acquisition for SJP for Hogarth, unfolds the lives of an Indian Muslim family in California, on the eve of the eldest daughter's wedding. As Hadia's marriage—one of love, not tradition—gathers the family back together, her parents Rafiq and Layla must come to terms with the choices that their two daughters, and their estranged son Amar, have made. On this momentous day, Amar, the youngest of the siblings, returns to the family after three years. The reason for his absence, and the decisions and betrayals that led to it, are the delicate thread that pulls readers back to the beginning of this family's life.
In a narrative that spans decades and sees family life through the eyes of each member, A PLACE FOR US charts the crucial moments in the family's past, from the bonds that hold them together to the differences that pull them apart. What deep betrayals caused this close-knit family to fracture so devastatingly? Can Amar find his way back to the people who know and love him best? What does it really mean to be a family when larger pressures of societal expectation, religion, and personal happiness threaten the most fundamental of bonds?
"To be taken hostage by Fatima Farheen Mirza's heartrending and timely story is a gutting pleasure," says Sarah Jessica Parker, Editorial Director of SJP for Hogarth, of her inaugural acquisition for the imprint. "It allows her reader to better understand what it means to reconcile one's love of family and culture with a desire to find one's own path, and one's own faith. Ms. Mirza painstakingly details the life of an Indian Muslim family in America and their children's search to feel whole, fulfilled, and content. She captures your mind and heart with an urgency that defies you to stop reading. I guarantee you will be different when you close the book."
This is a deeply moving and resonant story for our times: a beautiful novel of love, identity and belonging, that eloquently examines what it means to be both American and Muslim. Written with compassion and piercing insight, A PLACE FOR US announces Fatima Farheen Mirza as a major new literary talent.
About the Author: FATIMA FARHEEN MIRZA was born and raised in the Bay Area, and is a graduate of the Iowa Writers' Workshop, where she was a Teaching-Writing Fellow. She has taught creative writing and fiction courses at the University of Iowa and at the Iowa Young Writers' Studio. Awarded the Michener-Copernicus Fellowship in 2016 and the Chancellor's Award for Excellence in Undergraduate Research/Creative Achievement from the University of California, Riverside, she has also received residencies from the Marble House Project and the MacDowell Colony. She is twenty-seven years old.
Related Posts: