Press Releases
THE PISCES by Melissa Broder
A Novel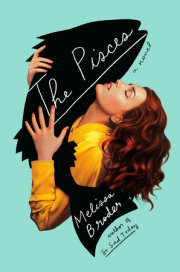 Melissa Broder
Imprint: Hogarth
On sale: May 1, 2018
Price: $25.00
Pages: 288
ISBN: 9781524761554
Contact:
Liz Wetzel
212-572-6049
lwetzel@penguinrandomhouse.com
Advance Praise for THE PISCES
"Bold, virtuosic, addictive, erotic—there is nothing like The Pisces. Between a broken-up Sappho academic and a Venice-beach merman, Melissa Broder miraculously captures everything absurd and pure about falling in love. I have no idea how Broder does it, but I loved every dark and sublime page of it." —Stephanie Danler, author of Sweetbitter 
"Get ready to laugh-cry over and over again. Broder, the poet and author of the memoir So Sad Today . . . makes her fiction debut with a perverse romance that captures the addictive and destructive forces of obsessive love. The Pisces is as hilarious as it is heartbreaking, with a keenly satirical eye toward our cultures of therapy and recovery. It also features a bunch of lady-and-fish sex, which is apparently having a moment." —Vulture.com
"On the surface, this audacious novel from Broder (So Sad Today, 2016, etc.) is a frank exploration of desire fantasy, and sex. But it dives deeper, too, seeking out uncomfortable topics and bringing them into the light: codependency, depression, suicidal ideation, and existential fascination with the void each get their days in the sun . . . Broder has created a voice at once intimate and sharp, familiar and ugly . . . This isn't just a novel about navigating the dangers of codependency, but an attempt to learn how we all might love better in a culture that pushes even its strongest women to the brink of self destruction. A fascinating tale of obsession and erotic redemption told with black humor and biting insult." —Kirkus Reviews (starred review)
"In her first novel, essayist, poet, and Twitter-star Broder (So Sad Today, 2016; Last Sext, 2016) wraps timeless questions of existence—those that gods and stars have beseeched to answer for millennia—in the weirdest, sexiest, and most appealing of modern packaging. Brilliant and delightful." —Booklist (starred review)
"Broder balances the weirdness of merman erotica with a realistic look at depression and recovery. The Pisces is perfect for anyone who wishes The Shape of Water was more explicit, but is also great for those looking for a novel that gets real about mental health, with a little fantasy thrown in." —Bust
"The debut novel by poet and essayist Broder (So Sad Today) is an alternately ribald and poignant fantasy . . . Broder makes her merman a more complex and believable character than most romance heroes; her novel is a consistently funny and enjoyable read." —Publishers Weekly
Melissa Broder's critically lauded debut essay collection, So Sad Today, was hailed by Vanity Fair as a "triumph of unsettlingly relatable prose" and Nylon as "deeply personal, sophisticated in its wit, and at the same time devastating . . . told with provocative, irreverent honesty." New York magazine praised Broder for her "near-supernatural ability not only to lay bare her darkest secrets, but to festoon those secrets with jokes, subterfuge, deep shame, bravado, and poetic turns of phrase." Broder's work has garnered widespread praise from cultural influencers like Roxane Gay, Patricia Lockwood, Lena Dunham, and Emma Roberts. She can be found on twitter @SoSadToday, where she has well over half a million followers and posts about her pronounced anxiety, depression, and feelings of romantic doom all with a dark sense of humor. So much so, that Rolling Stone named her one of "The 50 Funniest People Right Now" in May 2017.  Now, Hogarth will publish Broder's debut novel, THE PISCES, on May 1, 2018—an uproariously funny, gloriously strange, and fiercely original tale of love, obsession, sex . . . and a merman.
THE PISCES masterfully blends vivid realism with giddy fantasy to create a story that exemplifies what it means to be a contemporary woman. Lucy has been writing her dissertation on Sappho for nine years when she and her longtime boyfriend, Jamie, a handsome geologist unwilling to fully commit to a relationship, break up in a dramatic flameout. After she bottoms out in Phoenix, her sister, Annika, in Los Angeles insists Lucy dog sit her diabetic foxhound, Dominic, for the summer. Annika's home is a gorgeous glass cube on Venice Beach, but Lucy can find little relief from her anxiety—not in the Greek chorus of women in her love addiction therapy group, not in her frequent Tinder excursions, not even in Dominic's easy affection. But everything changes when Lucy becomes entranced by an eerily attractive swimmer while sitting alone on the beach one night. When Lucy learns the truth about his identity, however, their relationship, and Lucy's understanding of what love should look like, take a very unexpected turn.
THE PISCES is a story about falling in obsessive love with a merman: a figure of sirenic fantasy whose very existence pushes Lucy to question everything she thought she knew about love, lust, and meaning in the one life we have. With THE PISCES, Broder combines hilarious frankness with pulse-racing eroticism, emotional complexity, and stark vulnerability. Underneath her addictively wry and unpretentious voice hums the unexpected truth of womanhood, trauma, and heartbreak. THE PISCES will make readers wince in recognition, laugh out loud in sympathy, and then pass along the book to a friend. It is a novel that you will simply not be able to put down, and it demands to be discussed.
A major film studio preempted the options rights to THE PISCES, for feature film, with Broder attached to write the screenplay. Archer Gray's Anne Carey will produce and Amy Nauiokas will executive produce.  Some of Archer Gray's most recent films include the upcoming Can You Ever Forgive Me directed by Marielle Heller, starring Melissa McCarthy; Mike Mills's 20th Century Women; Bill Condon's Mr. Holmes; and Marielle Heller's The Diary of a Teenage Girl. This promising movie news combined with Broder's utterly unique voice guarantees THE PISCES will be the book everyone is buzzing about this summer.
About the author: Melissa Broder is the author of the essay collection So Sad Today and four poetry collections, including Last Sext. Her poetry has appeared in Poetry, The Iowa Review, Tin House, Guernica, and is the recipient of a Pushcart prize. She writes the So Sad Today column at Vice, the astrology column for Lenny Letter, and the Beauty and Death column on Elle.com. She lives in Los Angeles.
Related Posts: