Press Releases
The Piano Man In Paperback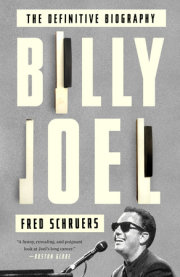 Fred Schruers
Imprint: Three Rivers Press
On sale: 11/17/2015
Price: $16.00
Pages: 400
ISBN: 9780804140218
Contact:
Ellen Folan
212-782-8944
efolan@penguinrandomhouse.com
"If you call yourself a Joel fan, you'll be reading this."
—Newsday
"Schruers clearly realizes he has gold in his interviews with Joel, his friends, paramours and confidants… [He delivers] insights on individual songs that will surprise even the most studied Joel fan…. [and] has given us the most complete look at Joel's life and career to date."
—Dallas Morning News
"[A] funny, revealing, and poignant look at [Joel's] long career."
—Boston Globe
"Schruers' account of Joel's 1970s rise is fantastic, rich in anecdotes about the origins of different songs."
—Billboard
"[A] funny and revealing account of one of the most popular songwriters of our time."
—New York Daily News
"Schruers uses interviews to great effect, allowing to emerge the everyman persona that resonates with Joel's fans…a fair, thorough assessment of Joel's celebrity."
—Publishers Weekly
The long-awaited, all-access biography of a music legend.
Now available in paperback, BILLY JOEL: The Definitive Biography is just that—the most comprehensive and authoritative account ever of Joel's life and career. Drawing on one hundred hours of exclusive interviews with Billy Joel dating back to mid-2008, veteran journalist Fred Schruers presents an unprecedented and unfiltered look at the life, career, and legacy of the diminutive kid from Long Island who became a rock icon.
Exhibiting unparalleled intimate knowledge, Schruers chronicles Joel's rise to the top of the charts, from his working-class origins in Levittown and early days spent in boxing rings and sweaty clubs to his monumental success in the seventies and eighties. He explores Joel's creative transformation in the nineties, his dream performance with Paul McCartney at Shea Stadium in 2008, the launching of his celebrated Madison Square Garden residency, and beyond to include Joel's latest insights on his marriage this year with Alexis Roderick and welcoming their daughter, Della Rose, in August.
Along the way, Schruers reveals the stories behind all the key events and relationships—including Joel's high-profile marriages and legal battles—that defined his path to stardom and inspired his signature songs, such as "Piano Man," "Scenes from an Italian Restaurant," "New York State of Mind," and "She's Always a Woman." Throughout, he captures the spirit of a restless artist determined to break through by sharing, in his deeply personal lyrics, the dreams and heartbreaks of suburban American life.
For many readers who know his almost unmatched catalog of hits and favorites, the overlap between life events and song lyrics will be made clear as it never has before. For anyone who has watched Billy's critical reappreciation in recent years—from the 2013 Kennedy Center Honors to the 2014 Library of Congress' Gershwin Prize—it answers the questions they may have about his history and his motivations, his struggles and his manifold successes.
Throughout, Joel remains philosophical, questioning, and always ready to reexamine his own emotional state while exhibiting his natural wit and displaying an endearing sense of humor and self-deprecation. From his darkest times to the best of times, Schruers captures Joel reflecting on it all.
On his suicide attempt:
Irwin Mazur confronted Billy sometime after he was released from the hospital: "I asked him, 'What the hell did you do?' and Billy says, 'I drank furniture polish.' And he says, 'Listen, I can't take this music business anymore.' I said, 'Have you been writing songs?' And Billy says, 'Yeah, I have.' And there was 'She's Got a Way' and 'Why Judy Why' and 'Everybody Loves You Now.' He played me those. So he says, 'Listen, I'm ready.'" Billy was determined to get one of his songs covered soon, ideally by an artist he admired, or he'd find some alternative path through life, some other means of self-support. "Look," he warned Irwin, "I'm going to go to the Midwest. I'll be a bartender. I've had enough of this. If it doesn't happen soon, I'm not hanging on anymore."
On the origins of "New York State of Mind":
The songs for Turnstiles—the title evoked not just the subway entrances in his beloved city but the access points to certain music venues—were emerging with Billy's return to the East Coast in 1975 going into 1976. The move had its roots in a day about a year before, as he and Elizabeth drove from upstate New York across the Connecticut border on Route 84. "Driving that road, you cross the Newburgh-Beacon Bridge," remembers Billy. "It was the fall and just beautiful, the Hudson Valley in full fall-foliage glory, and I said, 'Good God, this is gorgeous. I never realized that we had this kind of stuff, and I miss New York.'" Billy finished a tour, flew in from the final gig, got on a Greyhound bus headed to West Point, and took a seat by the window. "On that ride I started writing the song that became 'New York State of Mind,' thinking, This is where I'm going to end up. I'm back," says Billy. "It really was intended to reflect a New York state of mind, not a New York city of mind, but I wanted to include the city in it," he explains. "I was so glad to be back home again, feeling, This is where I belong. And that song was a celebration of that."
On running into Christie Brinkley and Elle Macpherson in St. Bart's:
"I was just knocking out some tunes, and after a couple minutes I happen to look up, and there, standing on the other side of [the piano], were Elle Macpherson and Christie Brinkley—looking directly at me. "So I looked back down at the keys and vibed, silently, to the piano, Thank you. Thank you so much. You did it again. You never let me down."
On having Brinkley and Macpherson awkwardly and accidentally meet in the foyer of his apartment: Christie answered, "No, no. I understand." She did, of course, understand. Christie and Elle were colleagues; they knew each other. Whatever complicated shuttling was going on in the supermodel universe—at this point Elle was just getting to the level that Christie had defined—the two women were cordial. "In any event, Christie and I had been seeing each other casually, and she thought there was no harm done," he says. "Still, I couldn't help thinking that Frank Sinatra would somehow have made a threesome out of that night."
On his crew's policy for selecting "real fans" for the front row of his gig, and his response to an inquiring fan named "Ann in Dallas":
"Being guys, they picked out the best-looking girls," says Billy. "Sure, I may have hung up a poster of Nicole Kidman in the production office as a sort of guideline. And sometimes when they were down to just a pair, they would give them to the female half of a double date, a policy they named Dump a Chump. And it all helped the show—it perked the band up, it perked me up. Once Elton learned the trick, there was a kind of counterbalance, because the way his distribution worked, the seats on his side of the stage got filled up with good-looking guys. And it really helped his show a lot, too. "So, Ann in Dallas," concludes Billy, "guilty as charged."
On AA and sobriety:
"I often get all bent out of shape with these temperance spokespeople reminding everyone, I know better than you. Sorry, no, you don't; you're no better than me. You were just an idiot, and now it's my turn to be an idiot. So anytime I've been asked to talk about it—sorry, no thanks. "The truth is, I don't know much about sobriety. I know a hell of a lot about drinking. And there's no point in my talking about that, because everybody has his or her own experience. So I'm not going to be the poster boy for AA. I don't really follow the program. Yet I'm not going to diss it, either, because it works for a lot of people. As I see it, I had my time, I came through it, and that's that."
On the American dream:
According to Billy, the equation goes something like this: "You can grow up poor in a Levittown tract home, but if you keep working at your trade, down the years and decades till your back aches and your hair goes, with a little luck you get to have your Jay Gatsby moment, you get some ownership of the things that you once thought belonged only to the privileged class."
On death:
Billy has said that when he dies—and as a committed atheist, he's not anticipating any postmortem surprises, positive or negative—he'd like to buried in Bloomingdale's department store, "so my wives will come visit me."
Filled with Joel's memories, by turns amusing and deeply personal—as well as those of the family, friends, and band members who have formed his inner circle, including Christie Brinkley, Alexa Ray Joel, Jon Small, and Steve Cohen—BILLY JOEL is a rare portrait of a beloved musician that will offer legions of fans unrivaled access to the man behind the icon.
Billy Joel by Crown Publishing Group
About the Author:
Fred Schruers enjoyed a successful high-profile career as a writer at Rolling Stone, chronicling an impressive body of musicians and actors, including Fleetwood Mac, Bruce Springsteen, Jack Nicholson, Sheryl Crow, Matthew McConaughey, Tom Petty and the Heartbreakers, and Chris Rock. His writing has also appeared in Premiere, Entertainment Weekly, Men's Journal, GQ, the Los Angeles Times, and Columbia Journalism Review.
Related Posts:
You Might Also Like