Press Releases
Peter Clines's spectacular fourth adventure in his Ex-Heroes series
Following Ex-Heroes, Ex-Patriots, and Ex-Communication, Clines returns with perhaps his most suspenseful book yet.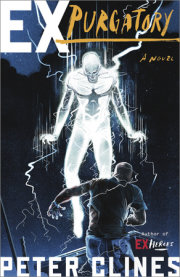 Peter Clines
Imprint: Broadway Books
On sale: January 14, 2014
Price: $14.00
Pages: 352
ISBN: 9780804136617
Contact:
Lauren Kuhn
212-782-8637
lkuhn@randomhouse.com
Advance Praise for Ex-Purgatory
"With Ex-Purgatory, Peter Clines steps up from talented newcomer to seasoned master of the game. Witty, inventive, daring and way too much fun." —Jonathan Maberry, New York Times bestselling author of Extinction Machine and Fire & Ash 
"A fabulously geeky adventure about getting the superpowered band back together. . . . Ex-Purgatory not only drops a host of Easter eggs for longtime fans, but it also makes for a satisfying entry point for new readers." —Kirkus Reviews 
"The fourth episode in Clines' genre-blending Ex series puts an unusual twist on the superheroes/zombie apocalypse mashup. . . . Clines has always written with a pop culture sensibility, but he's got a new air of confidence in his characters and world-building that allows the series to go off at a 90-degree angle and still stay faithful to its roots."—Publishers Weekly
Praise for the Ex-Heroes series
"Made my heart race in ways seldom accomplished by a book."—Wired.com 
"I loved this pop-culture-infused tale of shamed superheroes struggling to survive a zombie apocalypse in the ruins of Hollywood. It's The Avengers meets The Walking Dead with a large order of epic served on the side." —Ernest Cline, New York Times bestselling author of Ready Player One 
"Zombies? Check. Superheroes? Check. Awesome? Check. Ex-Heroes has it all. You're in for a treat!"—Mira Grant, New York Times bestselling author of Feed 
"Bound to appeal to fans of zombies and superheroes alike. . . .  If ever a book had the potential for a Hollywood blockbuster, this is it." —SF Signal 
"Mesmerizing . . . I was completely floored by [Ex-Heroes'] ingenuity and charm."—Fantasy Book Critic 
"Not familiar with Ex-Heroes?  I envy you. You can read it and enjoy all the surprises and twists for the very first time. . . . Peter Clines has done superheroes versus zombies right. . . . These are great stories."—GeekDad 
George Bailey, the protagonist of acclaimed Ex-Heroes series author Peter Clines's fourth book, Ex-Purgatory (Broadway Books; January 14, 2014), lives a fairly ordinary life as an unassuming janitor at a Los Angeles university. But lately George hasn't been sleeping. And when he does sleep, his dreams are haunted by strange images of a world filled with monsters that look like dead people. When his nightmares begin bleeding into his waking life, he fears he's losing his mind. 
Then a young woman named Madelyn shows up at his school, and tells him that the life he knows is just an illusion. In the real world, she claims, he's an invincible superhero who just happens to be dating a supermodel. Of course, George dismisses her tale as a sadly deluded girl's fantasy, but as more and more "strangers" from his dreams turn up in his real life, George can't help wondering if there's something to her story. 
In his first book in the series, Ex-Heroes, Clines introduced fans to a brilliant cast of superheroes—St. George, Stealth, Zzzap, and Cerberus—doing battle against the undead of a post-zombapocalyptic Los Angeles. With its genius plot twists and riveting action scenes, it quickly became a favorite among fans of such hits as Watchmen, World War Z, and Ready Player One, earning praise everywhere from USA Today's Pop Candy blog to Wired.com to Electronic Gaming Monthly. The second book in the series, Ex-Patriots, only upped the ante, and by the third book, Ex-Communication, Clines had "a multipart zombies-versus-superheroes franchise that seems destined for the big screen" on his hands, as LA Weekly noted when it deemed Ex-Communication Clines's "most ambitious work" in a series featuring comic-book stories "infused. . . . with a literary sensibility." In Ex-Purgatory, Clines has written perhaps his most suspenseful book yet, placing his heroes into a world where they are unsure of what is real and what is fantasy, what they've remembered and what they've forgotten. 
ABOUT THE AUTHOR: PETER CLINES has published several pieces of short fiction and countless articles on the film and television industry, as well as the recent novel 14, named best sci-fi novel of 2012 by Audible.com and voted one of the best horror novels of 2012 on Goodreads and Bloody Disgusting. He lives in Southern California.
Related Posts: