Press Releases
Peter Clines' spectacular third adventure in the genre-smashing Ex-Heroes series, Ex-Communication
With brilliant thriller plots and vivid pulse-jacking action scenes, Clines has clearly establishied himself as a master in the genre.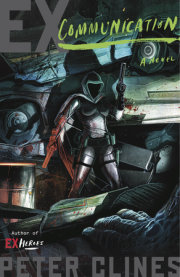 Peter Clines
Imprint: Broadway Books
On sale: July 9, 2013
Price: $14.00 paperback
Pages: 352
ISBN: 9780385346825
Contact:
Lauren Kuhn
212-782-8637
lkuhn@randomhouse.com
Praise for the Ex-Heroes series:
"Made my heart race in ways seldom accomplished by a book." —Wired.com 
"I loved this pop-culture-infused tale of shamed superheroes struggling to survive a zombie apocalypse in the ruins of Hollywood. It's The Avengers meets The Walking Dead with a large order of epic served on the side." —Ernest Cline, New York Times bestselling author of Ready Player One 
"Zombies? Check. Superheroes? Check. Awesome? Check. Ex-Heroes has it all. You're in for a treat!" —Mira Grant, New York Times bestselling author of Feed 
"Mesmerizing . . . I was completely floored by [Ex-Heroes'] ingenuity and charm." —Fantasy Book Critic 
"Not familiar with Ex-Heroes?  I envy you. You can read it and enjoy all the surprises and twists for the very first time. . . . Peter Clines has done superheroes versus zombies right. . . . These are great stories." —GeekDad 
"This man is a genius, and so underrated it's criminal," commented one reader of Peter Clines's recent interview on Electronic Gaming Monthly's website, EGMNow.com. Originally published by a small, print-on-demand press, Peter Clines's fantastic debut, Ex-Heroes, and its follow-up, Ex-Patriots, drew an incredible cult following before Broadway's release of the paperback editions in February and April had new fans all over the blogosphere raving. USA Today pop-culture columnist and Pop Candy blogger Whitney Matheson  named Ex-Heroes one of her "pop-culture faves." Fast becoming a favorite among fans of such hits as Watchmen, World War Z, and Ready Player One, Clines delivers once again with Ex-Communication (Broadway Books; on sale July 9, 2013; $14.00), the latest installment in his electrifying sci-fi, thriller, and horror fiction mashup series. Already hailed as "fresh" and "entertaining" in Publishers Weekly, Ex-Communication continues to up the ante with engrossing new characters and gut-wrenching plot twists that will keep readers guessing until the very end.  
In Ex-Communication, it's been two and a half years since the plague of ex-humans decimated mankind. In the years since the wave of living death swept the globe, St. George and his fellow heroes haven't just kept Los Angeles's last humans alive—they've created a real community, a bustling town that's spreading beyond its original walls and swelling with new refugees. But now one of the heroes, perhaps the most powerful among them, seems to be losing his mind.  The implacable enemy known as Legion has found terrifying new ways of using zombies as pawns in his attacks.  And outside the Mount, something ancient and monstrous is hell-bent on revenge.
With this third book in the series, Clines has once again proven himself capable of crafting brilliant thriller plots and vivid pulse-jacking action scenes, clearly establishing himself as a master in the genre.    
ABOUT THE AUTHOR: PETER CLINES has published several pieces of short fiction and countless articles on the film and television industry, as well as the recent novel 14, named best sci-fi novel of 2012 by Audible.com and voted one of the best horror novels of 2012 on Goodreads and Bloody Disgusting. He lives in Southern California.
Related Posts: