Press Releases
It Pays To Be Likeable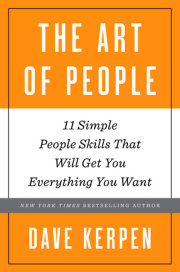 Dave Kerpen
Imprint: Crown Business
On sale: 03/15/2016
Price: $27.00
Pages: 288
ISBN: 9780553419405
Contact:
Tess Woods
(617) 942-0336
tess@tesswoodspr.com
"This outstanding book is chock full of powerful strategies that you can use immediately to better yourself
and your relationships with others."
—Dr. Travis Bradberry, #1 bestselling author of Emotional Intelligence 2.0
"Most people who claim to be a 'people person' actually aren't. Kerpen's book shows how to actually become one. Thoughtful and inspiring, The Art of People is as important for leaders as it is for the rest of us."
—Shane Snow, bestselling author of Smartcuts
"If there is one axiom that applies across any and all business, it is that you need to build relationships first, then do business. No one lives this mantra everyday more consistently or more effectively than Dave Kerpen. That's why The Art of People is such an important and enjoyable read. Dave's insights and unique perspective make this mandatory reading for anyone and everyone interested in how to engage with their customers and build meaningful and valuable relationships. Buy it. Read it!"
—Jim McCann, Founder and CEO, 1-800-FLOWERS.COM, Inc.
"From the guru of people skills comes an essential guide to building the relationships that will help you succeed in work and life. The Art of People offers terrific tips on becoming a better listener, networker, and communicator— the things to be if you want to get ahead and have the success you crave."
—Kate White, Author of I Shouldn't Be Telling You This: How to Ask for the Money,
Snag the Promotion and Create the Career You Deserve
"An invaluable resource, full of practical, manageable tips, for anyone who deals with people. Which, of course, is all of us."
—Gretchen Rubin, bestselling author of Happier at Home and Better Than Before
What does it take to win success and influence? Some people think that in today's hypercompetitive world, it's the tough, take-no-prisoners type who comes out on top. But in reality, argues New York Times bestselling author and Likeable Local CEO, Dave Kerpen, it's actually those with the best people skills who win the day:
• Those who build the right relationships.
• Those who truly understand and connect with their colleagues, their customers, their partners.
• Those who can teach, lead, and inspire.
These are the founding principles of THE ART OF PEOPLE: 11 SIMPLE PEOPLE SKILLS THAT WILL GET YOU EVERYTHING YOU WANT (On Sale March 15. 2016; $27; Crown Business).
In a world where we are constantly connected and social media has become the primary way we communicate, the key to getting ahead is being the person others like, respect, and trust. No matter who you are or what your profession, success is contingent not only on what you can do for yourself, but on what other people are willing to do for you.
THE ART OF PEOPLE offers 53 bite-size, easy-to-execute, and often counterintuitive tips, to master the 11 People Skills that will get you more of what you want at work, at home, and in life. Often accompanied by personal anecdotes from Kerpen's own learning experiences, these insightful tips include:
 The single most important question you can ever ask to win attention in a meeting
 The one simple key to networking that nobody talks about
 How to remain top of mind for thousands of people, every day
 Why it usually pays to be the one to give the bad news
 How to blow off the right people
 And why, when in doubt, buy him or her a Bonsai
THE ART OF PEOPLE is filled with practical ideas and concrete steps to communicate more effectively with the people around us, but also seeks to teach us about ourselves. Guided by the principle that self-awareness is a fundamental building block for connecting with others, Kerpen introduces a method to discovering our strengths and recognizing and improving our weaknesses. By following his clear step-by-step process toward understanding ourselves, we can more easily master the people skills that Kerpen finds essential to influencing others.
A book best described as "How to Win Friends and Influence People for today's world," THE ART OF PEOPLE shows how to charm and win over anyone to be more successful at work and outside of it.
ABOUT THE AUTHOR
Dave Kerpen is an entrepreneur, speaker, and bestselling author. He is the founder and CEO of Likeable Local, a social media software company, and the chairman and cofounder of Likeable Media, an award-winning content marketing firm for brands. He is among the most popular writers in LinkedIn's Influencer program, is one of the most read contributors for Inc.com, and has been featured by CNBC, BBC, ABC World News Tonight, CBS's The Early Show, the New York Times, and more. Dave has keynoted conferences and webinars across the globe.
For More information, please visit: http://www.likeable.com/
Follow Dave Kerpen on LinkedIn: https://www.linkedin.com/today/influencer/15077789-Dave-Kerpen
Related Posts: