Press Releases
PARTY OF ONE: The Hilarious New Memoir from Former MTV VJ & Pop Culture Personality DAVE HOLMES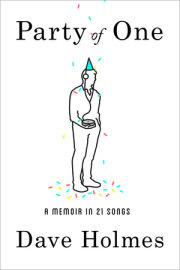 Dave Holmes
Imprint: Crown Archetype
On sale: 6/28/16
Price: $26.00
Pages: 288
ISBN: 9780804187985
Contact:
Rebecca Marsh
212-572-2544
rmarsh@penguinrandomhouse.com
From pop-culture personality, Esquire.com columnist, and former MTV VJ Dave Holmes, the hilarious memoir of a perpetual outsider trying to find his way in, set to the soundtrack of the '80s, '90s, and '00s.
"In Party of One, Dave Holmes goes deep into all the ways loving music warps you for life, from shaping your teen crush on Huey Lewis to putting you on MTV at the peak of the TRL era. But his book is also a tenderly hilarious and moving tale of trying to grow up—whether that means coming out at your Catholic college, hitting the hot tub with Kid Rock, or getting that sensation that the singer on your radio is the only soul who truly understands you."
—Rob Sheffield, New York Times bestselling author of Love Is a Mix Tape
 
"Who better to marry great storytelling with great songs? Dave Holmes's love of music and pop culture is infectious, and his stories are hilarious!"
—Andy Cohen, New York Times bestselling author of Most Talkative

"Party of One is a perfect memoir—hilarious, moving, and full of beauty. Holmes writes at all times with great heart, brains, and courage."
—Darin Strauss, National Book Critics Circle Award–winning author of Half a Life
"Holmes is all charm. . . . A hilarious and touching coming-of-age story that will strike a particular nerve among Generation Y."
—Kirkus Reviews
Dave Holmes knows a little something about being an outsider. Growing up in the Midwest, he was the artsy son in an athletic family—more likely to be found roller-skating to the Xanadu soundtrack or dressing up as Mick Jagger than playing sports with his older brothers. At his all-boys high school and Catholic college, he was the closeted gay kid surrounded by crush-worthy straight guys right out of a J.Crew catalogue. And in the MTV era of slick boy bands and glossy pop stars, he was the chubby second-place VJ who got hired because he actually knew music.
 In his delightfully charming memoir, PARTY OF ONE: A Memoir in 21 Songs (Crown Archetype; $26.00; On Sale June 28, 2016), Dave takes readers on his fumbling journey to self-acceptance, from a youth spent dreaming of the inner circle to a job that skirted the edge of fame and fortune. And through it all, he turns to the music that's playing in his head and on the radio to understand his place in the world. Full of humor, heart, and nostalgia, and pulsing with the soundtrack of the'80s, '90s, and '00s, PARTY OF ONE is an ode to never fitting in, never giving up, and letting good music guide the way.
Since his days as a VJ, Dave has made a name for himself as a funny and thoughtful writer on pop culture, news, politics, and more. And in PARTY OF ONE, he writes winningly about his own story, from his fruitless attempt to find a gay community in college to his disastrous first career in advertising to his days juggling celebrity interviews on MTV. He relives the Wanna Be a VJ contest that accidentally catapulted him to fame (you know, almost), the most important videos from his tenure at TRL, and the oddity known as Jesse Camp. Along the way, Dave shares tales of awkwardness, heartache, and trying to grow up, infusing them with candor and self-deprecating wit, not to mention a deeply impressive knowledge of music.
PARTY OF ONE is structured like an album, with a mix of hits and deep cuts from the last forty years providing the framework, and fun interludes like "So You've Had Your Heart Broken in the '90s: A Playlist" that add extra color. Dave's stories are peppered with references to the music that has shaped his taste or resonated at important moments—whether it's Lisa Loeb's "Stay (I Missed You)" helping him through heartbreak or Billy Joel's "Just the Way You Are" injecting irony into his tales of growing up gay. Like many of us, Dave has crushed on rock stars, raved about his favorite albums, or found solace in music when he felt different or alone. But unlike most of us, he can also recount a life-affirming run-in with the Indigo Girls, Lance Bass's Y2K New Year's Eve party, and the most quintessentially Kid Rock story that you'll ever hear.
And whether he's dissecting a Toad the Wet Sprocket song ("I picture them all in windbreakers, on a late autumn afternoon, just having finished crying"), sharing his thoughts on Limp Bizkit's popularity ("Nobody ever went broke overestimating teenage boys' need to upset their little sisters"), or describing listening to Wilson Phillips while on ecstasy ("I know there's pain, Chynna Phillips told me. You do know it, sister"), Dave's observations are spot-on and hysterical. Among his many pitch-perfect reflections on life, music, and minor celebrity:
On family: "The main thing my parents and brothers taught me by example was how to appreciate pop culture and music. I want to thank them and also explain to them that I am their fault."
On handling a bad breakup: "One never knows when one is behaving like a creep; probably even that astronaut lady who drove for two days to beat up her ex-boyfriend's new girlfriend didn't think twice when she bought those adult diapers. It just felt right."
On the moment he gave up on a college diversity seminar: "Listen: you can condescend to me. You can cut me off and treat me like an injured baby bird when I try to start a dialogue with you. But don't you dare think you have anything to teach me if you don't know who Elvis Costello is."
On moving to New York: "This is what Friends gets right about living in cities in your twenties: for at least a little while, you live as a tribe. . . . We showed up at one another's apartment parties that were impenetrably crowded if more than nine people showed up. We made runs to Key Food for Top Ramen together. . . . We met at brunch and acquired appetites for Bloody Marys and pieced together our Saturday nights over Eggs Benedict and let our waitresses sit down with us for a moment because they were inevitably as hung over as we were. We were, as Des'ree commanded, bad and bold and wiser."
On communication in the '90s: "There were not emojis or even emoticons; if you wanted to wink at someone you had to actually wink right at them in real life, which is a thing we can all agree is gross."
On his MTV audition: "I didn't tell anybody what I was doing, because what I was doing was ridiculous. I was a twenty-seven-year-old man, with bills in my name and a job that people would give an arm for. I was going to stand in a line and audition to be an MTV VJ? Preposterous. It was so stupid I had to do it."
On becoming a little bit famous: "The morning after Wanna Be . . . people started to whisper and stare and point [and] I instinctively checked my zipper. I still do, if people seem to be looking at me. That's what mild television fame is like: it's like walking through the world with your fly down."
Whether you're looking for thoughtful musings on growing up, spot-on dissections of the pop-music canon, or wild anecdotes from the MTV Beach House, PARTY OF ONE has it all. This book is a treat for pop-culture obsessives and music geeks, and a salve for anyone who's ever felt like a square peg—especially those who tend to turn, in their time of need, to a band, an album, or that perfect song.
***
ABOUT THE AUTHOR
Dave Holmes is a writer, comedian, and television personality who has hosted shows for MTV, CBS, Bravo, Comedy Central, E!, FX, and Ovation. Recently named one of NPR's 10 Favorite Pop Culture Personalities, he is an editor-at-large for Esquire.com, an on-air personality for SiriusXM's The Spectrum, and a performer at the iO West and Upright Citizens Brigade theaters. He lives in Los Angeles.
More Praise for PARTY OF ONE
"I love this book. I felt so many of the things that Holmes describes with grace and candor, from our shared pop-culture shorthand to our nearly unbearable love of music. There are also a million jokes packed in here. I went over each paragraph to laugh again and again."
—Margaret Cho, bestselling author of I'm the One That I Want

"While the soundtrack to Dave Holmes's young life may have been primarily composed of American and British Top 40, his glorious attention to detail has more in common with Bach. And I mean Johann Sebastian Bach, not the lithe, sexy bigot who sang for Skid Row. This is an exquisite music memoir that easily fulfills its goals of entertaining people young and old and helping them figure out where the hell they fit in."
—Rob Delaney
 "While [Holmes is] inarguably a funny guy, he's also a thoughtful one who has interesting things to say about life away from the camera. And saying them, he's always good company. Welcome to his party."
—Booklist
 "Party of One speaks a secret language to those of us who grew up at a time when being different was something to be hidden rather than celebrated. Holmes's masterful wit and colorful storytelling never obscures the soulful honesty underneath—which is exactly the lesson we 'different' kids learned to live with. Fantastically fun and captivating."
—Josh Kilmer-Purcell, New York Times bestselling author of I Am Not Myself These Days
Find out more at www.daveholmesparty.com and follow Dave on Twitter (@DaveHolmes)
Related Posts:
You Might Also Like