Press Releases
The Paris Diversion by Chris Pavone
A Novel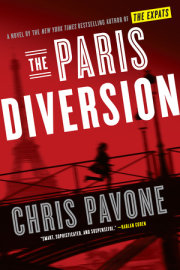 Chris Pavone
Imprint: Crown
On sale: May 7, 2019
Price: $27.00
Pages: 384
ISBN: 9781524761509
Contact:
Sarah Breivogel
212-572-2722
sbreivogel@penguinrandomhouse.com
From the award-winning, New York Times bestselling author of The Expats comes a "knockout"* thriller set in Paris featuring
the return of Kate Moore
"Pavone makes it four for four with another thoroughly immersive, stylish, and intelligent thriller…Kate…just may be the most fascinating, believably human fictional spy to appear since George Smiley shuffled his bedraggled self onto the stage nearly 60 years ago." —Booklist (starred review)
"One of the genre's most consistently dazzling architects… Pavone gives us a fresh, pulsating, and introspective thriller that delivers on its tourist-heavy Parisian setting and expands and connects territory from his previous novels… Sure to please fans of Daniel Silva or Stella Rimington. Absolutely not to be missed." —Library Journal (starred review)
[A]  "deliciously twisty thriller…Mr. Pavone, who had a previous career in publishing, knows the nuts and bolts of effective thriller-writing as well as any author on the best-sellers list. This involving work has been skillfully engineered for maximum reader enjoyment." —Wall Street Journal
"I nominate Kate Moore, the protagonist of Chris Pavone's sizzling new thriller The Paris Diversion, for patron saint of working wives and mothers everywhere." —New York Times Book Review
"Pavone's timely new thriller spins through 12 hours and multiple voices to a startling conclusion." —BBC.com
"A fast-paced and heartfelt thriller set in the world of espionage and terrorism that echoes the best of John le Carre"—Associated Press
Twelve hours. One city. So many secrets.
With the publication of his first novel The Expats (2012), Chris Pavone established himself as a major new voice in the thriller world, and his two following novels continued to earn him accolades from such authors as John Grisham, Stephen King, Lee Child, Patricia Cornwell, Michael Connelly, and Paula McLain to name a few. Foreign rights to The Expats, The Accident (2014), and The Travelers (2016) sold in two dozen territories, and he has film deals secured with CBS Films and DreamWorks.  His thrillers have been short-listed for a Los Angeles Times Book Prize, awarded the Anthony and the Edgar, and have received glowing reviews in the New York Times, The Wall Street Journal, People, Entertainment Weekly, the Washington Post, and USA Today.
Now with THE PARIS DIVERSION (Crown, May 7, 2019), Pavone returns to Kate and Dexter Moore from The Expats in an explosive thriller set in the City of Light. In the words of Harlan Coben, THE PARIS DIVERSION is "Pavone's finest novel to date—and that's saying something."
American expat Kate Moore—a busy working parent with a faltering career, middle-aged and on the cusp of irrelevance—starts a leisurely day in chic Saint-Germain-des-Près, while just across the river a suicide bomber arrives at the Louvre, and simultaneous threats arise all across the city. As the action-packed plot unfolds over the course of one momentous day, Kate discovers that this attack is not at all what it appears . . . and that it involves her family.
This tense, gripping page-turner was inspired by Pavone's own experiences of 9/11 in downtown New York City—he and his wife lived just blocks from Ground Zero—and the long-term aftermath of a global capital besieged by terror. The novel didn't take shape until fifteen years later, in the wake of the Charlie Hebdo massacre and the November attacks, when Pavone spent a week in a Paris that felt a lot like New York in 2001. He immediately began writing THE PARIS DIVERSION in Left Bank cafés, scribbling notes on street corners, and spent a memorable evening at the famed bookshop Shakespeare & Co., where the final pieces fell into place.
Those pieces included the paradigm-shattering twists that are the hallmark of Pavone's deftly constructed plots, and a terrorist event that's not perpetrated by the expected villains, nor thwarted by the expected heroes, nor featuring the expected anything. In the words of Jeffery Deaver, this is "Thriller writing at its absolute best. With echoes of Graham Greene and John le Carré, Pavone's novel accomplishes that rare feat of being both a nonstop adventure ride and a smart, stylish, and compelling meditation on family, courage, responsibilities, and the relationships we create, for good and bad, throughout our lives."
THE PARIS DIVERSION is poised to become the breakout thriller of the year.
*Megan Abbott
THE PARIS DIVERSION: A Novel
by Chris Pavone
Crown • On Sale: May 7, 2019 • Price: $27.00 hardcover • Pages: 384
ISBN 978-1-5247-6150-9
Also available as an ebook, a large print edition, and on audio
Visit crownpublishing.com
Visit Chris at chrispavone.com or @AuthorChrisPavone on Facebook
Related Posts: