Press Releases
THE OZ FAMILY KITCHEN
More Than 100 Simple and Delicious Real-Food Recipes from Our Home to Yours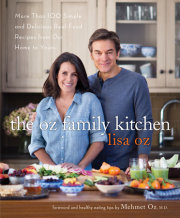 Lisa Oz
Imprint: Harmony Books
On sale: 10/6/15
Price: $27.99
Pages: 288
ISBN: 9781101903230
Contact:
Rebecca Marsh
212-572-2544
rmarsh@penguinrandomhouse.com
In THE OZ FAMILY KITCHEN, Lisa Oz gives readers an exclusive inside look at the delicious recipes and healthy eating habits of the Oz family.
When people meet me for the first time their reaction is almost always the same: 'You're married to Dr. Oz? Oh my gosh, what do you guys eat at home?' What I want to reply is 'Kale. Only kale.' But that would be a lie. This book is an attempt to answer the question truthfully to give you a glimpse of what goes on in our kitchen: what we eat and how we prepare foods so they are healthy and delicious. It is an invitation to dine with us: to eat what we eat as a family, to share a meal and to connect over good food.
—LISA OZ, from the introduction
Fans of The Dr. Oz Show are often curious about what he and his family eat. It's easy to assume they eat only for sustenance, rather than enjoyment, and that their kitchen is stocked with kale, bean sprouts, and not much else. But nothing could be further from the truth. The Oz family, including Lisa and her husband, Mehmet, love food—it just has to be good food, not processed or filled with empty calories. Now for the first time, in THE OZ FAMILY KITCHEN: More Than 100 Simple and Delicious Real-Food Recipes from Our Home to Yours (Harmony Books; Hardcover; $27.99, On Sale October 6, 2015), Lisa Oz is inviting readers to her family table and sharing their knowledge, passion, and recipes.
With a foreword and healthy eating tips by Mehmet Oz, M.D., THE OZ FAMILY KITCHEN is a beautiful four-color cookbook with over 100 simple and delicious recipes, including pastas, soups, sandwiches, entrees, smoothies, and desserts. Among the many mouthwatering recipes:
Mehmet's birthday treat, Almost German Chocolate Cake
Daphne's special Glazed Acorn Squash with Savory Seeds
Gnocchi with Walnut and Sage Sauce
The Oz family's Coconut-Crusted Chicken Breast with Peanut Sriracha Dip
Philly Fried Eggs with Onions and Peppers, inspired by Lisa's hometown
Roast Turkey with Apricot and Rosemary Dressing, a holiday favorite of the Ozes
The Ozes understand the power of food to bring people together—their days often center on planning, preparing, and enjoying meals as a family. They like to experiment and eat with enthusiasm, to be inspired by places they've visited, to cook family recipes handed down through the years, and more. Plus on any given weekend, an Oz family meal has to satisfy vegetarians, flexitarians, pescetarians, and omnivores, as well as people who might be gluten free or on a weight-loss plan—so diversity is key!
As Dr. Oz writes in the foreword, he grew up eating the Standard American Diet, one that focuses on convenience and efficiency rather than health or pleasure. But in Lisa's home, family meals were a celebration, and she brought that passion for healthy eating into their family when they married. He writes of THE OZ FAMILY KITCHEN, "The recipes are about joyful eating that happens to be healthy—unrefined, unprocessed, real food made at home. They are designed to help you live fully, with passion, through meals that tantalize your senses while nourishing your body."
THE OZ FAMILY KITCHEN also features personal family photos and anecdotes, along with helpful advice on cooking for the whole family, smart shopping, and pantry stocking. Whether you're looking to eat healthier, cook tastier, or simply get a glimpse into the Oz way of life, THE OZ FAMILY KITCHEN is an essential tool for your kitchen.
ABOUT THE AUTHOR
Lisa Oz is a writer, producer, and entrepreneur. In addition to authoring the New York Times bestseller Us: Transforming Ourselves and the Relationships That Matter Most, Lisa coauthored five bestselling books, including the YOU: The Owner's Manual series, and is editor-at-large of Dr. Oz The Good Life magazine. With her husband of nearly thirty years, Dr. Mehmet Oz, she helped found HealthCorps, a peer-mentoring nonprofit that delivers a progressive curriculum in nutrition, fitness, and mental resilience to teens in at-risk communities across the country.
Related Posts: