Press Releases
Outer Order, Inner Calm by Gretchen Rubin
Declutter and Organize to Make More Room for Happiness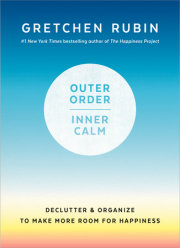 Gretchen Rubin
Imprint: Harmony
On sale: March 5, 2019
Price: $16.99
Pages: 240
ISBN: 9781984822802
Contact:
Sarah Breivogel
212-572-2722
sbreivogel@penguinrandomhouse.com
"Almost every one of her recommendations is a gem…Even better, her explanations (and rationales, if necessary) are short, personal, humorous, and occasionally pointed. Why this instead of what's become the iconic decluttering tome, Marie Kondo's The Life-Changing Magic of Tidying Up (2014)? There's no guilt attached."
—Booklist, starred review
In her decade-long investigation into happiness and human nature, author Gretchen Rubin has made a key realization about happiness: for most of us, outer order contributes to inner calm.
Rubin's bestselling books about human nature, happiness, and good habits have sold more than 3.5 million copies worldwide, and her award-winning podcast Happier with Gretchen Rubin boasts more than 66 million downloads.
Now, with clarity and humor, she turns to the challenge of creating outer order. Think of the countless TV shows, hacks, Pinterest boards, and stores dedicated to helping us get our "stuff" under control. In her new book, OUTER ORDER, INNER CALM: Declutter and Organize to Make More Room for Happiness (Harmony, March 5, 2019), Rubin helps us create the peaceful, orderly environment that we crave. For many of us a messy desk or crowded closet can seem like a trivial problem, but when we deal with our possessions we feel both calmer and more energetic. When it is easier to hang up a coat, it is easier to go to the gym. An orderly desk makes it easier to write that challenging email. However, this book isn't just about organizing your kitchen cabinets or your office files; it's about creating more happiness. Outer order helps us focus our attention, time, energy, and money on the tasks, people, places, activities, and values that matter most to us. And when we get our surroundings in order, everyone benefits.
With more than 120 short and concrete tips and insights, OUTER ORDER, INNER CALM helps readers tackle the key challenges of creating outer order by explaining how to "Make Choices," "Create Order," "Know Yourself—and Others," "Cultivate Helpful Habits," and, of course, "Add Beauty." For instance:
Beware of storage: In many cases, storing a possession is just a way to postpone deciding what to do with it.
Don't get organized: Your first instinct should be to get rid of stuff. If you don't own it, you don't have to organize it.
Beware of the "someday, someone" rationale: Sometimes we hang on to our stuff because we think someday someone will want or need it, but is that true?
Practice the three strikes rule: If you've wondered more than three times if you should keep an item, it's time to ditch it!
Beware of clutter magnets: In almost everyone's house or office, certain areas become magnets for cutter. Clutter tends to attract clutter, so make a habit of cleaning these areas regularly.
Beware of "fake work" and "make work": Creating outer order is a worthy aim, but make sure you aren't creating unnecessary work for yourself.
Beware the urge to "procrasticlear": When clearing clutter, watch out for the difference between helpful preparation and unhelpful procrastination!
In her study, Rubin found that no magic, one-size-fits-all approach exists, so OUTER ORDER, INNER CALM offers a multitude of ideas to allow readers to choose the suggestions that resonate most. When we approach our aims in the way that's right for us, we're far more likely to succeed.
When we look at our surroundings, we see a reflection of ourselves. At home, at work, and in life, by getting rid of things we don't use, don't need, or don't love, as well as things that don't work, don't fit, or don't suit, we free our mind (and our shelves) for what we truly value.
ABOUT THE AUTHOR:
GRETCHEN RUBIN is one of the most influential writers on the linked subjects of habits, happiness, and human nature. She's the author of many books, including the blockbuster New York Times bestsellers Better Than Before and The Happiness Project. A member of Oprah's SuperSoul 100, Rubin has an enormous following in print and online; her books have sold more than 3.5 million copies worldwide in more than thirty-five languages, and her popular daily blog, gretchenrubin.com, reports on her adventures in pursuit of habits and happiness. She also has an award-winning podcast, Happier with Gretchen Rubin. Rubin started her career in law and was clerking for Justice Sandra Day O'Connor when she realized she wanted to be a writer. She's been interviewed by Oprah, eaten dinner with Daniel Kahneman, been written up in The New Yorker, walked arm in arm with the Dalai Lama, and appeared on the cover of two (small) magazines. Her book The Happiness Project was even an answer on the game show Jeopardy! She lives in New York City with her husband and two daughters.

OUTER ORDER, INNER CALM
Declutter and Organize to Make More Room for Happiness
by Gretchen Rubin
Harmony Books • On Sale: March 5, 2019 • Price: $16.99 hardcover
240 pages • ISBN 978-1-9848-2280-2
Also available as an ebook and on audio
Visit www.crownpublishing.com or www.gretchenrubin.com
Or follow her on Twitter and Instagram at @gretchenrubin or on Facebook at
https://www.facebook.com/GretchenRubin
Related Posts: