Press Releases
I AM NO ONE by Patrick Flanery
"A taut, nervy, confident thriller for the surveillance age from a writer with an uncanny sense of the anxieties and fears that define the modern condition." —Hanya Yanagihara, author of A Little Life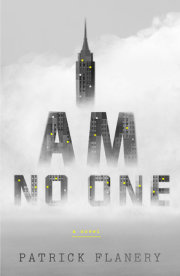 Patrick Flanery
Imprint: Tim Duggan Books
On sale: July 5, 2016
Price: $27.00
Pages: 352
ISBN: 9781101905852
Contact:
Sarah Grimm
212-782-8637
sgrimm@penguinrandomhouse.com
Patrick Flanery's I AM NO ONE (Tim Duggan Books; July 5, 2016) is a stunningly crafted novel exploring privacy, paranoia, and the hazards of memory. Flanery is the author of two critically acclaimed novels: Absolution, which was shortlisted for the International IMPAC Dublin Literary Award, and Fallen Land—both were reviewed widely in national publications to great praise (see attached). As an American living in London, he writes with an expatriate's sense of nostalgia and alienation, imbuing this story with immediate tension. A compellingly rendered literary mystery, I AM NO ONE bolsters Philip Gourevitch's claim in The New Yorker that "Patrick Flanery is an exceptionally gifted and intelligent novelist, and he is just getting started."
After a decade of living abroad as an Oxford professor, Jeremy O'Keefe returns to New York, where he has been hired as a professor of German history at New York University. After days of teaching students he can hardly distinguish from one another, he drifts through long evenings alone. Though comfortable with his routine, and glad to be reunited with his daughter, Jeremy is overwhelmed by loneliness. Wandering the city, a place both familiar and foreign, he feels he could disappear without anyone noticing.
But soon, a series of strange events gives him the growing sense that he is being watched—his every move perhaps even monitored. Boxes containing records of his online activity are delivered to his apartment, a young man appears to be following him, and his elderly mother receives anonymous phone calls slandering her son. Why would anyone want to observe him so closely, and why would they alert him to their presence? He fears he is losing his grip on reality, but the alternative—that something more sinister is at work—is even more disturbing.
As he takes stock of the entanglements that marked his years abroad, Jeremy becomes convinced that a fellow American at Oxford, an expert on the Middle East, was in fact a spy. And then there was his student from a prominent Egyptian family, a young woman whom he loved, whose father was implicated in the Mubarak regime's human rights abuses and whose brother is believed to be fighting with ISIS in Syria. He wonders if he has unwittingly committed a crime so serious that he might soon be faced with his own denaturalization. Moving toward a shattering reassessment of what it means to be free in a time of increasingly intrusive surveillance, Jeremy is forced to ask himself whether he is in fact a harmless "no one," or a traitor to his country and everyone he knows.
I AM NO ONE is an Orwellian drama for the post-Snowden world: a magnetic portrait of a man whose interior life ripples with consequences. Selected by Sarah Lyall for the New York Times summer reading guide, this novel is not to be missed.
About the Author: Patrick Flanery was born in California and raised in Omaha, Nebraska. After earning a B.F.A. in Film from NYU's Tisch School of the Arts, he worked in the film industry before moving to the U.K., where he completed a doctorate in Twentieth-Century English Literature at the University of Oxford. He has written for The Washington Post, The Guardian, and The Times Literary Supplement, and is a professor of Creative Writing at the University of Reading.
Related Posts: