Press Releases
One Girl Cookies by Dawn Casale & David Crofton
Recipes for Cakes, Cupcakes, Whoopie Pies, and Cookies from Brooklyn's Beloved Bakery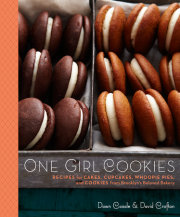 On sale: January 1, 1970
Price: $
ISBN: 9780307720481
Contact:
Jill Browning
212-572-6182
jibrowning@randomhouse.com
"In your hands you hold our story and all of the yummy things that have filled our life and many others lives with delight. Hopefully, as you turn the pages and make the recipes, you will be reminded of your own sweet, lucky story as well." —From the Introduction to One Girl Cookies 
The One Girl Cookies bakery in Brooklyn, NY, started as just that: one girl making cookies. Dawn Casale left her job as an accessories manager at Barneys New York to dive into the sweeter side of life—and her beautifully made seasonal cookie collections were an instant hit. ONE GIRL COOKIES: Recipes for Cakes, Cupcakes, Whoopie Pies, and Cookies from Brooklyn's Beloved Bakery (Clarkson Potter; on sale January 10, 2012) shares the delectable treats from this beloved Brooklyn bakery with a devoted following.
Perfect for dessert lovers looking for something unique, ONE GIRL COOKIES showcases not only delicious heirloom recipes and family stories—many passed down for generations—but also incorporates new sweets with fresh, seasonal flavors. Many cookies are named for someone special: Lucia (Espresso Caramel Squares with White & Dark Chocolate Swirl) is in honor of Dawn's beloved great grandmother; and Lana (Bittersweet Chocolate Sandwiches Filled with Raspberry Preserves) is named after Dawn's favorite teacher, who was a little bitter but mostly sweet. Dawn's family life and bakery are inseparable; it is only fitting that when she hired David Crofton, a professional baker, to help expand the business, she found the love of her life—a sweet side story in this charming book.
Together in ONE GIRL COOKIES, Dawn and Dave share the shop's most popular recipes, including:
COMFORT COOKIES: Old-Fashioned Graham Crackers with Turbinado Sugar; Orange Butter Drops with Shredded Coconut; Buttermilk Tea Cookies with Lemon Glaze & Poppy Seeds; Classic Chocolate Chip Cookies; Raspberry Coconut Oat Bars
PARTY GIRL COOKIES: Espresso Caramel Squares with White & Dark Chocolate Swirl; Apricot Jam-Filled Almond Butter Cookies; Winter Spice Cookies Sandwiches with Orange Cream; Lemon, Olive Oil, & Almond Biscotti; Honey-Nut Bars on an Almond Crust
CAKES: Classic Angel Food Cake with Passion Fruit Drizzle; Meyer Lemon Layer Cake with Lemon Curd, Lemon Buttercream, & Flaked Coconut; Southern Red Velvet Cake with Cream Cheese Frosting; Rich Chocolate Cake with Salty Dulce de Leche & Hazelnut Brittle

WHOOPIE PIES & CUPCAKES: Pumpkin Whoopie Pies with Maple Spice Filling; Chocolate Whoopie Pies with Peppermint Filling; The Best Vanilla Cupcakes with Mocha Buttercream
PIES & TARTS: New York State Maple Pecan Pie; Fresh Pumpkin Pie with Salty Roasted Pepitas; Strawberry Rhubarb Pie with Spiced Oat Crumble; Apricot, Honey, & Pistachio Tart; Rosemary Pear Tart with Almond Crust
Known for their beautiful, personal gift packaging incorporating old family photos and grosgrain ribbon, Dawn and Dave also give tips and ideas for making and wrapping custom presents for any occasion. With 70 mouthwatering recipes and 50 color photographs, ONE GIRL COOKIES will become a cherished addition to every passionate baker's kitchen.
# # #
DAWN CASALE and DAVID CROFTON are the owners of One Girl Cookies bakery in Brooklyn, New York, which has been featured in the New York Times, Martha Stewart Weddings, and Real Simple, among other publications. They live in Brooklyn with their son, Nate. They are planning to open a second location of One Girl Cookies in Brooklyn in early 2012. For more information, visit them at www.onegirlcookies.com.
Related Posts:
You Might Also Like