Press Releases
ONE DAY IN DECEMBER by Josie Silver
Two people. Ten chances. One unforgettable love story.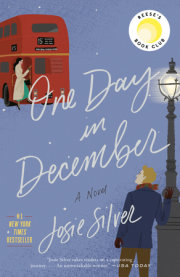 Josie Silver
Imprint: Broadway Books
On sale: 10/16/18
Price: $16.00
Pages: 400
ISBN: 9780525574682
Contact:
Christine Johnston
2125726067
chjohnston@penguinrandomhouse.com
Praise for One Day in December
*Rights Sold in 20 Countries*
"A captivating read, full of charming characters and relatable situations." —The Associated Press
"There is nothing more satisfying than immersing oneself in a romance that takes you away from your problems and cares, and One Day in December is the perfect book for that… Consider setting aside some time and prepare to be charmed as author Josie Silver takes readers on a captivating journey — where female friendship is as important as romantic love… Silver's wonderful storytelling just pulls you further into the story… One Day in December is an unmistakable winner." —USA Today
"Josie Silver writes with a warmth so palpable her characters sneak their way into your heart and stay for a long time. One Day in December is an exploration of love that reads like a thriller, filled with secrets and heart-aching betrayals. The perfect book to get lost in this holiday season." —Jill Santopolo, author of The Light We Lost
"A must-read. In Josie Silver's charming rom-com, Laurie experiences love at first sight through her bus window… then the car pulls away… What follows is a decade of heartache, betrayal, and destiny." —US Weekly
"In Josie Silver's One Day in December, a chance encounter on a London bus turns into a Bridget Jones-inspired romp." —Cosmopolitan, Best Month Ever
"It's never too early to get into the Christmas spirit. Pick up One Day in December for a heartwarming holiday romance about a love triangle that spans 10 years." —HelloGiggles
"The perfect cold weather rom-com." —Bustle
"Tender and emotional, One Day in December is a touching love story that will warm your heart even on the coldest of days." —Bustle
"One Day in December is a charming story about love and serendipity for the hopeless romantic in all of us." —PopSugar
"One Day in December is a joyous, heartwarming and immensely moving love story to escape into and a reminder that fate takes inexplicable turns along the route to happiness." —Modern Mrs. Darcy
"The pacing is just right, the tone warm, and the characters sympathetic… Anyone who believes in true love or is simply willing to accept it as the premise of a winding tale will find this debut an emotional, satisfying read." —Kirkus Reviews
"Silver's lovely debut follows two young Londoners after a missed connection alters the course of their lives… Silver's propulsive narrative is enjoyable, and the mix of tension and affection between Jack and Laurie is charming, addictive, and effective. Readers who like quirky love stories will be satisfied by this cinematic novel." —Publishers Weekly
"A holiday love triangle and the pursuit of new and unlikely romances make this new novel simply magical." —SheReads
In her captivating American debut, ONE DAY IN DECEMBER (Broadway Books; October 16, 2018), Josie Silver weaves an unabashedly charming love story at the intersection of serendipity, soulmates, and our own choices at the moments when they matter most. This sweeping tale, told over the course of ten Christmas seasons, is reminiscent of Love Actually, with a heroine as endearing as Bridget Jones, and captures every conflicted beat of a heart grappling with what could have been.
ONE DAY IN DECEMBER opens in London a few days before Christmas in 2007, as twenty-two-year-old Laurie is headed home. When her bus comes to a halt, Laurie looks outside and locks eyes with a man—Jack—waiting outside, separated by only a thin window and ten insurmountable feet. In a matter of seconds, she is overcome with the knowledge that love at first sight do
es exist, and she has found it with this breathtaking stranger. As Jack races to board the bus and close the distance between them, it pulls off and catalyzes a decade-long saga of impossible decisions, as inexplicable forces of the universe threaten to break apart what they thought to be unbreakable—that the two of them simply must end up together.
The love-struck duo spends the next year searching for each other, seeking glimpses of that electrifying connection in every passerby. The quest proves to be fruitless, however, until the following Christmas when Laurie and her best friend, Sarah, throw a holiday party in their apartment. Laurie is ecstatic to hear that, this Christmas, Sarah is in love. Eager to meet the man who has captured Sarah's heart, Laurie puts aside her search for the bus-stop boy and finds herself, for the second time, face-to-face with Jack. Of course Sarah's new boyfriend is Jack.
As the chemistry between Laurie and Jack becomes undeniable, the hairline crack in her friendship with Sarah widens and even the best of intentions and strongest of loyalties prove to be no match for her heart. As they deal with aging parents and evolving careers and confront loss, this doomed trio is faced with seemingly unanswerable questions about romance: What if you meet the person you're meant to be with, but they're already with somebody else? Can Laurie and Sarah reconcile their friendship with the fact that fate led them both, in wildly different ways, to the same man?
ONE DAY IN DECEMBER delves deep in its exploration of the many different types of soulmates we encounter over the course of our lives, and will leave readers with an indispensable smile. With her ability to capture love's complexities on the page in prose reminiscent of Jojo Moyes, Emily Giffin, and Jill Santopolo, Silver has woven an enchanting tale that will both warm and break hearts as the characters fall in love with one another and we, in turn, fall in love with them. Readers will want to curl up with the lovably flawed Laurie, Sarah, and Jack and cheer for love's promise of a happily-ever-after.
About the Author: Josie Silver is an unashamed romantic who met her husband when she stepped on his foot on his twenty-first birthday. She lives with him, her two young sons, and their cats in a little town in England called Wolverhampton.
Related Posts: