Press Releases
OLD AGE: A Beginner's Guide by Michael Kinsley
*A New York Times Editors' Choice*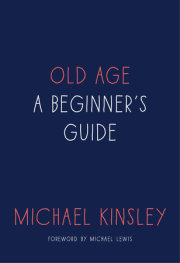 Michael Kinsley
Imprint: Tim Duggan Books
On sale: April 26, 2016
Price: $18.00
Pages: 160
ISBN: 9781101903766
Contact:
Rachel Rokicki
212-782-8455
rrokicki@penguinrandomhouse.com
Praise for Old Age
"A superb new book . . . A generational cri de coeur. . . . Mr. Kinsley possesses what is probably the most envied journalistic voice of his generation: skeptical, friendly, possessed of an almost Martian intelligence."
—Dwight Garner, The New York Times
"Wickedly funny. . . . Especially poignant. . . . Among all the books published in recent years about old age and dying, it would be hard to find one that is more fun to read than Old Age."
—Reeve Lindbergh, The Washington Post
"Delightful . . . Hilarious. . . . Witty. . . . If it's possible for a book about illness and death to be delightful, this one fills the bill."
—Phillip Lopate, The New York Times Book Review
"Michael Kinsley, a favorite around here, has written a smart, funny, and profound little memoir."
—Pamela Paul, The New York Times Book Review
"If aging is an opponent, I can't think of anyone better suited to take it on than Michael Kinsley. His prodigious wit and intellect cut straight through to the realities—positive and negative—of growing older. By turns funny and rueful, but always real, this book is a must-read for newcomers to the world of old age."
—Michael J. Fox
"There aren't a lot of living writers I'm dying to read on their own mortality. It's not that the subject lacks importance, or that there aren't lots of great living writers. It's just that it's hard to imagine even the best of them making their descent swing on the page. How much left to say can there be? Plus, you know how the story is going to end. Michael Kinsley's an exception."
—Michael Lewis (from the foreword)
"Old Age is irreverent, wise, and laugh-out-loud funny about living long enough for your organs to start to betray you. Count on Michael Kinsley to write the book about life you didn't know you needed."
—Atul Gawande
"Kinsley showcases his fine writing, tackling a potentially depressing subject with a mixture of humor and serious reflection. Though targeted most specifically to Kinsley's own generation of the baby boomers, the book might be helpful for anyone who has a progressive illness…Kinsley's superb prose and well-judged tone—both frustrated and hopeful for the future—make this a valuable book for anyone interested in exploring ideas around life, death, and legacy."
—Publishers Weekly
"[A] satisfying examination of the importance of "long years of good health, not long years simply breathing in and out."
—Kirkus Reviews
________________________________________________________________________________________________________________________________________
A popular bumper sticker back in the 1980s read, "He Who Dies with the Most Toys Wins." But, as well-known journalist and Vanity Fair columnist Michael Kinsley points out in his forthcoming book, OLD AGE: A Beginner's Guide (Tim Duggan Books; $18.00; Hardcover; ISBN 13: 978-1-101-90376-6; On-sale: April 26, 2016), it's also fundamentally wrong. "What good are toys if you're dead," asks Kinsley."
"We are born thinking that we will live forever," writes Kinsley, who has Parkinson's Disease. "Then death becomes an intermittent reality, as grandparents and parents die, and tragedy of some kind removes one or two from our own age cohort. And then, at some point, death becomes a normal part of life—a faint dirge in the background that gradually gets louder."
This surprisingly cheerful book is at once a fresh assessment of a generation and a frequently funny account of one man's journey toward the finish line. "The least misfortune can do to make up for itself is to be interesting," he writes. "Parkinson's disease has fulfilled that obligation."
About the Author
Michael Kinsley is a columnist at Vanity Fair, a contributor to The New Yorker, and the founder of Slate. He has served as the editor of The New Republic and Harper's, the managing editor of The Washington Monthly, and the American editor of The Economist. He lives in Washington, DC.
Related Posts: