Press Releases
OK Cupid founder Christian Rudder brings us Dataclysm: Who We Are (When We Think No One's Looking)
An audacious and irreverent investigation of human behavior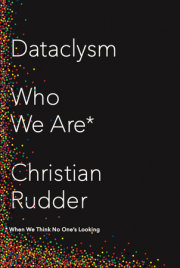 Christian Rudder
Imprint: Crown Publishers
On sale: September 9. 2014
Price: $28.00
Pages: 272
ISBN: 9780385347372
Contact:
Sarah Breivogel
212-572-2722
sbreivogel@randomhouse.com
Praise for DATACLYSM:
"Demographers, entrepreneurs, students of history and sociology, and ordinary citizens alike will find plenty of provocations and, yes, much data in Rudder's well-argued, revealing pages." —Kirkus
The cofounder of the online dating site OkCupid explores the way our innermost thoughts and biases—the things we think we keep mostly to ourselves—can tell other people much more about us than we realize . . . fascinating fare for anyone trying to make sense of the social-media era." —Booklist
"In the first few pages of Dataclysm, Christian Rudder uses massive amounts of actual behavioral data to prove what I always believed in my heart: Belle and Sebastian is the whitest band ever. It only gets better from there." —Aziz Ansari
"Studying human behavior is a little like exploring a jungle: it's messy, hard, and easy to lose your way. But Christian Rudder is a consummate guide, revealing essential truths about who we are. Big Data has never been so fun." —Dan Ariely, author of Predictably Irrational
"Christian Rudder has written an absurd, funny, and profound book about important issues. Race, love, sex–– you name it. Are we the sum of the data we produce? Read this book immediately and see if you can answer the question." —Errol Morris
"Dataclysm is a book full of juicy secrets—secrets about who we love, what we crave, why we like, and how we change each other's minds and lives, often without even knowing it. Christian Rudder makes this mathematical narrative of our culture fun to read and even more fun to discuss: You will find yourself sharing these intriguing data-driven revelations  with everyone you know." —Jane McGonigal, author of Reality Is Broken

"Smart, revealing, and sometimes sobering, Dataclysm affirms what we probably suspected in our darker moments: When it comes to romance, what we say we want isn't what will actually make us happy. Christian Rudder has tapped the tremendous wealth of data that the Internet offers to tease out thoughts on topics like beauty and race that most of us wouldn't cop to publicly. It's a riveting read, and Rudder is an affable and humane guide." —Adelle Waldman, author of The Love Affairs of Nathaniel P.
"It's unheard of for a book about Big Data to read like a guilty pleasure, but Dataclysm does. It's a fascinating, almost voyeuristic look at who we really are and what we really want." —Steven Strogatz, Schurman Professor of Applied Mathematics, Cornell University, and author of The Joy of x
It's no surprise that more and more people are taking to the Internet each day, sharing their accomplishments and engagements, tweeting about their pet peeves, offering knee-jerk reactions to celebrity break-ups and breaking news stories alike, posting vacation photos on Instagram, and recipes on Pinterest. Seventy percent of the country uses Facebook each month—50 percent of Americans under 35 check it first thing every morning. By 2015, people will have tweeted more words than in every book ever printed. A third of all marriages in the United States now begin online—meaning one in three children in the class of 2032 will have been facilitated by an algorithm! Quite clearly, social media is about more than just sharing information; it's become essential to the fabric of our society. The photos, the updates, the likes, the tweets: we already know that companies are using all this data to hire us, fire us, and sell us diapers. We already know that the government uses this data to pry. What we don't know is the third side of the story.
In DATACLYSM: Who We Are (When We Think No One's Looking) (Crown; on sale September 9, 2014), a daring and visually arresting book filled with charts, graphs, and photos, OkCupid co-founder Christian Rudderputs our personal information to a new use: helping us understand human nature. Because we live so much of our lives online, digital data can show how we fight, how we love, how we age, how we change, and what we really want. There have been a lot of books and stories on "big data"—what it is, how it's intruding on our lives, and invading our privacy. What sets DATACLYSM apart is that, while it does analyze the largest dataset held by any private individual (drawn from Twitter, Facebook, Reddit, OkCupid, and many other sites), the book's main concern is not necessarily in the numbers themselves, but in what those numbers say about the people behind them. Rudder examines a range of questions: How racist are we? Has tweeting made us stupider? How can Facebook "likes" predict a person's sexual orientation or intelligence? How can the number of mutual friends a couple has
predict the stability of your relationship? He charts the rise and fall of America's most reviled word through Google Search, and he examines the new dynamics of collaborative rage on Twitter. He shows how people express themselves, both alone and in public, and he grapples with the challenge of maintaining privacy in a world where any of these explorations are possible. Philosophers, psychologists, gene hunters, and neuroscientists have tried to explain our flaws and foibles. Rudder shows that today, a powerful new approach is possible, one that reveals how we actually behave when we think no one's looking. And he does this all with a style that is smart, funny, and irreverent—think Chuck Klosterman meets Nate Silver.
There is a real revolution taking place in the study of human behavior and Rudder is on the front lines. In his outrageous, illuminating, provocative, and visually fascinating book, he pulls back the curtain to show how data can help us understand what makes us tick. For anyone who ever wanted to know who we really are and what we really want when we think no one's looking, DATACLYSM holds the key.
ABOUT THE AUTHOR: Christian Rudder is president and co-founder of OkCupid (one of the biggest dating sites in the United States) and is the author of the popular blog OkTrends (which has received over 15.4 million unique visitors since its inception in 2009). He graduated from Harvard in 1998 with a degree in math and served as creative director for SparkNotes. He plays in the indie band Bishop Allen and starred in Funny Ha Ha, the film that gave birth to the "mumblecore" genre and which the New York Times named one of the Top 10 Films of 2004. He has appeared on NBC's Dateline and NPR's All Things Considered, and his work has been written about in the New York Times and The New Yorker, among other outlets.
Related Posts:
You Might Also Like