Press Releases
Now On Sale! WE THE PEOPLE by Juan Williams
The Modern-Day Figures Who Have Reshaped and Affirmed the Founding Fathers' Vision of America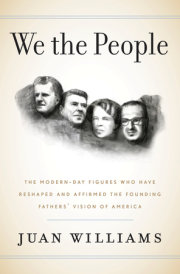 Juan Williams
Imprint: Crown
On sale: 4/5/2016
Price: $30
Pages: 464
ISBN: 9780307952042
Contact:
Liz Esman
212-572-6049
lesman@penguinrandomhouse.com
A FASCINATING EXAMINATION OF THE LIVES OF THE MEN AND WOMEN IN THE 20TH CENTURY WHO HAVE EXTENDED THE FOUNDING FATHERS' ORIGINAL VISION OF THE COUNTRY AND RESHAPED AMERICA
America has seen an immense amount of change since the Founding Fathers gave birth to our nation. John Adams, Benjamin Franklin, and George Washington stand as visionaries in their time. But they might not even recognize today's USA.
In his new book, WE THE PEOPLE: The Modern-Day Figures Who Have Reshaped and Affirmed the Founding Fathers' Vision of America (Crown; April 5, 2016), acclaimed social historian, bestselling author, and Fox News political analyst Juan Williams examines the lives and ideas of people he calls "America's modern-day founders."
WE THE PEOPLE examines the courage, ideas, and actions of the contemporary figures, conservatives and liberals, men and women, rich and poor, who created modern-day America. In this great read, Williams examines the lives and actions of such modern-day cultural pioneers as Thurgood Marshall, LBJ, Ronald Reagan, Jesse Jackson, Harry Hay, Billy Graham, and others.
Spanning generations of change, Williams analyzes how each of these ground-breaking leaders changed fundamental aspects of our country: from immigration and the demographic makeup of America to labor rights and their role in a capitalist economy, from poverty to modern-day police enforcement, where crime can be tackled through the use of data and statistics before it occurs. As Williams explains, modern-day America is both a continuation of the great American experiment in democracy started more than 200 years ago—and a vastly different, more complex, fast-changing society where people of different genders and cultural backgrounds and races enjoy more opportunity, freedom, and education than ever before in our nation's history. This book takes the reader from politics to urban life, from economics to technology, from military warfare to the evolution of American jurisprudence.
About the Author: Juan Williams, a former White House correspondent at the Washington Post where he worked for over 21 years, has been a senior correspondent and talk-show host at NPR. He is currently a political analyst for Fox News and cohost of the daily news roundtable show The Five. He writes a weekly column for The Hill, a Washington, D.C., newspaper. Williams is the author of such bestselling and critically acclaimed books as Eyes on the Prize: America's Civil Rights Years, 1954–1965; Thurgood Marshall: American Revolutionary; Enough; and Muzzled. He lives in Washington, D.C.
___________________________________________________________________________________________________________________________________________
Praise for Juan Williams and WE THE PEOPLE:
"American democracy is continually being reborn, and Juan Williams brings alive the impact of some of the modern-day leaders of this renewal. By portraying people of different backgrounds and ideologies, he has created a series of narratives that are both inspiring and thought provoking."
—Walter Isaacson
"In a Washington boiling with anger, some of it real and some of it synthetic, Juan Williams is a rarity. He combines strong beliefs with a cheerful ability to see how disparate people, including some with whom he disagrees, have enriched the American mosaic. From Robert Moses to Robert Ball and from George Meany to Charlton Heston, this book will remind readers of some strong men and women who made the nation strong."
—George F. Will
"The battle over the Constitution and how the USA should be run rages on. For Americans who want an informed view of the great debate—there is no better book than We the People. I thank Juan Williams for writing it."
—Bill O'Reilly, anchor of Fox News Channel's The O'Reilly Factor
"The Founders of our nation, politically bold and intellectually adventurous, would be appalled at the idea that their revolutionary work would be used as a trump card against change, creative thinking, or social progress. The genius of Juan Williams's We the People is that it shows how subsequent generations kept the promise of those who created our republic by building on their work rather than sitting back complacently, advancing the rights of excluded groups, and facing new problems squarely. Williams's moving portraits of key figures in our national story show why the American gift for self-criticism and self-correction will always be one of our greatest assets."
—E. J. Dionne Jr., author of Why the Right Went Wrong
"Juan Williams's We the People is a fascinating intellectual romp through American history. All sorts of burning current event issues—the gun lobby, immigration, evangelical politics, sexual revolution—are brilliantly explored by Williams. Only a first-rate mind could have written such a wide-ranging and original survey. Highly recommended!"
—Douglas Brinkley, professor of history at Rice University and author of Rightful Heritage: Franklin D. Roosevelt and the Land of America
"The Founders themselves would have approved of this ambitious and endlessly fascinating book. With his customary acumen, Juan Williams weaves together a rich montage of the people shaping a diverse and dynamic modern America. We the People is social history at its very finest and belongs on the bookshelf of all history buffs. What a daring book! What a triumph!"
—Jay Winik, author of 1944 and April 1865
"Juan Williams has penned a rich, fascinating, and zesty tour among the men and women who have helped shape what we think of today when we think of America. The book is provocative, fun, and nonpartisan all at the same time. Just what we need to explain how we got here, and where we might be headed."
—Stephen L. Carter, William Nelson Cromwell Professor of Law at Yale University
"Prizewinning journalist Williams identifies more than two dozen individuals who helped shape modern America. . . . Brightly written . . . the author traces extraordinary changes of the 20th century that would have shocked the Founding Fathers, who lived in a smaller, far different society."
—Kirkus Reviews
"Williams combines personalities and issues across the political spectrum in an appealing and accessible volume."
—Booklist
Related Posts:
You Might Also Like