Press Releases
NOW IN PAPERBACK – Yochi Dreazen's THE INVISIBLE FRONT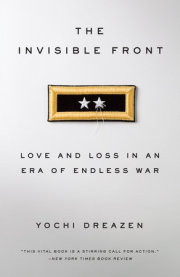 Yochi Dreazen
Imprint: Broadway Books
On sale: October 6, 2015
Price: $15.00
Pages: 320
ISBN: 9780385347853
Contact:
Hannah Frail
212-572-2247
hfrail@penguinrandomhouse.com
Select Praise for THE INVISIBLE FRONT: 
A New York Times Book Review Notable Book 
An Amazon Best Book of the Year 
Winner of the 2015 Christopher Award 
"Harrowing, a courageous effort . . . This vital book is a stirring call for action to better aid American soldiers who struggle alone with depression—and civilians who suffer from our most stigmatized disease as well."
—New York Times Book Review 
"Yochi Dreazen recounts the family's story with great humanity. The Grahams' compassion and wisdom as they turned their sorrow into a mission of suicide prevention moved me to tears."
—Washington Post
"[An] enthralling and enraging report about the army's traditional stigma about mental illness."
—Military Times
Even in a country facing a grave mental health crisis, the military has historically had a particularly inadequate approach to the causes, symptoms, and suffering of mental illness. Over the past 12 years, more than 3,000 soldiers have taken their own lives, and stories about the mismanagement of hundreds of VA hospitals across the country continue to outrage Americans. THE INVISIBLE FRONT: Love and Loss in an Era of Endless War by Yochi Dreazen (Broadway Books; on sale October 6, 2015) offers a new way of understanding the human cost of war and its lingering effects, both on and off the battlefield. It is also the very human story of one military family's quest to find purpose in tragedy, as loss galvanized two parents to devote their lives to fighting the armed forces' suicide epidemic.
Major General Mark Graham, a decorated two-star officer, joined the military shortly after Vietnam. His integrity and patriotism inspired his sons, Jeff and Kevin, to pursue their own careers in military service. Just as his oldest son Jeff was preparing for his first tour in Iraq, Kevin, at the age of 22 while enlisted in an ROTC program, hung himself—succumbing to the depression that had plagued him since childhood. Less than a year later, Jeff, age 25, died in an IED attack in Iraq. But while Jeff was celebrated as a hero, Kevin's death was met with silence. After losing their boys within nine months of each other, Mark and his wife, Carol, were directly confronted with the shame that surrounds suicide in the armed forces, evidenced by the very different ways their tight-knit military community marked their sons' deaths.
Dreazen first met the Grahams in 2009 when Mark was commander of Fort Carson, one of the largest military bases in the country with an exceptionally high suicide rate. While there, Mark and Carol committed themselves to reducing the stigma surrounding PTSD (Post Traumatic Stress Disorder) and mental illness; they also sought to make it easier for troubled soldiers to get the care they needed. Those efforts put them in direct conflict with an entrenched military bureaucracy that considered mental health problems to be a symptom of weakness and refused to acknowledge the severity of its suicide problem. Dreazen spent hours with Mark and Carol, listening to what he calls "the story of this seemingly perfect family that had suffered unimaginable losses."
Dreazen understood from his own experience the horrors of PTSD and depression. After spending two years living in Iraq, much of that time embedded with frontline combat troops, he returned to the States profoundly changed. Unable to overcome feelings of anger, anxiety, and depression, Dreazen began to think of suicide. A close friend in the military correctly identified that he was suffering from severe PTSD and Dreazen was able to receive the help he needed.
That terrifying chapter in his life allowed Dreazen to think deeply about how unprepared we are to deal with the hundreds of thousands of soldiers returning home from war with PTSD and the many veterans of Iraq and Afghanistan who take their own lives. Dreazen had stayed in close contact with Mark and Carol, and saw their story as a remarkable entry point into broader issues in military culture. THE INVISIBLE FRONT begins when the couple meetsin college and traces the lives and deaths of their sons using diary entries, emails, and dozens of interviews with those who knew the boys best. Dreazen also examines how Mark used his time at Fort Carson to test his own methods of suicide prevention. Although he faced fierce resistance from other officers, the changes that Mark brought lowered the base's suicide numbers sharply, and many of those reforms have since been adopted elsewhere in the military.
Told with great sympathy and deep understanding, THE INVISIBLE FRONT examines the military's problematic treatment of its soldiers in need and uses the Graham family's work as a window into how we might minimize the risk of suicide, substance abuse, and PTSD in combat and at home.
Included in the paperback are several Extra Libris materials, including a personal essay by Dreazen recounting his own very challenging experiences with PTSD, an interview with the Graham family relating the responses they have received since the 2014 publication of the hardcover, and a comprehensive resource guide entitled "Where to Find Help, or Where to Give It" for those suffering from PTSD and their loved ones.
* * * * *
ABOUT THE AUTHOR: Yochi Dreazen, the managing editor of Foreign Policy, is one of the most respected military journalists in the country. He covered the wars in Iraq and Afghanistan for the Wall Street Journal and has reported from more than 30 countries. His writing has appeared in The Atlantic, the Washington Post, and other publications. The Invisible Front is his first book and was a finalist for the 2014 J. Anthony Lukas Work-in-Progress Award. He lives in Washington, D.C.
Related Posts: