Press Releases
Now in Paperback, Weapons of Math Destruction by Cathy O'Neil
How Big Data Increases Inequality and Threatens Democracy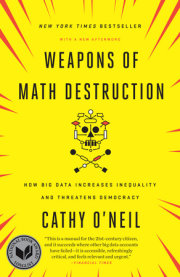 Cathy O'Neil
Imprint: Broadway Books
On sale: September 5, 2017
Price: $16.00
Pages: 288
ISBN: 9780553418835
Contact:
Sarah Breivogel
212-572-2722
sbreivogel@penguinrandomhouse.com
*Featuring a New Afterword*
Long-listed for the National Book Award
A New York Times Bestseller and Editor's Choice
A New York Times Book Review Notable Book of 2016
A Boston Globe Best Book of 2016
A Kirkus Reviews Best Book of 2016
An On Point Best Book of 2016
One of Wired's Required Reading Picks of 2016
One of Fortune's Favorite Books of 2016
A Chicago Public Library Best Book of 2016
A Nature.com Best Book of 2016
DATA SCIENTIST CATHY O'NEIL, A FORMER WALL STREET QUANT, HARVARD PHD, AND BLOOMBERG VIEW CONTRIBUTOR, SOUNDS THE ALARM ON THE MATHEMATICAL MODELS THAT PERVADE MODERN LIFE—AND THREATEN TO RIP APART OUR SOCIAL FABRIC
We live in the age of the algorithm. Increasingly, the decisions that affect our lives—where we go to school, whether or not we get a job or a car loan, how much we pay for health insurance—are being made not by humans, but by mathematical models. In theory, this should lead to greater fairness: everyone is judged according to the same rules, and bias is eliminated. But as former Wall Street quant Cathy O'Neil shows in her revealing New York Times bestseller, WEAPONS OF MATH DESTRUCTION: How Big Data Increases Inequality and Threatens Democracy (Broadway Books; on sale September 5, 2017), the opposite is true.
Available in paperback September 5, 2017, the book includes an afterword that looks at the failure of news outlets' algorithms to accurately predict the 2016 election results and the role of Facebook's algorithms in spreading "fake news." The book was covered widely in the national media when it first published in hardcover and was long-listed for the National Book Award. In addition to the praise and accolades the book received, O'Neil's own platform has continued to rise. From her popular blog mathbabe.org to her recent TED talk on the topic of algorithms and big data, O'Neil puts human beings back in the equation, using her expertise to pry open the dangers big data poses to society.
O'Neil received her PhD in mathematics from Harvard University and, after a brief stint in academia, landed a position as a quant on Wall Street. She was eager to put her math skills to use, predicting movements in the market. But when she realized that the hedge fund she was working for was betting against people's retirement funds, she became deeply disillusioned. Math was being used in a way she felt was immoral. She left Wall Street and became an organizer and facilitator in the Occupy movement, before becoming a data scientist for a New York start-up. Now she is an evangelist for the cause that is at the heart of her book. She recently started her own company, O'Neil Risk Consulting and Algorithmic Auditing (ORCAA) last fall, which focuses on algorithmic accountability, and has been given a grant by the Ford Foundation to research the existing landscape of this new and urgently needed field. O'Neil is uniquely suited to talk about the social and political implications of this kind of math given her deep knowledge of modeling techniques and an insider's understanding of how companies are using them.
WEAPONS OF MATH DESTRUCTION traces the arc of a person's life, from school to retirement, and looks at models that score teachers and students, sort résumés, grant (or deny) loans, evaluate workers, target voters, set parole and prison sentences, and monitor our health. The models being used are opaque, unregulated, and uncontestable, even when they're wrong. Most troubling, they reinforce discrimination: if a poor student can't get a loan because a lending model deems him too risky (by virtue of his race or neighborhood), he's then cut off from the kind of education that could pull him out of poverty, and a vicious spiral ensues. O'Neil has dubbed these harmful models Weapons of Math Destruction, or WMDs. In our society, where money buys influence, WMD victims are nearly voiceless. These models are propping up the lucky and punishing the poor and oppressed, creating a toxic cocktail for democracy. But the poor are hardly the only victims of WMDs. They hit the middle class, too. Even the rich find themselves microtargeted by political models.
In WEAPONS OF MATH DESTRUCTION, O'Neil not only exposes the many ways that mathematical models are determining our futures, but she also offers ideas for making models more transparent and using them to promote positive social change. She emphasizes the importance of developing a set of ethics surrounding the use of algorithms, which is critical at a time when it is unclear who is ultimately responsible for their ill effects: The modelers who create them? The companies that develop them? The government that should be overseeing them? As she notes in her book, "We must come together to police these WMDs, to tame and disarm them. Math deserves much better than WMDs, and democracy does too." Part exposé, part polemic, and part call to action, WEAPONS OF MATH DESTRUCTION digs deep into the mathematical engines that are running the modern world, warning about the tyranny of software.
ABOUT THE AUTHOR: Cathy O'Neil is a data scientist and author of the blog mathbabe.org. She earned a PhD in mathematics from Harvard and taught at Barnard College before moving to the private sector, where she worked for the hedge fund D. E. Shaw. She then worked as a data scientist at various start-ups, building models that predict people's purchases and clicks. O'Neil started the Lede Program in Data Journalism at Columbia and is the author of Doing Data Science. She is currently a columnist for Bloomberg View.
Related Posts: