Press Releases
Now in paperback: THE TRAVELERS by Chris Pavone
The stylish and seductive novel of global espionage and intrigue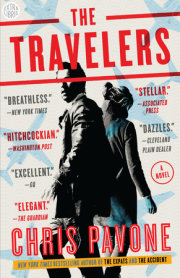 Chris Pavone
Imprint: Broadway Books
On sale: January 10, 2017
Price: $16.00
Pages: 464
ISBN: 9780385348508
Contact:
Sarah Breivogel
212-572-2722
sbreivogel@penguinrandomhouse.com
Select Praise for Chris Pavone and The Travelers
"Wit, suspense, great scenery, and a cast of dozens propel this well-paced escapade to its (literal) cliff-hanging conclusion; it's like a Spy vs. Spy comic-strip done in 3-D."—Wall Street Journal
"The Travelers does confirm what Mr. Pavone's first two books have established: that when it comes to quick-witted, breathless thrillers that trot the globe, his are top-tier."—New York Times Book Review

"A Hitchcockian thriller… [Pavone] brings on a full slate of characters, sharply etching their dress, their moves, their motives, all the while evoking the world they occupy."—Washington Post 
"…nobody brings the human aspect of the spy world into focus better than Pavone, and his stellar writing carries the day." —Associated Press
"Pavone established himself as a highly adept weaver of complicated tales of deceit and danger with an international backdrop and a seemingly innocent central character. This latest is his most effective to date." —Financial Times
From the award-winning New York Times bestselling author of
The Expats and The Accident
THE TRAVELERS
A Novel
by Chris Pavone
It's 3:00 a.m. Do you know where your husband is?
With the publication of his first novel, The Expats (2012), Chris Pavone established himself as a major new voice in the thriller world. His twisty and sophisticated narrative received high praise from John Grisham and Patricia Cornwell, reviews that drew comparisons to John le Carré and Graham Greene, was bought by CBS for film, sold in twenty countries, debuted on the New York Times bestseller list, and won both the Edgar and Anthony Awards for Best First Novel. In The Accident (2014), he penned another bestseller that blended suspense and high-end elegance, realistic characters with rich inner lives, and layers of secrets. With THE TRAVELERS (Broadway Books, January 10, 2017), which has been acquired for film by DreamWorks and is now in paperback, Pavone has crafted a jet-setting, breathlessly paced thriller that transports readers from the beaches of Saint-Jean-de-Luz and the bustle of Barcelona to the isolation of northern Iceland—all beautiful places that are hiding a darker story of surveillance, lies, and espionage.
Will Rhodes is an international correspondent for Travelers magazine, hopping around the world to write about food and wine, about foreign cultures and glamorous parties, about local celebrities and adventurous expats. He meets a lot of people; harmless flirtation is part of his job. But the sexy Australian who appears at his Argentinean hotel is not at all harmless, and she pulls Will into a complex and dangerous game.
Malcolm Somers runs Travelers, has a beautiful wife and children, a luxurious apartment, private driver—but Malcolm knows that things could unwind at any moment. He is a classic overachiever, but it isn't his editorial job at Travelers that often keeps him at the office late at night.
Chloe, Will's wife and former employee of Travelers, is now working freelance on a few select problematic assignments but is growing increasingly worried that her husband is becoming a problem in his own right. Will has found himself at the center of a dangerous web, completely in
the dark, and he can't figure out what's going on until it's nearly too late: his marriage threatened, his career in jeopardy, his life in peril.
Pavone spent nearly two decades as a book editor before turning to a life of crime-writing and international travel, visiting the locales featured in all his books, including the broad swath here in THE TRAVELERS—Capri and Bordeaux, Paris and London, Argentina and Iceland, Stockholm and Dublin and Edinburgh, and, of course, Luxembourg, where he lived for a life-changing year and a half. Immediately suspenseful and feverishly paced, THE TRAVELERS is an electrifying novel that showcases Pavone at his very best.
* * * * *
About the Author:
CHRIS PAVONE is author of the New York Times bestsellers The Accident and The Expats, winner of the Edgar and Anthony Awards for best first novel. He was a book editor for nearly two decades and lives in New York City with his family.
Related Posts: