Press Releases
NOW IN PAPERBACK: I Take You by Eliza Kennedy
Modern love meets its match in this dazzling debut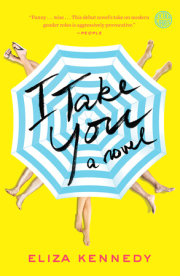 Eliza Kennedy
Imprint: Broadway Books
On sale: May 24, 2016
Price: $15.00
Pages: 336
ISBN: 9780553417845
Contact:
Hannah Frail
212-572-2247
hfrail@penguinrandomhouse.com
Select Praise for I TAKE YOU
"A salty, lively first novel . . . The book's dialogue is crackling, bawdy, and modern, and Lily's compulsion to step over the line leads to a few memorable scenes."
—New York Times Book Review
"In the first big beach read of the season, New York lawyer and bride-to-be Lily Wilder has a hard time staying faithful to her perfect fiancé—but that won't stop this hilarious debut novel from winning you over and warming your heart."
—Entertainment Weekly
"This debut novel's take on modern gender roles is aggressively provocative. It's also funny and, eventually, wise."
—People
"A saucy first novel . . . I Take You, as salty-sweet as a margarita, will appeal to fans of Seating Arrangements; Where'd You Go, Bernadette; and, looking further back, Laurie Colwin's Happy All the Time, though it's far more ribald. Kennedy's novel, tailored for summer wedding season, is a sassy paean to pleasure and romantic love that may well leave you singing that classic Gershwin line, 'Better call the calling-off off.'"
—Heller McAlpin, NPR
 "A whip-smart debut."
—Harper's Bazaar
Called a "salty, lively first novel" by the New York Times Book Review and "a whip-smart debut" by Harper's Bazaar, I TAKE YOU (Broadway Books; May 24, 2016) received rave reviews upon publication, appealing to fans of Bridesmaids, Girls, and Sex and the City. With rights now sold in more than twelve countries, I TAKE YOU is sure to blanket the beaches this summer in its new paperback edition.
Meet Lily Wilder: New Yorker, lawyer, and Manhattan's most inappropriate bride-to-be. Lily loves men, a lot, and has no business getting married. But when she meets archaeologist Will—funny, good-looking, and the nicest guy she's ever dated—and he asks her to marry him, she can't resist saying yes. Now she's counting down the days until her wedding, while simultaneously prepping a witness who is vacationing in the Florida Keys—the very same location as her upcoming nuptials. As the wedding approaches, Lily's nights (and mornings, and afternoons) of booze, laughter, and questionable decisions become a growing reminder that the happiest day of her life might turn out to be her worst mistake yet. After all, not everyone thinks Lily is marriage material (including, at times, Lily herself). Her bevy of stepmothers and hellish mother-in-law have plenty to say about her plan to become a Mrs. But, with drink in hand and the help of her best friend, Freddy, Lily plans to defy them all and make it to the altar on her own terms.
I TAKE YOU, Eliza Kennedy's page-turning debut, is brilliantly executed and driven by the irrepressible voice of its unforgettable heroine. Kennedy, who attended the University of Iowa and Harvard Law School, where she was an editor at the Harvard Law Review, clerked for a federal judge and practiced litigation at a prestigious Manhattan law firm for several years before she turned to writing. With no formal training, she's managed to pen one of the most compulsively readable, laugh-out-loud novels you're bound to read all year.
While Kennedy insists she is nothing like her saucy protagonist, she does know a thing or two about wedding disasters. Much like the nuptials at the heart of her debut, her own wedding to writer Joshua Ferris in Key West was a bit of a debacle: there was a tropical storm menacing the coast of Florida, her maid of honor missed her flight and showed up moments before the ceremony, one of their readers was hospitalized with chest pains, and a drunken family member tried to assault the DJ (she happens to now be an ex–family member).
I TAKE YOU is edgy, smart, and wickedly entertaining, but it is more than just a sexy romp. Through Lily's experiences, Kennedy teases out larger questions, such as the nature of choice, gender politics, the implications of desire, the insidiousness of cultural expectations, and the pursuit of the most undervalued idea of all: pure fun.
ABOUT THE AUTHOR:
ELIZA KENNEDY attended the University of Iowa and Harvard Law School, where she was an editor of the Harvard Law Review. After graduation she served as a law clerk for a federal judge, then practiced litigation for several years at a prestigious Manhattan law firm. She lives in New York with her husband and son. I Take You is her first novel.
Related Posts: