Press Releases
Now in paperback: SUPERFORECASTING by Philip E. Tetlock and Dan Gardner
The bestselling book on the habits of mind that lead to the best predictions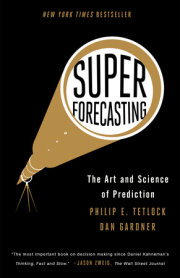 Philip E. Tetlock and Dan Gardner
Imprint: Broadway Books
On sale: September 13, 2016
Price: $17.00
Pages: 352
ISBN: 9780804136716
Contact:
Liz Esman
212-572-6049
lesman@penguinrandomhouse.com
A New York Times Bestseller
A New York Times Book Review Editors' Choice
A Washington Post Bestseller
Winner of the Axiom Business Book Award for Business Theory
Longlisted for the Financial Times and McKinsey Business Book of the Year Award
Praise for SUPERFORECASTING
"Superforecasting. . . is the most important book on decision-making since Daniel Kahneman's Thinking, Fast and Slow."—Jason Zweig, Wall Street Journal
"The material in Superforecasting is new and includes a compendium of best practices for prediction. . . . The accuracy that ordinary people regularly attained through their meticulous application did amaze me . . . [It offers] us all an opportunity to understand and react more intelligently to the confusing world around us."—The New York Times Book Review
"Tetlock's thesis is that politics and human affairs are not inscrutable mysteries. Instead, they are a bit like weather forecasting, where short-term predictions are possible and reasonably accurate. . . . The techniques and habits of mind set out in this book are a gift to anyone who has to think about what the future might bring. In other words, to everyone."—The Economist 
"Just as modern medicine began when a farsighted few began to collect data and keep track of outcomes, to trust objective 'scoring' over their own intuitions; it's time now for similar demands to be made of the experts who lead public opinion. It's time for evidence-based forecasting."—Washington Post
Forecasts shape our decisions and our decisions shape our lives. Everyone would benefit from seeing further into the future, whether buying stocks or a home, crafting policy, launching a new product, changing jobs, getting married, or simply planning the week's meals. As we approach the 2016 presidential election forecasting is more relevant than ever with predictions regarding Hillary Clinton and Donald Trump dominating the national conversation. Unfortunately, most people tend to be terrible forecasters and the accuracy of forecasting has never been scientifically analyzed. Even the forecasting of famous experts and pundits that move markets and informs governments has never been tested. Wharton psychologist Philip Tetlock has devoted his career to changing this reality and improving our ability to foresee the future. His work gets to the core of what makes some people good at prediction—and most importantly asks the question: Can this talent be taught?
In SUPERFORECASTING: The Art and Science of Prediction (Broadway Books; September 13, 2016), the New York Times bestseller now available in paperback, Philip Tetlock and coauthor Dan Gardner offer a masterwork on prediction, drawing on decades of research and the results of a massive, government-funded forecasting tournament. They look at how forecasting accuracy can be judged, why it is so seldom done, and what results came out of the most comprehensive analysis of political and economic forecasting of experts ever conducted. They reveal through the Good Judgment Project (GJP)—a multiyear forecasting study that Tetlock coleads with his wife Barbara Mellers—that while most of us are bad at prediction, we can all learn to be better. The Financial Times called Tetlock's work "patient, painstaking, and quietly brilliant," and David Brooks wrote: "If I were President Obama or John Kerry, I'd want [the GJP] predictions on my desk."
What is extraordinary about the GJP is that it is made up of tens of thousands of ordinary volunteers—including a Brooklyn filmmaker, a retired pipe installer, and a former ballroom dancer—who set out to forecast global events. Some of these forecasters were astonishingly good and able to judge how high-stakes events are likely to unfold three months, six months, or a year and a half in advance. They've beaten other benchmarks, competitors, and prediction markets and the collective judgment of intelligence analysts with access to classified information. These people are "superforecasters." They don't use powerful computers and algorithms—they are simply better at gathering evidence, thinking about it, and drawing conclusions.
To understand the scope of this project, it's worth noting that the GJP was part of a larger research effort sponsored by the Intelligence Advanced Research Projects Activity (IARPA)—an agency that reports to the director of national intelligence to support research to make American intelligence better. By one rough estimate, the United States has 20,000 intelligence analysts assessing everything from small puzzles to major events. Yet, how accurate is all that forecasting? We don't know because the intelligence community, like so many major producers of forecasting, has never been keen on finding out. IARPA changed that by creating a forecasting tournament of five scientific teams, led by top researchers in the field to generate forecasts on questions intelligence analysts deal with every day. Tetlock's team—the GJP—was one of those teams. Each was its own research project and nearly 500 questions about international affairs were asked over four years, generating more than one million individual judgments about the future. In Year one, GJP beat the official control group by 60 percent. In Year two, they beat the control group by 78 percent. After two years, GJP was doing so much better than its competitors that IARPA dropped the other teams. Tetlock's IARPA study is the largest, most rigorous study of prediction ever done.
In SUPERFORECASTING, Tetlock and Gardner dissect the methods of "superforecasters" for the first time, showing why they work, and revealing that any intelligent person willing to think hard and practice can improve their foresight and be better prepared for the future. Throughout the book they also weave stories of forecasting successes (the raid on Osama bin Laden's compound) and failures (the Bay of Pigs) and interviews with a range of high-level decision-makers, from David Petraeus to Robert Rubin, to show that good forecasting involves gathering evidence from a variety of sources, learning to think probabilistically, working in teams, keeping score, and being willing to admit error and change course. Along the way SUPERFORECASTING also walks us through the process of making good predictions to help us to become better forecasters and make better decisions.
SUPERFORECASTING offers the first demonstrably effective way to improve our ability to predict the future—whether in business, finance, politics, international affairs, or daily life. Along the way, Tetlock and Gardner walk us through the process of making good predictions so that we can become better decision makers—and better thinkers.
---
ABOUT THE AUTHORS: Philip E. Tetlock is the Annenberg University Professor at the University of Pennsylvania and holds appointments in the psychology and political science departments and the Wharton School of Business. He is also the author of Expert Political Judgment (a paradigm-changing work that remains one of the most highly cited papers in social science) and Counterfactual Thought Experiments in World Politics. Internationally recognized for his work, he is the recipient of the Woodrow Wilson and Robert E. Lane Awards, both from the American Political Science Association; the National Academy of Sciences Award for Behavior Research Relevant to the Prevention of Nuclear War from the National Academy of Sciences; the winner of the AAAS Prize for Behavioral Science Research; and the Grawemeyer Award for Ideas Improving World Order.
Dan Gardner is an award-winning journalist and the author of Risk: The Science and Politics of Fear and Future Babble: Why Pundits Are Hedgehogs and Foxes Know Best. He has received the National Newspaper Award, the Michener Award, the Amnesty International Canadian Media Award, the Canadian Association of Journalists Award, and the Canadian Science Writers Association Award for best science book.
Related Posts: