Press Releases
Now in paperback: A Spy Among Friends by Ben Macintyre
Master storyteller Ben Macintyre's most ambitious work to date brings to life the twentieth century's greatest spy story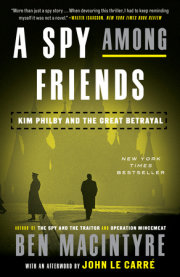 Ben Macintyre
Imprint: Broadway Books
On sale: May 12, 2015
Price: $16.00
Pages: 384
ISBN: 9780804136655
Contact:
Annsley Rosner
212-782-9740
arosner@penguinrandomhouse.com
*A NEW YORK TIMES BESTSELLER*
*A NEW YORK TIMES BOOK REVIEW NOTABLE BOOK*
*A WASHINGTON POST NOTABLE BOOK*
*ENTERTAINMENT WEEKLY'S BEST SPY BOOK OF 2014*
*AN AMAZON BEST BOOK OF THE YEAR*
"Macintyre has produced more than just a spy story. He has written a narrative about that most complex of topics, friendship. . . . When devouring this thriller, I had to keep reminding myself it was not a novel. It reads like a story by Graham Greene, Ian Fleming, or John le Carré, leavened with a dollop of P. G. Wodehouse. . . . [Macintyre] takes a fresh look at the grandest espionage drama of our era." —Walter Isaacson, New York Times Book Review
"Superb . . . riveting reading." —Malcolm Gladwell, The New Yorker
"Macintyre does here what he does best—tell a heck of a good story. A Spy Among Friends is hands down the most entertaining book I've reviewed this year." —Boston Globe
"By now, the story of British double agent Harold 'Kim' Philby may be the most familiar spy yarn ever, fodder for whole libraries of histories, personal memoirs and novels. But Ben Macintyre manages to retell it in a way that makes Philby's destructive genius fresh and horridly fascinating." —David Ignatius, Washington Post
"A Spy Among Friends is a rollicking book. Mr. Macintyre is full of pep and never falters in the headlong rush of his narrative." —Wall Street Journal
"A crisply written tale of a classic intelligence case that remains relevant more than 50 years later." —USA Today 
"Macintyre is a superb writer, with an eye for the telling detail as fine as any novelist's. . . . A Spy Among Friends is as suspenseful as any novel, too, as the clues tighten around Philby's guilt." —Dallas Morning News
"Vivid and fascinating . . . [Macintyre] succeeds admirably." —Newsday
---
Bestselling author Ben Macintyre's A SPY AMONG FRIENDS: Kim Philby and the Great Betrayal (May 12, 2015; Broadway Books), now in paperback, tackles the greatest spy story of all: the rise and fall of Kim Philby, MI6's Cambridge-bred golden boy who used his perch high in the intelligence world to betray both friend and country to the Soviet Union for over two decades. An instant bestseller in both the U.S. and UK, Macintyre's telling of Philby's grand deception is a tale not of one spy but of three: his complex friendships with fellow Englishman operative Nicholas Elliott and with the American James Jesus Angleton, the head of CIA counterintelligence, become the prism through which Philby's story is told. These men shared the same background, went to the same schools and clubs, and served the same cause—or so Elliott and Angleton thought. In reality, Philby was channeling all of their confidences directly to his Soviet handlers, sinking almost every great Anglo-American spy operation for twenty years.
Even as the web of suspicion closed around Philby and he was driven to greater lies and obfuscations to protect his secret, Angleton and Elliott never abandoned him. When Philby's true master was finally revealed with his defection to Moscow in 1963, it would have profound and devastating consequences on these men who thought they knew him best, and the intelligence services they helped build. This remarkable story, told with heart-pounding suspense and keen psychological insight, and based on personal papers and never-before-seen British intelligence files, is a high-water mark in Cold War history telling.
The Philby legend is well-known—so much so that John le Carré based a character on him for Tinker Tailor Soldier Spy. This is a totally new telling, the first since the end of the Cold War a quarter century ago, and the first to frame the story as a tragic transatlantic triptych with Elliott and Angleton. With the same depth of research, fast pace, and masterful narrative voice that have made Ben Macintyre an international bestseller, and with an afterword by le Carré himself, A SPY AMONG FRIENDS is Macintyre's best book yet.
About the Author: Ben Macintyre is a writer-at-large for The Times of London and the bestselling author of Double Cross, Operation Mincemeat, Agent Zigzag, The Napoleon of Crime, and Forgotten Fatherland, among other books. Macintyre has also written and presented BBC documentaries of his work.
Related Posts: