Press Releases
Now in paperback: SHYLOCK IS MY NAME by Howard Jacobson
A wry, modern take on THE MERCHANT OF VENICE from the Hogarth Shakespeare series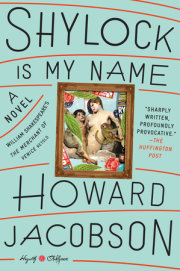 Howard Jacobson
Imprint: Hogarth
On sale: October 11, 2016
Price: $15.00
Pages: 288
ISBN: 9780804141345
Contact:
Liz Esman
212-572-6049
lesman@penguinrandomhouse.com
Praise for SHYLOCK IS MY NAME
"An ebullient riff on Shakespeare . . . [a] blend of purposeful déjà vu and Jewish fatalism . . . Jacobson's highflying wit is more Stoppardian than Shakespearean, even amid rom-com subplots and phallocentric jests equally well suited to Elizabethan drama as to the world of Judd Apatow."
—New York Times Book Review
"Utterly life affirming"
—Times Literary Supplement
"[Jacobson] has delivered with authority and style. . . . [A] deft artist firmly in control, offering witty twists to a play long experienced by many as a racial tragedy."
—Washington Post

SHYLOCK IS MY NAME (Hogarth; on sale October 11, 2016) by award-winning author Howard Jacobson is the second title in the Hogarth Shakespeare series, a major international publishing initiative across Penguin Random House that sees the Bard's most renowned plays retold by acclaimed novelists for a twenty-first-century audience. Now, this "sharply written, profoundly provocative" (Huffington Post) novel is available in paperback.
Jacobson has written extensively on the Jewish experience, both in his highly acclaimed nonfiction and widely celebrated novels. He has long been admired for his ability to dexterously imbue even the most difficult questions with his acerbic humor, and no author is better suited to interpret The Merchant of Venice's portrayal of rage, mercy, and betrayal through a modern lens. No fewer than four of his novels have received Man Booker Prize recognition, with his most recent novel, J, shortlisted in 2014, The Finkler Question winning in 2010, Kalooki Nights longlisted in 2006, and Who's Sorry Now? longlisted in 2002. He is also the only writer to have twice won the Wodehouse Prize for comic fiction.
In this provocative and profound interpretation of The Merchant of Venice, Shylock is juxtaposed against his present-day counterpart in the character of art dealer and conflicted father Simon Strulovitch. With characteristic irony, Jacobson presents Shylock as a man of incisive wit and passion, concerned still with questions of identity, parenthood, anti-Semitism, and revenge.
While Strulovitch struggles to reconcile himself to his daughter Beatrice's "betrayal" of her family and heritage—as she is carried away by the excitement of Manchester high society and into the arms of a footballer notorious for giving the Nazi salute on the field—Shylock alternates grief over the death of his beloved wife with rage against his own daughter's rejection of her Jewish upbringing. Culminating in a shocking twist on Shylock's infamous demand for the pound of flesh, Jacobson's insightful retelling examines contemporary, acutely relevant questions of Jewish identity while maintaining a poignant sympathy for its characters and a genuine spiritual kinship with its legendary antecedent.
With SHYLOCK IS MY NAME, Jacobson brings his unique perspective to this modern reimagining of one of Shakespeare's most thought-provoking characters from one of his most controversial plays.
About the Author
Howard Jacobson is the author of four works of nonfiction and several novels, including The Finkler Question, which won the Man Booker Prize; The Mighty Walzer, which won the Bollinger Everyman Wodehouse Prize for comic writing; and J, which was shortlisted for the Man Booker Prize. He has a weekly column for The Independent and regularly writes for The Guardian, The Times, and The Observer. Jacobson has also been a writer and presenter for a number of British television specials. He lives in London.
Related Posts: